5 things to consider when looking for an ATS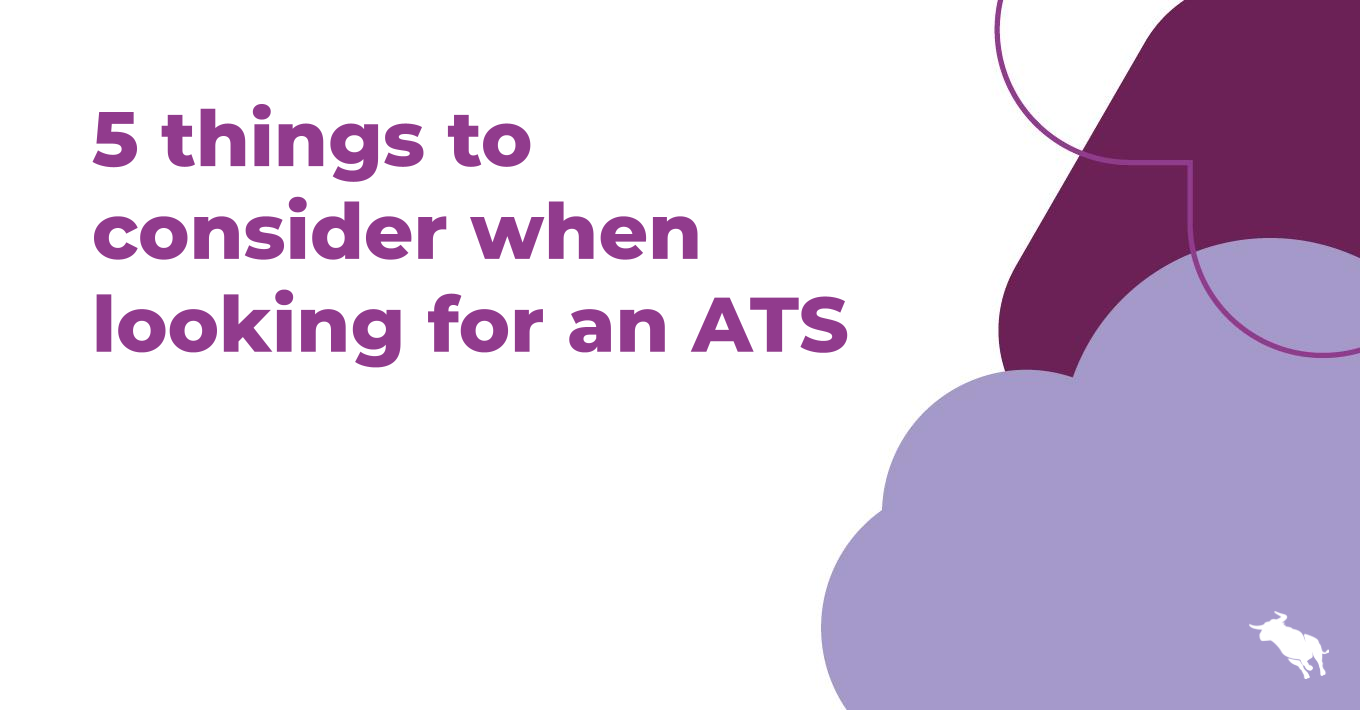 Choosing an ATS can often be overwhelming. With so many solid options in the staffing technology space, it's important that firms dive deep into their goals and must-have features before embarking on demos and pricing discussions. 
And while an applicant tracking system (ATS) should be a firm's single source of truth when it comes to candidate and client information, it can also play an important role in differentiating a staffing firm from its competitors. Candidates, clients, and recruiters want to work with the best technology, and most firms' tech stacks revolve around the ATS. 
So how can you make sure you're making the right decision for your internal and external stakeholders? And what questions should you ask to compare one ATS with the rest? 
For both your technology and business goals, we've broken down five things to consider when looking for an ATS.
Technology goals
Depending on your service offerings, your technology goals may shift over time, but make sure you're considering all aspects of an ATS's functionality and how that will most impact your recruiters, candidates, and clients. 
Make sure your ATS enables you to:
1. Stay on top of leads and sales data
Your ATS should be the go-to place to input, track, and manage your leads and sales information, enabling your team to see a client all the way through the sales process. 
From first introduction to signing the contract, your ATS should close the loop between sales and recruiting and provide visibility into your clients' changing business needs.
2. Recruit from anywhere at any time
In the competitive world of recruiting, being armed with up-to-the-second information about your clients, candidates, and jobs means that you can have the necessary insight for better client meetings.
Choosing an ATS that includes a mobile app or mobile-friendly website frees you from the confines of your office and eliminates wasted time by allowing you to recruit on the go.
3. Build a technology stack that works for you, not against you
Every staffing firm has unique needs. Even more so, your firm's needs might look drastically different a year or even a month from today. That's why it's so important to be able to customize your staffing technology to meet your specific demands. 
Pick an ATS that enables you to add integrations and tools to create the ultimate tech stack that can grow with your business, not hold you back. 
Business goals
Every staffing firm is different, but all have one thing in common: each firm is working towards achieving its business goals. And while each specific goal may differ, it's important to understand your firm's particular goals before buying and implementing an ATS. 
Are you looking to create a partnership in the long run? Are you looking to expand your global footprint or dive into a new market? Whatever your business goals are, make sure your ATS provider is ready to help you get there.
Make sure your ATS provider helps you:
4. Build your business around a stable ATS platform
In today's digital world, stable technology is everything. You need to ensure your ATS provider and its core functionality are stable and well-maintained, or else your team risks losing out on clients or candidates. If your ATS is down, your team won't be able to track jobs, access important client information, or update candidate information – all actions necessary to ultimately increase revenue. 
While evaluating your ATS provider, ask about their downtime and their customer support options to ensure the platform will be up and running whenever you need it. Any downtime increases the risk of losing vital information or missing out on opportunities for revenue.
And if there's a particular feature that is not working properly, how does your ATS provider plan to address the issue? Are there workarounds to help your team? Getting these questions answered before implementing a new ATS can save you time and resources in the long run. 
5. Grow your partnership with dedicated support and strategic advisors
As much as your ATS should grow with your firm, so should the partnership you have with your ATS provider. Do they have strategic consultants within the company to help your team get the most out of the system? Ensuring full adoption and retention of the platform will help your team get the most ROI.
Continuously making sure your team is using technology to the fullest will help you decrease costs in the long run by increasing efficiency, improving processes, and speeding up the recruitment process.
When considering different ATS providers, make sure you're asking about their partnership and consulting solutions so you can make the best decision for the future of your business.
There's no one-size-fits-all solution for a staffing ATS, so your goals and key considerations may look different from your competitors. But one thing is certain: your ATS should help you maintain a robust sales process, enable you to recruit from anywhere, and be purpose-built to grow with your business. 
---
Ready to get started? Check out our comprehensive guide for buying an ATS, and reach out to our team to learn more!
Subscribe to the Staffing Blog
Subscribe for trends, tips, and insights delivered straight to your inbox.