A Recruiting CRM allows you to build and maintain relationships with large pools of candidates and effectively manage the entire recruitment process. By utilizing a recruiting CRM, your firm can eliminate manual data input and save essential time while still engaging with candidates. The leading systems automatically capture interactions, email conversations, store it, and organize your data, saving you valuable time.
Why Do You Need Recruiting CRM Software?
A Customer Relationship Management system (CRM) is an essential tool for your staffing firm. It allows you to build and maintain relationships with large pools of candidates and effectively manage the entire recruitment process. By utilizing a CRM, your firm can eliminate manual data input and save essential time while still engaging with candidates. The leading CRM systems, however, take a step further in that they automatically capture every interaction, every email conversation, store it, and organize it by client. With an integrated CRM, automation replaces your fingertips, saving you valuable time.
The Features to Look for in a Recruiting CRM
Accessibility and Mobility
The most high-powered recruiting CRM in the world will be of little use if your team doesn't know how to use it. The best recruitmer CRM for your company should have a modern, intuitive system, so your employees can focus on their daily workloads while the software does the rest.
Today, accessibility is virtually synonymous with mobility. With a robust set of features, a high-performance, easy-to-use mobile CRM will ensure users who aren't always in front of their computers can do their job from their whatever device they wish. Your employees can benefit a great deal from the ability to view records, analyze relationship health, and create and view notes before, during, and after meetings.
Automation
No recruiter or staffing salesperson has ever complained about having too many hours in the day. It's not a surprise, then, that it can be difficult to encourage employee buy-in for CRMs that require manual data entry. Your employees need to stay focused on building relationships; they don't have time to tell a CRM what they've already done.
A modern recruiting CRM should automatically capture your team's interactions with customers. Great examples of automatic data capture can be found in fitness technology like the Fitbit. These devices revolutionized how people achieve their fitness goals by automatically capturing all of your physical activity and delivering insights which encourage you to reach your health and fitness goals. A Recruiting CRM can operate in a similar way for agencies.
Predictive Intelligence
Want to get ahead of the competition? The staffing industry is a competitive and fast-moving one, and a reactionary approach won't cut it.
CRM for recruiters should be proactive and prescriptive, suggesting the next best step for your reps rather than simply serving as a historical data repository. While it's certainly helpful to track sent emails and total calls, predictive intelligence takes this knowledge to the next level and puts it to practical use. A CRM with predictive intelligence can inform recruiters on which call to make and which relationships to direct their efforts.
Industry Expertise
The staffing sales model is unique to the sales model of every other industry. You aren't selling a product. And although clients purchase staffing services, you ultimately deliver people. Interactions involving people are inherently more complex on both sides of the transaction and require a tool purpose-built to manage this complexity.
A staffing-specific CRM is designed to successfully deliver immediate value and impactful results to your agency. General CRM solutions are powerful, but they're built to solve the needs of other industries. That forces you to invest in a great deal of functionality your agency will likely never use, while at the same time, not receiving the full scope of capabilities necessary to run a successful recruiting business. General-purpose CRM systems just don't work the way recruiting account managers and recruiters do.
Explore Bullhorn's Recruitment ATS & CRM
Read on to learn about the key features in Bullhorn's ATS & CRM system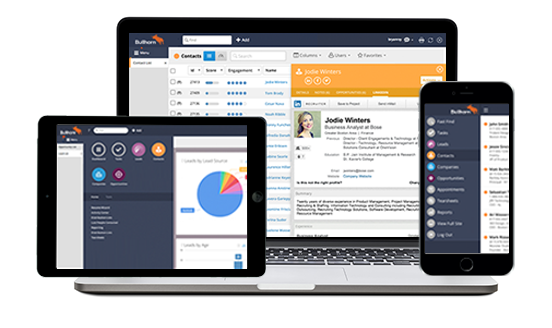 Build your customer base and expand existing accounts with Bullhorn's customer relationship management (CRM) software. Whether it's sales or service related, Bullhorn's cloud-based recruiting CRM software makes it easy to manage all aspects of your staffing and recruiting relationships from anywhere, at any time. With a complete understanding of all client activity and communication, your team will generate and close job orders faster, while exceeding customer expectations and staying ahead of the competition.
Bullhorn's recruitment ATS & CRM enables recruiting professionals to:
Quickly create and share new contacts and account activity
Effectively collaborate with team members to generate new business
Instantly track client communication, notes and tasks
Easily add and view candidate data on-the-go with Bullhorn Mobile
The Most Efficient End-to-End Solution
The nature of the staffing industry today requires sales teams to be constantly connected to the business information they need to effectively sell to clients and satisfy the needs of customers.
According to Forrester Research, nearly three-quarters of medium-sized businesses implementing CRM systems typically focus on customer data management as the foundation of their CRM initiatives, followed by sales, marketing and customer service solutions. Given this, it's no surprise that more and more recruiting firms are looking for fully-integrated systems that provide better data quality and more efficient recruitment processes for their recruitment teams.
From job submission to candidate placement, the integration of Bullhorn's recruitment ATS & CRM in an all-in-one platform improves data quality and enhances workflow, instead of reinventing the wheel. The ability to access candidate lists, emails, and job orders without having to switch systems or programs goes beyond convenience to translate into real-time savings and dollars.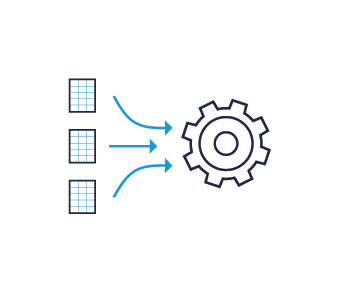 True Cloud Recruiting CRM
Regardless of firm size, recruiting and staffing companies need to adapt to the elasticity of industry demand. Whether removing users during a downturn, or adding offices during an economic boom, the speed and cost of these changes vary depending on your software solution. Because of Bullhorn's true cloud structure, recruitment companies can add additional users or offices without hassle or high expense.
The operational importance of cloud based architecture is further underscored in considering the time savings associated with Bullhorn's self-adopting technology, which eliminates the need for manual updates. This helps users stay up-to-date on account happenings even if they are on the road. Transferability of information across users and devices on a platform that experiences 99.99% uptime translates into users making placements and generating revenue faster than competitors.
In addition to the accessibility and flexibility of true cloud architecture, the security benefits of not having an on-premise or hosted software solution ensures your data is always current and secure.
To learn more about Bullhorn's recruiting ATS & CRM software, contact a representative or schedule your free demo today.
A major plus has been the ability to roll out the SaaS platform across our newly acquired offices in Ireland, Singapore and the US. Previously engineers would have been sent in to adapt the IT systems to suit our business process, but the work has been kept to a minimum, and we now have 185 recruiters using Bullhorn daily.
Tim Jacob
Operations Director, ReThink Recruitment