Daxtra Search Nexus: Get the best candidates in front of your clients faster
Our AI semantic search and matching platform is powered by multilingual resume parsing technology. Daxtra Search Nexus incorporates machine learning techniques, enabling you to identify the best candidates based on contextual resume analysis from all your favorite sources.
Automate your search to run simultaneously across your Bullhorn database, job boards and social networks. Intuitively load and shortlist candidates. Search with incredible precision and present the strongest shortlist of candidates, faster than ever before.
Daxtra Capture: Manage candidate data easily, consistently and efficiently
Daxtra's fully automated robotic workflow solution and resume analysis technology seamlessly de-duplicates and loads candidate data from all monitored sources of incoming resumes to your Bullhorn database.
Daxtra Capture automatically enhances candidate profiles with rich structured data, using highly accurate multilingual parsing technology – based on machine learning over billions of resumes. Build value within your Bullhorn database with uniform structured data.
Save time, increase efficiency and boost productivity by loading candidate data seamlessly from the source into your database.
Daxtra Magnet: Link and load disparate candidate and client data
Browse job boards, social networks or web pages, cross-referencing and loading relevant candidate information directly into your Bullhorn database using this Chrome browser plugin. Update existing data directly from Microsoft Outlook or Microsoft Word, or your PDF Reader using Daxtra Magnet plugins from wherever you view candidate and client profiles.
Utilize the wealth of online profile data — linking it to your Bullhorn database and storing valuable information for future use by all your recruiters.
Apply & Match: Increase application completion rate by up to 400%
Create a better candidate experience by offering a fast and user-friendly way to apply online, fully integrated with your careers portal.
Daxtra Apply & Match offers a quick and easy application process by autopopulating application forms with candidate resume information. While rich structured candidate data is instantly loaded into your Bullhorn database, this solution automatically matches your most relevant jobs to the candidate, for them to review and select when they apply.
Easily integrated with website forms or mobile careers portals, Apply & Match enables candidates to effortlessly apply for suitable roles in seconds, drastically reducing application drop off rate.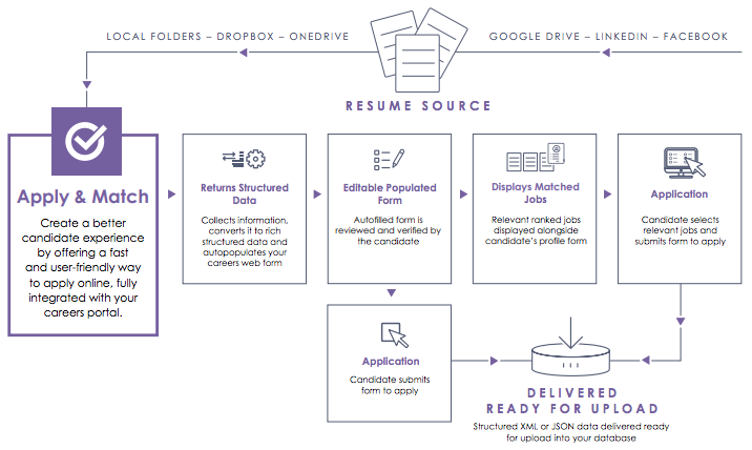 Daxtra Styler: Automates production of branded, formatted & anonymized resumes
Daxtra Styler is designed to professionalize your resume sendouts. Stand out from the competition with anonymized and formatted resumes, automatically produced from your custom branded and styled templates.
Anonymization of resumes by removing key details helps reduce the possibility of unconscious bias in your recruitment process.
Daxtra Styler ensures brand consistency while easing the administration burden of your recruitment process – allowing you to focus your time on what is really important – selling the candidate to your client.
Daxtra Product Suite: Automated intelligent recruitment solutions
Daxtra Technologies is a world-leading specialist in high accuracy, multilingual resume and job parsing, semantic search, matching and aggregation technology. We automate the whole employment application process. Find the best available talent fast.
Find the best, find them fast, find them first.