Memorable Moments from Engage London 2018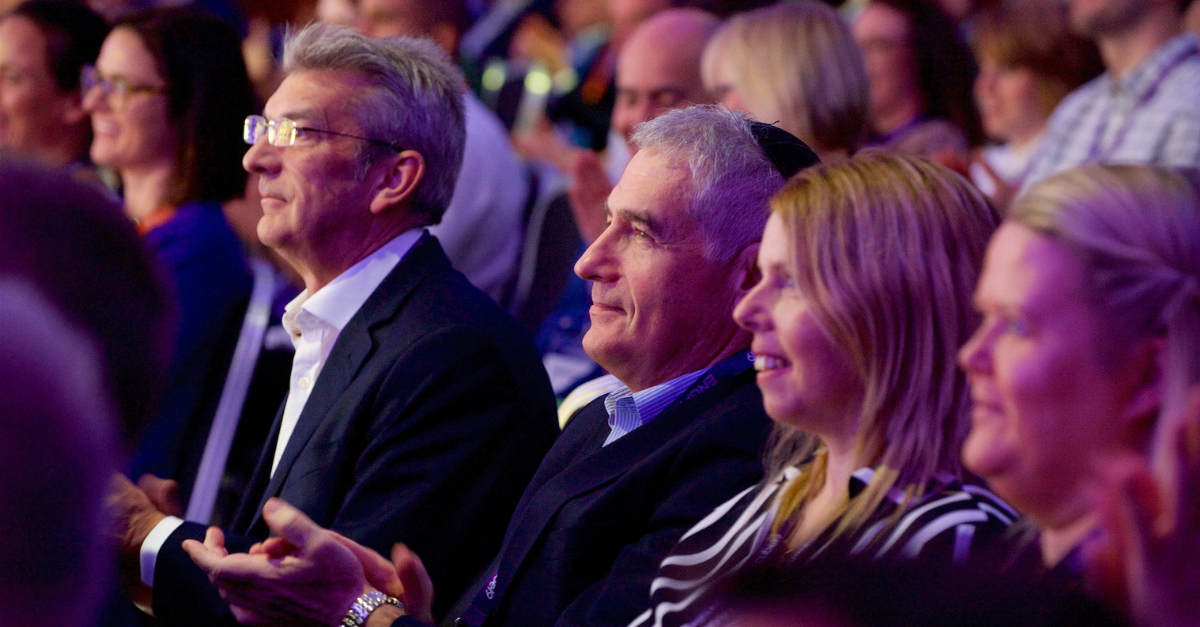 The bad news? Engage London 2018 has come to an end. The good news? There were enough insights, highlights, and memorable moments to last you until Engage London 2019!  Whether you joined us in London or followed along remotely, here are some of the most memorable moments from the final day of Engage. Catch up on the highlights from the first day of Engage here. 
Honouring Recruitment Innovators with the Bullseyes
Engage London was characterized by notable firsts—none more significant than the first International Bullseye Awards for Recruitment Innovation, hosted by The Global Recruiter and Bullhorn.
These awards honour the people and organisations in recruitment who have transformed their businesses through innovation and excellence in recruitment, leadership, and technology. Eight recruiters and eight agencies were nominated over 4 categories. After painstaking deliberation by a panel of experts and judges over the last several months, the winners were announced live on Wednesday.
Janic Makizodila (Accent Covebo Group) won the Bullseye for Rising Star in Recruitment, celebrating a high-performing, up-and-coming recruitment professional in a recruiter, sales, or operations role.
Anne Heraty (CPL Resources) then won the Bullseye for Recruitment Leader of the Year, honouring an outstanding recruitment executive who has an intense commitment to driving results for their agency.
The final two awards went to agencies that made pioneering use of innovative technologies. Larson Group and Young Capital won the Bullseyes for Innovative Use of Technolgy by a small/medium agency and large agency, respectively. 
Doing More with Less
How can recruitment agencies become more efficient while spending less money? Is it an impossible ask? Perhaps not. Bullhorn's Shaun Weise led a seasoned panel of enterprise recruitment leaders—Richard Bradley (Kelly Services), Tim Briant  (Airswift), and Michelle Watson (The Watson Works)—who have successfully navigated these challenges to increase their companies' profitability.
It's nearly impossible to improve your agency's productivity if you don't have an understanding of your current performance, so Shaun Weise started the conversation by asking the panel about the KPIs they use to measure productivity.
Michelle Watson noted that measuring the performance of Millennials has become increasingly more complex due to their cross-platform approach to speaking to their candidate and clients—Tweets, texting, Whatsapp, etc. "We need to change the way we review and look at our people and make it relevant to the demographic of your workforce."
The panel then discussed different methods for innovating. Richard Bradley shared that agencies may need to alter their mindset when it comes to bringing new ideas to the table. "If you talk about innovation and change, people always think it has to be massive, but it doesn't. We need to drive the behaviours we want internally."
The discussion wrapped up with the three veteran recruitment experts agreeing that whatever your goals may be, it's critical to be clear on them. As Michelle Watson said, "If the common objective at the top of the business isn't clear, it is very difficult to execute change."
Work Hard and Go After Your Dreams—Paula Radcliffe's Closing Keynote
World record marathon holder Paula Radcliffe's inspirational closing keynote ensured that Engage closed out with a bang. Paula shared valuable insights she learned throughout the course of her storied career, and then spoke to Bullhorn's Peter Linas to answer questions submitted by Engage attendees throughout the event.
Here are a couple of the top takeaways from her keynote that are relevant whether you're an elite athlete, a recruitment professional, or just someone trying to achieve a goal.
Don't Lose Passion For What You Love
Pete asked Paula if it was difficult to replace the rush she received from running at an elite level. And it was initially a concern for her. "I really worried I was going to miss the adrenaline of competing," she told him. But the passion never went away. "The buzz of running is still there. Doesn't matter if it's a slow jog, I can go for a run and feel better."
There's More Than One Way to Accomplish Your Goals
To close out the keynote, Pete asked Paula where she would have channeled her passion and will to win, if she hadn't been a runner. Paula revealed that before becoming a professional athlete seemed feasible, she wanted to work in international business because she had a desire to travel the world and meet people. She still ultimately accomplished those goals through her athletic career, but in a different way than she initially expected.
---
Stay tuned for even more Engage London recaps and event coverage. And make sure you're part of the action next year by registering for Engage London 2019 today. You'll be guaranteed the lowest rate possible.

Subscribe to the Recruitment Blog
Subscribe for trends, tips, and insights delivered straight to your inbox.