At the beginning of the year, 77% of global staffing and recruitment professionals cited the skills shortage as the top challenge for 2020. Now, with unemployment numbers rising across the globe, these same professionals are facing very different problems – a surplus of candidates, fewer job orders, and widespread uncertainty on how the world will get back to work.
Many firms have also cut costs and resources to increase cash flow, leaving fewer employees to tackle these challenges. But data from the 2009 recession shows that the staffing industry rebound happens quickly – so how can you persevere and emerge stronger when the inevitable bounce back comes?
Enter Automation.
With the right technology in place, you can automate manual and repetitive tasks, communications, and processes within the staffing workflow. Herefish by Bullhorn is the leading automation platform and there are dozens of automations you can create in minutes (read more about those here!), but let's focus on three ways automation can help today:
Streamline New Applicant Follow-up to Cut Through the Noise
Start engaging with new applicants the second they apply and don't let good talent slip through the cracks
Why is this important?
With so many candidates on the market, recruiters are becoming inundated with new applicants. They have to individually follow up with each applicant or worse – forget to follow up and applicants never hear from a recruiter. This leaves little time for recruiters to pour through the list to find the best candidate, or leaves great candidates completely ignored. With fewer job orders to fill, recruiters have to maximize each opportunity and expedite this process to find the right candidate, quickly.
What can I automate?
With Herefish, you can set up an automation that:
Reaches out via email or text to every candidate from the start
Notifies candidate at key steps of recruiting process
Pings recruiters with tasks when they need to step into a follow-up nurture
Communicate with applicants that didn't get the role and market your other open jobs that match their profile
In addition to increasing recruiter efficiency, this automation provides white-glove service to candidates who will be more likely to work with your firm in the future when the bounce back occurs.
Clean Up Data to Save Time Now and Boost Productivity Long-Term
Update, maintain, and populate data in your CRM and ATS for top-notch data hygiene and usability.
Why is this important?
One of the most mundane tasks that every sales and recruitment professional has to deal with is data entry and maintenance.  It's a time-sucking, yet necessary task.
Automating these daily activities throughout the entire recruiting and sales process cuts out busy work for your entire company.
With many firms experiencing downtime as their clients see a slowdown with hiring, it's a perfect time to set these automations up so that when the firm is back at full speed, your recruiters have more time for revenue-generating activities.
Think of it this way: 1 hour saved per day per recruiter/salesperson equals 260 hours per year, per employee.  How many placements or contracts could your employees earn with 32 extra days in their year?
What can I automate?
Copy
In some cases, recruiters and salespeople simply need one field to populate another, or copy data between entities. Here are some examples of how you might use this automation.
Copy a candidate's state location to the state license field
Transfer data from an old field to a new field
Populate a candidate's title with  their most recent placement's job title
Clear
If you've replaced an old field with a new field or otherwise remapped data, you may need to clear out an old field so it doesn't confuse the machines.
Clear data from a retired or old field.
Remove data from fields based on business rules.
Set
One way to make Herefish and your database work harder for you is to have certain fields automatically updated or populated based on contact actions, dates, and more.  This can enable better targeting and segmentation for automations, emails, texts, and direct calling.
Set contact's status, update score, or send notification based on contact's action or engagement.
Update the candidate's status when the candidate creates a new application.
Update contact's status when bounced email occurs.
Create Client Scoring and Nurturing to Surface New Business
Score, target, and nurture leads with automated notifications, emails, and more
Why is this important?
While businesses in many sectors are on hiring freezes due to the effects of COVID-19, certain industries are hiring more than ever before.
It's critical for salespeople to be able to easily surface those clients in need. By creating a client scoring model, you can design a workflow that escalates "hot" leads and deprioritizes "cold" ones.
Additionally, you can customise each workflow to keep your sales team engaged by creating automatic notifications, tasks, and notes on the contact record itself.
What can I automate?
With Herefish, you can:
Create scoring and segments based on activity such as open rates and new job postings
Trigger actions based on web site activity, for example a hot prospect visits your services page.
Create a workflow for each score group.
Write and customise email communication for each score group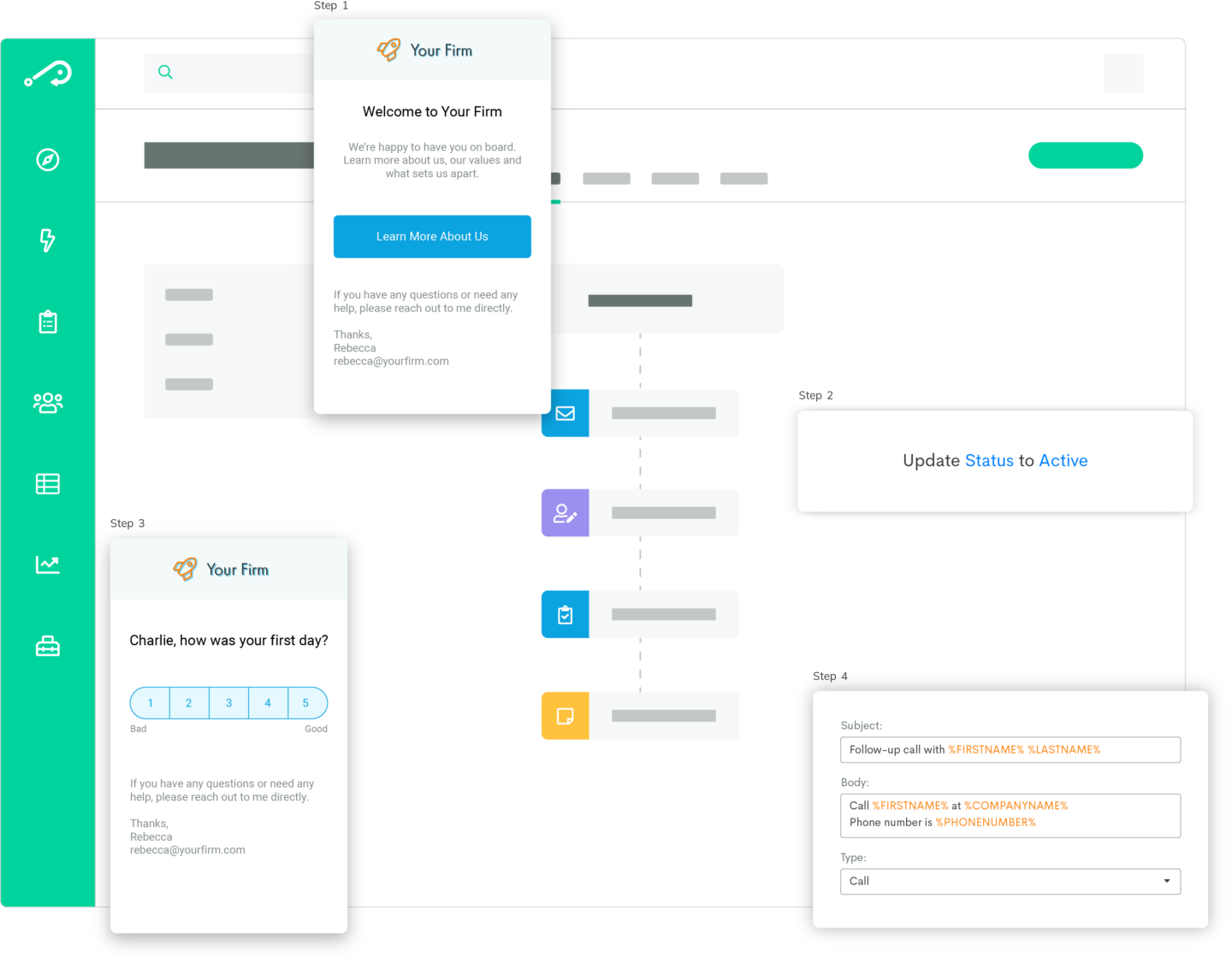 Start Automating Today
Want to implement one of these automations at your agency?
There's plenty of options with Herefish by Bullhorn, including a package with 20 pre-built automations
Fill out this form to speak to one of our product experts!