Look Back to Look Forward: What Can We Learn From 5 Years of Recruitment Trends Data?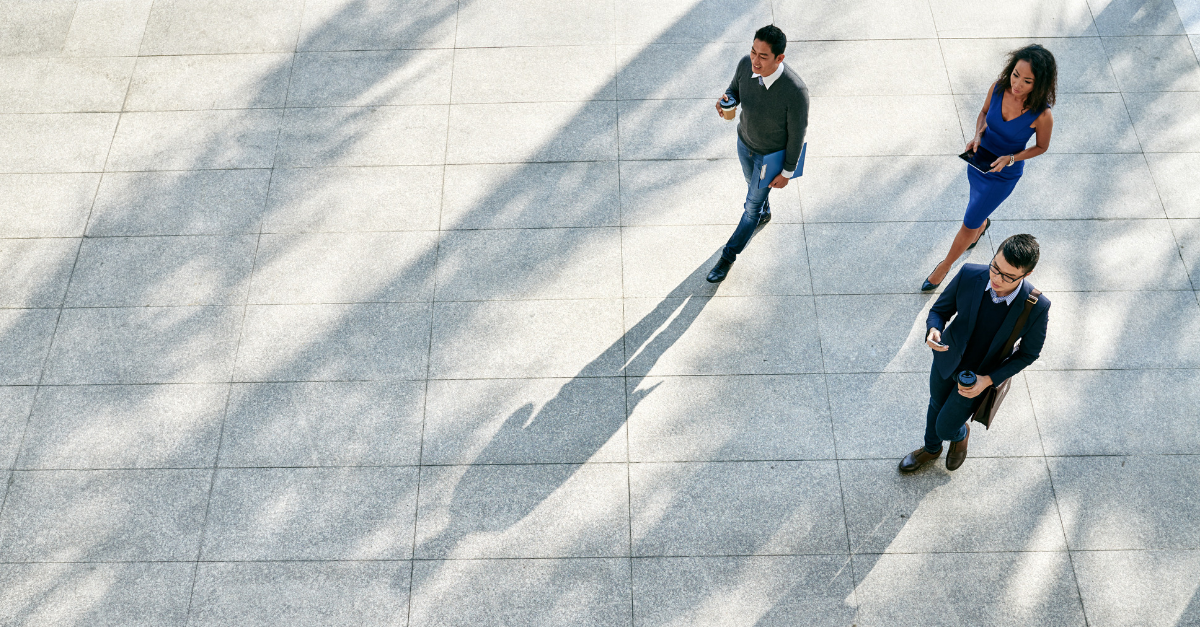 Andy Ingham, our very own VP Sales, took to the stage at the Recruitment Agency Expo (RAE) Birmingham earlier this month to talk about the past five years of industry trends. Why dwell on the past? It's vital to look at the wealth of data collected in the Annual UK Recruitment Trends Report each year, to consider what lies ahead. From patterns in revenue growth to the talent shortage, candidate engagement, and investments in new technology, the reports provide us with over 200 pages of analysis and insight, surveyed from thousands of UK recruitment professionals.
Recruiters Continue to Meet or Exceed Revenue Goals 
The first key trend Andy identifies is revenue growth. Since 2014, recruitment agencies routinely met or exceeded revenue goals from the previous year.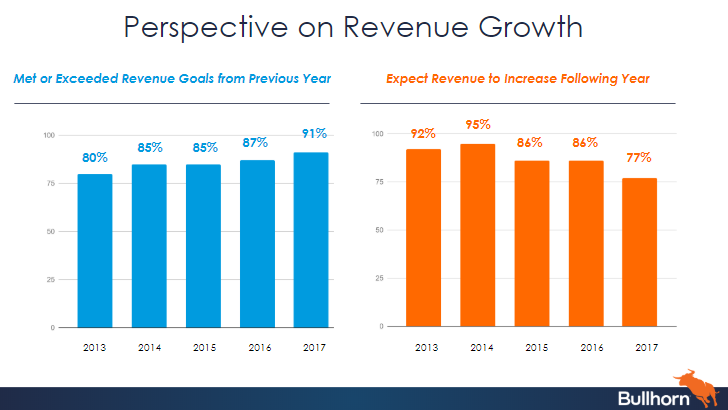 The temp, contract, and perm placement agencies consistently expected to fare better than their counterparts in executive search. In the most recent survey, only 62 per cent of exec search agencies expected revenue to increase compared to 88 per cent of contract agencies.
In contrast, we see that the number of agencies expecting revenue to increase in the following year gradually decreased from 92 per cent in 2013, to 86 per cent in 2015 and 2016, and ultimately 77 per cent in 2017. But what could be inhibiting this growth? A number of factors are responsible, but the skilled talent shortage reigns supreme when it comes to top concerns recruitment agencies identify over the years.
The Talent Shortage Consistently Concerns Recruitment Pros
In every UK Recruitment Trends Report since 2014, the talent shortage is one of the topmost concerns for agencies. Despite falling to 64 per cent in 2015, the skill shortage affecting recruiters began to rise again to 79 per cent in 2017.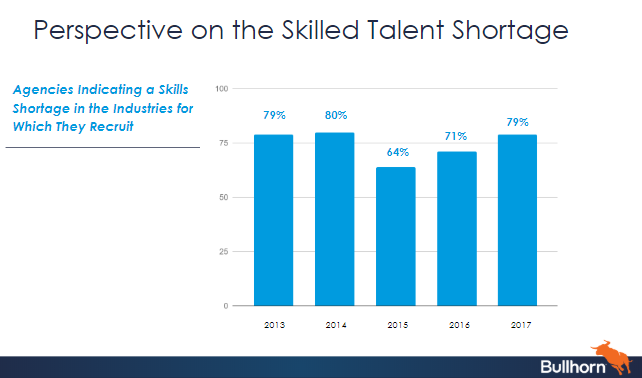 As Andy identifies, this is a pain shared by businesses and is one of the primary reasons they may turn to recruitment agencies in the first place. These persistent shortages provide yet another impetus to engage passive candidates and cultivate a strong internal database. Keeping candidate records up to date enables agencies to accurately evaluate the quality of their internal candidate pool. In fact, GDPR actively encouraged many of our clients to consider the information in their databases; Is it up to date? When was the last engagement? Is the information relevant?
Questions to Ask Yourself About Candidate Engagement
Andy draws a comparison between candidates you're currently engaged with and those you've yet to engage. For those that you're already engaged with, it's vital to provide a great candidate experience. One of the simplest ways to ensure this is to ensure your agency is well optimised on response time. ERE Media ranks "lack of feedback" and "non returned calls" among the 4 biggest complaints candidate have about recruiters — ultimately leading to an undesirable level of dissatisfaction.
As for the candidates you've yet to engage, it's important to ask yourselves some key questions and take on the mindset of your target talent pools: Does your brand stand out? How do candidates prefer to communicate? Are you nurturing early candidate relationships?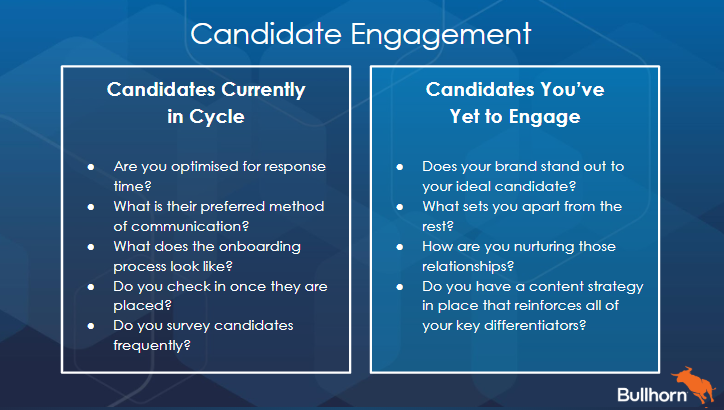 Investing in New Technologies is On The Rise 
The final trend Andy draws our attention to is that of the increase in commitment from agencies to new technologies. In 2018, 52 per cent of respondents to the trends survey plan to boost their investment in technology, outweighing the 24 per cent that expected to increase their number of offices, and even fewer that expressed interest in acquisitions.
Most specifically, investments in technology are focused toward:
Candidate engagement – New technologies enhance engagement strategies, e.g. 

CloudCall

to get in touch with more candidates, or

Herefish

to develop content strategies.

VMS automation – More and more businesses are embracing the use of vendor management systems and using technology to accelerating job flow.

Onboarding processes and document management – A great CRM or ATS are effective tools when it comes to getting recruiters up to speed and productive quickly. 
Andy concluded by encouraging us to look ahead to the future of recruitment, estimating that two key trends we will see at the forefront of the industry in 2019 are AI and Digital Transformation. If you have some thoughts on what the next year of recruitment in the UK will look like you can share your insights with us in the 2018 UK and Ireland Recruitment Trends Survey today.
---
Share your industry insights and predictions for the future of recruiting in our 2019 recruitment trends survey and be entered to win an Amazon voucher!

Subscribe to the Recruitment Blog
Subscribe for trends, tips, and insights delivered straight to your inbox.