Engage London 2019: Memorable Moments from Day 2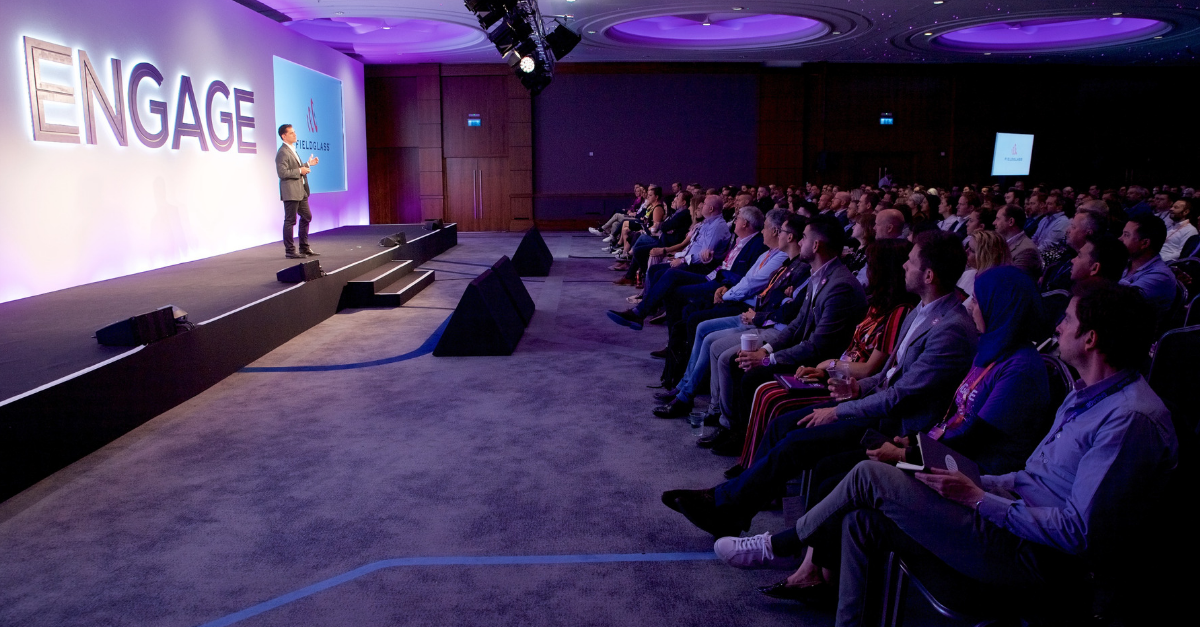 The bad news? Engage London 2019 has come to an end. The good news? There were enough insights, highlights, and memorable moments to last you until Engage London 2020!  Whether you joined us in London or followed along remotely, here are some of the most memorable moments from the final day of Engage. Catch up on the highlights from the first day of Engage here.
Learning From the Past, Looking to the Future 
Bullhorn CEO, Art Papas, kicked off day two of Engage London with a retrospective keynote that encouraged attendees to consider the impact of digital transformation on the recruitment industry. 
Twenty years has made a huge difference to both Bullhorn and the lives of the recruitment professionals we work with; from lessons learned, to predictions that ultimately proved to be unfounded. Art encouraged attendees to consider that once upon a time we feared the very tools we use day-to-day as modern recruiters, job boards like Monster and social platforms like LinkedIn. "From 2002 to 2005 we saw unbelievable growth in recruitment, despite predictions of the recruitment industry's demise at the hands of new technology" Art explains.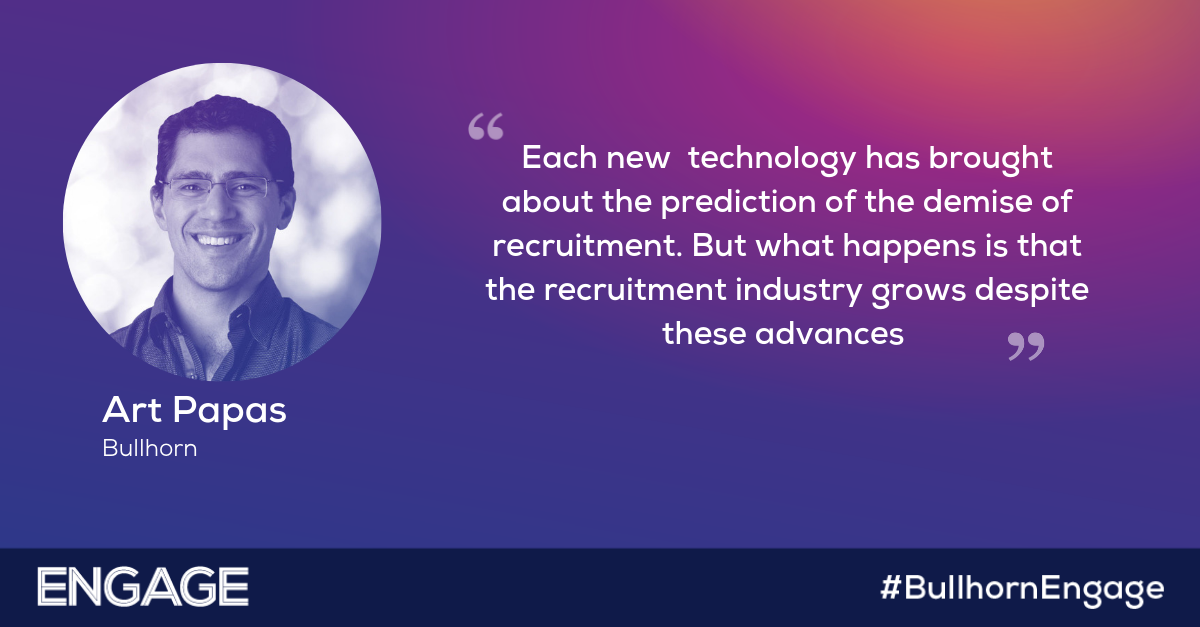 He contrasted this with the current state of the recruitment industry and today's predictions for where global recruitment is headed. In spite of the uncertain nature of the UK market, the economy isn't contracting, and three things are for sure: 1) privacy will increase in importance over the next 10 years, 2) automation won't lose significance (but will not replace recruiters!), 3) the industry will increase investment in candidate reskilling. 
Art then posed the question to a captivated audience: If we travelled to the future, what would we learn about the recruitment industry in 2030? From embracing ongoing regulations to exploring and investing in new technology, we must consider what advice our future selves would give us to move forward, invest in the right people, and make better future decisions.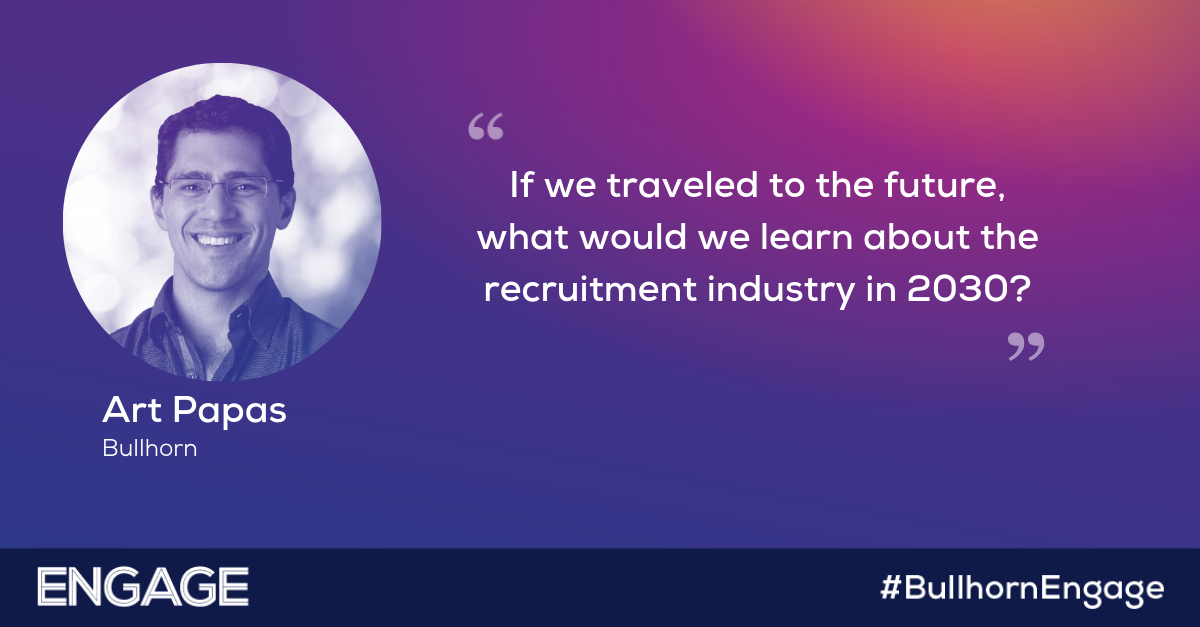 Stay tuned for a full recap of Art's keynote speech where we'll dive a little deeper and take a closer look at four of the key takeaway points that you can bring to your recruitment business. 
The Science of Stress: Cultivating Recruiting Resilience
Famed neuroscientist and recruitment expert Dr. Marcia Goddard joined us at Engage London for a second year to share some insights into her latest area of research – the science of stress and its impact on recruiters.
Dr. Goddard began by explaining the types of stress we might experience, and the impact focusing on that stress can have on us. Recruiters in today's economy are working at full capacity; with concerns such as targets, vacancies, the talent shortage, and even FOMO, it can be all too easy to fixate on stress, allocate all your energy to that stress, and ultimately burn out. 
So what can we do to resolve this stress, and learn to leverage it to our advantage? Dr. Goddard explained that 'situations don't cause stress – our interpretation of that situation causes stress'.
As such, we must work on mindfulness and being present in the moment, and endeavour – both as an individual and within our teams – to interpret stressful situations as a challenge rather than a threat. This will not only improve individual experiences but also help us to be more effective as recruiters, generate better results and higher-quality work, and navigate the changing world of work.
You can catch up on Dr. Goddard's brilliant breakout session from Engage London 2018 here, and keep an eye out for the full recap of her 2019 keynote. 
It's Time to Invest in Innovation
Bullhorn's Shaun Weise took to the stage (again!) to moderate a panel focused on Innovation. The panel, which featured Petar Divjanovic, DEKRA Arbeit Group; Zaidy Ramirez, K2 Partnering Solutions; Dave Hannah, Capita Resourcing, discussed what it means to invest in innovation as a recruitment business. The panellists described their experiences of digitisation as 'a practice of innovation' focused toward taking ideas from the bottom up (including the board), turning those ideas into reality, and ultimately trying to measure and quantify the impact of these strategies.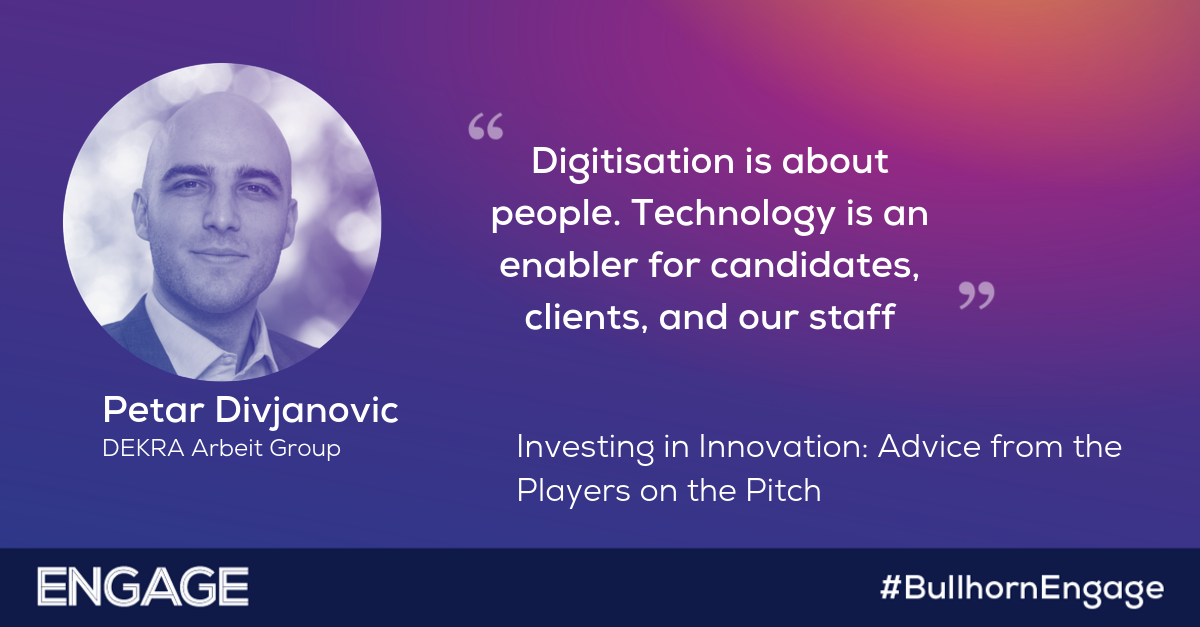 It's clear that recruitment leaders need to begin investing in innovation and digital transformation, but where to start? The panel identified data as a key area of innovation, required to implement real technology change. Once you understand data, you can make the right decisions. As Zaidy explained, "[when] data isn't clean enough, you struggle with AI. Invest in cleaning up your data, and automating internal processes". 
A key takeaway from this forward-thinking session was the significance of C-level and executive involvement when it comes to investing in innovation and digitising business processes. Dave emphasized how the 'CEO needs to be an advocate' because it's not just about decision-making but about implementing real change and encouraging adoption to see ROI.
The Growing Impact of VMS  
Where does VMS fit into the global recruitment landscape? Sarah Ferguson and Mark Hummel provided us with some answers to these questions during their session at Engage London 2019. 
The number of recruitment firms operating VMS (or Portal) businesses, and the revenue generated from those businesses, are growing. This is especially true internationally. Despite that growth, many recruitment professionals are extremely dissatisfied with this business, as a result of its painstakingly manual process. 
Creating just one job from a VMS can take up to 15 minutes, resulting in wasted recruiter time, manual errors, and missed job opportunities. 
It's possible, however, to develop a winning VMS strategy. Here are three steps to take:

Automate manual tasks

. Automating a few key steps in the workflow can take away manual work, increase jobs filled, and ultimately improve recruiter morale by allowing recruiters to focus on revenue-generating activities.

Differente your portal strategy

. This is not direct to fill, and this type of model deserves its own strategy to be successful. Keep this in mind. Take a step back and understand the players involved, and map out a plan to make the workflows and collaborations with those players as efficient as possible.

Commit to analytics and data

. By automating the process, all metrics are up-to-date and accurate. Set metric goals and closely monitor them, to ensure you're on track to achieving success, so you know when it's time to pivot, and so that you're on track with your SLA metric requirements.
In summary, VMS is growing, and although some processes, such as job creation, might be painful for your business now, they don't have to be. With the right strategy and technology in place, it's possible to have a winning VMS business. 
---
Stay tuned for even more Engage London recaps and event coverage. And make sure you're part of the action next year by registering for Engage London 2020 today. You'll be guaranteed the lowest rate possible!

Subscribe to the Recruitment Blog
Subscribe for trends, tips, and insights delivered straight to your inbox.