Deep Dive into Bullhorn Onboarding's Document Builder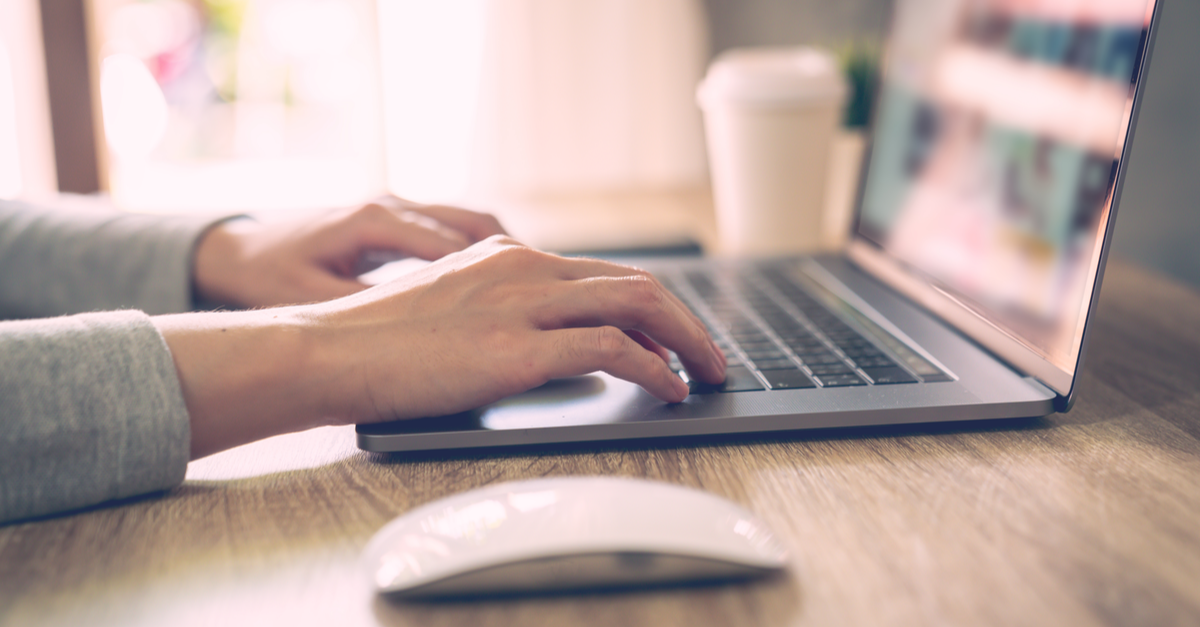 A crucial component of any candidate onboarding process is creating documents and ensuring candidates have the necessary tools to complete their documents. A streamlined onboarding process creates a positive candidate and client experience and allows candidates to start their new roles without delay. 
Bullhorn Onboarding is an electronic document management platform designed specifically for staffing firms. It eliminates manual data entry and frustrating paper documents while reducing new hire onboarding time by 60%. With Onboarding, you can easily create as many forms as your clients demand, populate fields on forms automatically with job and candidate data, and provide an excellent candidate experience with a secure portal to complete and sign documents.
Read on for a deep dive into Onboarding's Document Builder functionality, including the five key features that enable users to create onboarding documents with ease:
Main User Interface
The first thing you'll see when you enter Bullhorn Onboarding's document builder is the streamlined user interface (UI), which allows you to create documents in minutes instead of hours. Once you've uploaded the document into Onboarding, you can easily create and edit fields where the candidate will input information, including name, email, phone number, etc.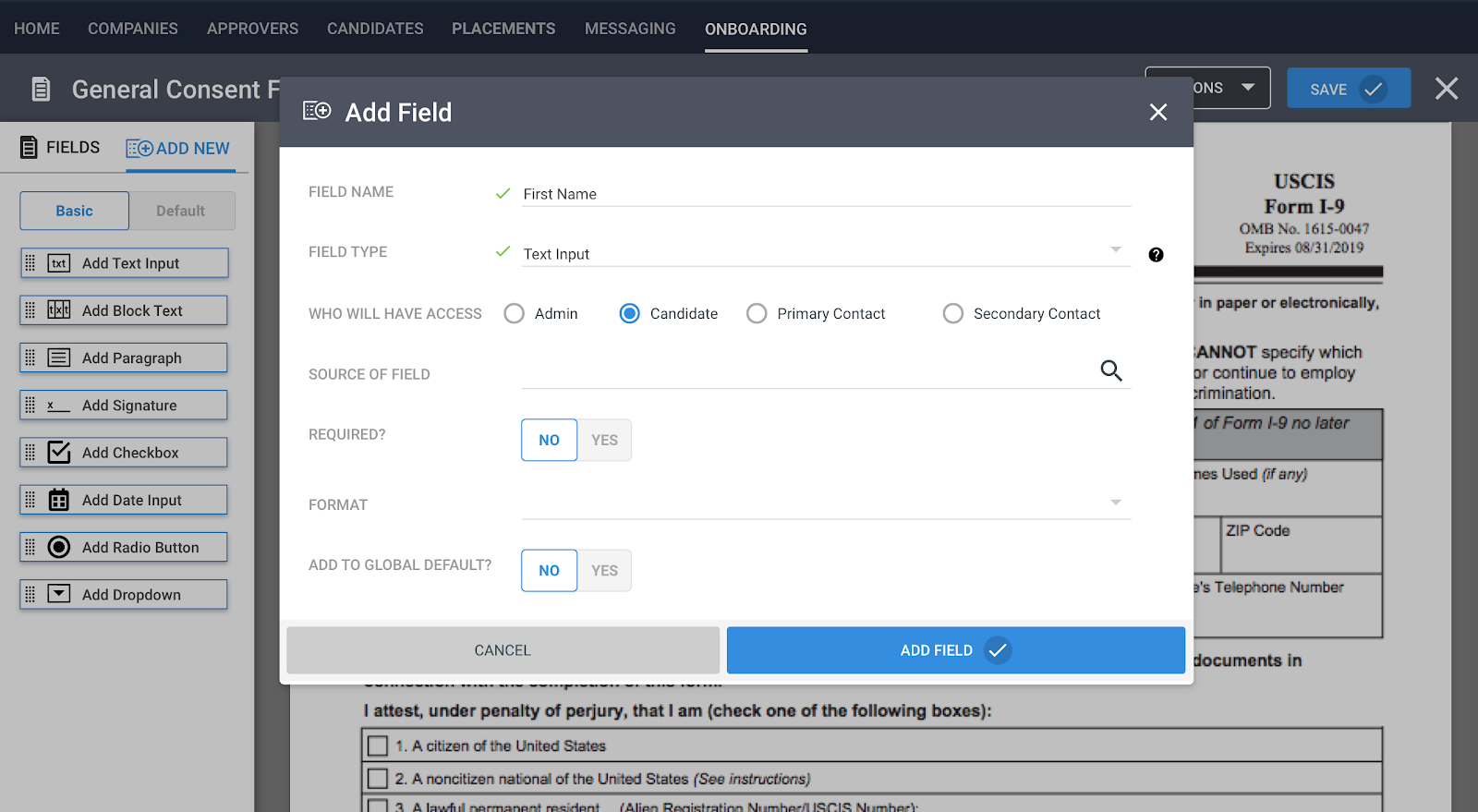 Additionally, you can create more unique field types, such as checkboxes, dates, dropdown menus, and larger boxes that can allow for more text.
Each field, regardless of type, can be easily added to the form by selecting it from the side navigation menu and dragging it right into place on the form. Further customisations are available, including marking it a required field or limiting access to certain user types (candidate, admin, etc.)
Alignment Guidelines
It's not just important to be able to build documents quickly and accurately, you need to be able to build documents that are professional and represent your company in the best way possible. With the document builder alignment guidelines, you can make sure each field is perfectly aligned and symmetrical. 
With this feature enabled, a red line will appear whenever you drag a new field next to or below another field. This feature assists you in lining up each field either vertically or horizontally, allowing you to create ready-to-send documents with ease.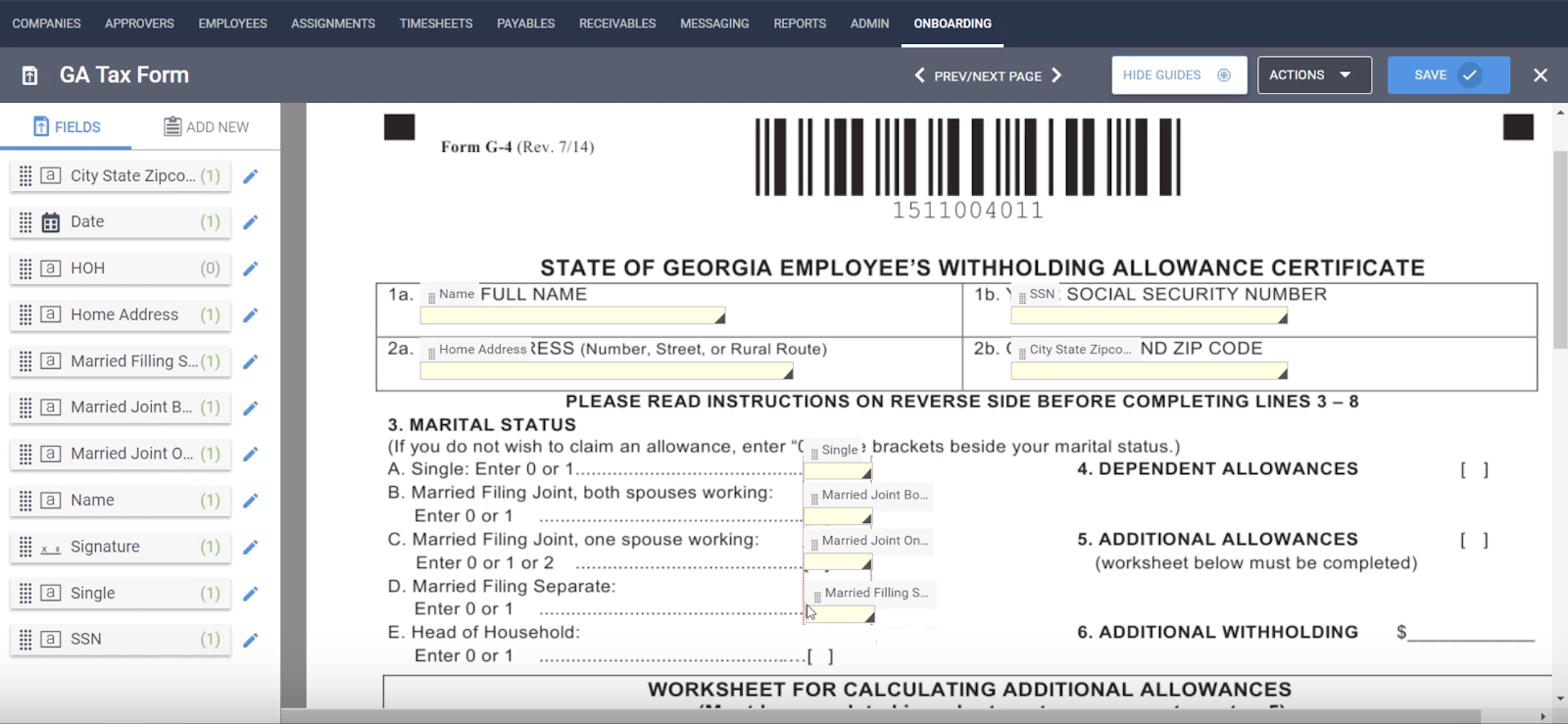 It's not just important to be able to build documents, you need to be able to build professional, aesthetically pleasing documents, too. The new alignment guidelines make it easier to create intuitive and skillful documents without any design background needed. Simply drag and drop your fields into place and the alignment guidelines will automatically appear to ensure your fields are perfectly aligned, symmetrical, and ready for sharing.
Field Flowback
Timing is everything in the staffing industry, and every minute you spend manually moving data between your onboarding platform and your ATS is time you could be spending on building candidate and client relationships.
With the field flowback functionality, you can automatically move data from documents in Bullhorn Onboarding right into the Bullhorn ATS, saving time and eliminating costly errors that can occur due to inaccurate data entry.
Field flowback also ensures your candidate records in your ATS will match the latest information that your candidates provide on their onboarding forms, so you can be sure that your database is always up-to-date. For example, if a candidate provides a different phone number than the one on their record in Bullhorn, the phone number will be updated in the ATS based on what the candidate provides on the form, creating consistency and ensuring you always have the correct information.
To set up Field Flowback, utilise the appropriate tab within Onboarding and choose from a variety of fields, including phone, email, and address. You can configure which fields from documents flow to which records within Bullhorn and add as many connections as necessary to ensure all pertinent information moves between Onboarding and the ATS. 
Document Archive
With so many documents stored in Onboarding, it can be difficult to differentiate between current, ready-to-use documents and old or outdated versions. By archiving documents, you can reduce the clutter but keep the most up-to-date versions so everyone is using the correct documents. 
Archiving documents also makes it easier to search and find the document you're looking for since older or incorrect versions will be hidden from document lists and searches. You still have access to archived versions and can access them for reference or to update and use as a new document.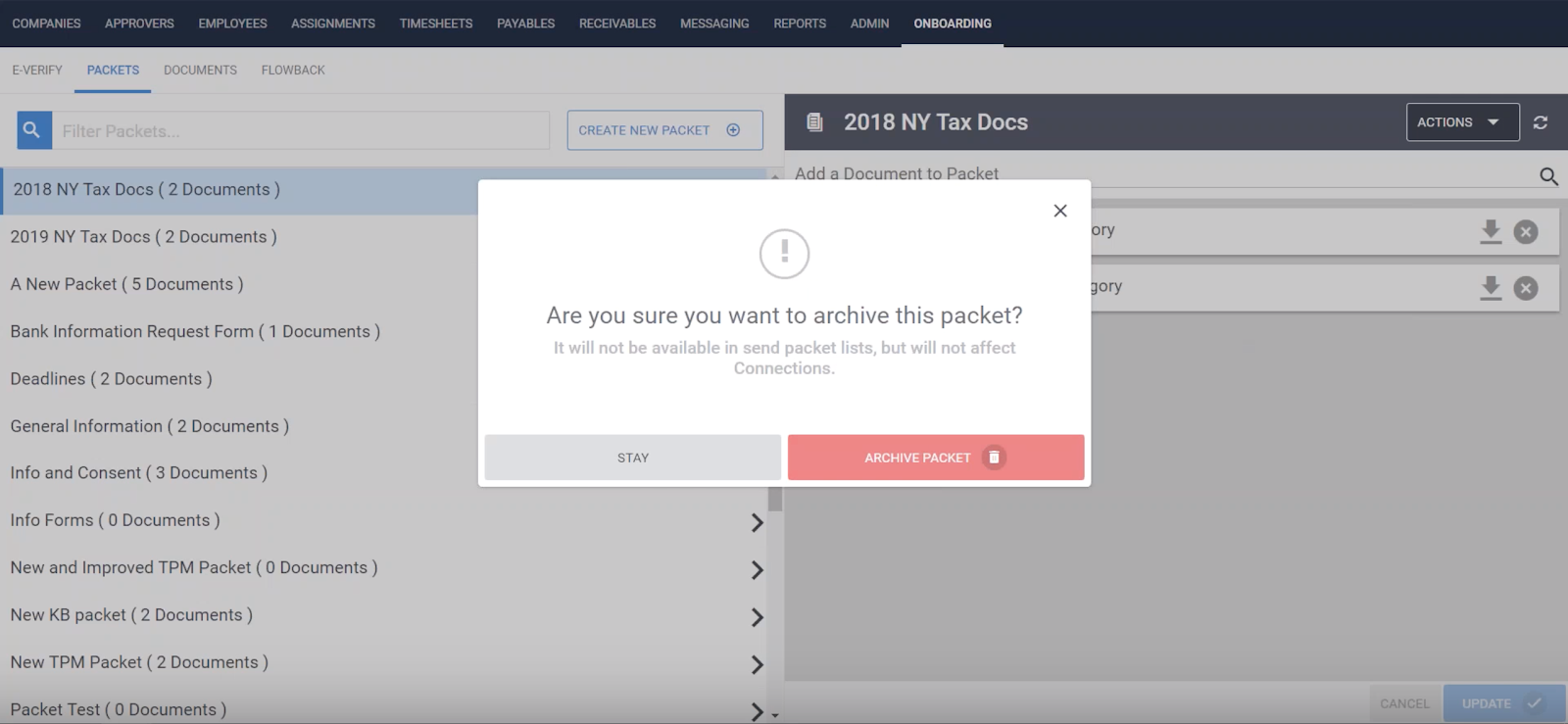 From the list of documents or packets, you can select either and use the action menu to archive it. Once you do so, it will no longer show up in the master list of documents, but it will show up in searches or on any record it's attached to, so you can still access it easily if needed. Archived documents won't be sent as part of any packets it's included in, but will still be connected to records where fields or other data is referenced. 
Candidate Onboarding Auto-Fill
The auto-fill functionality in Bullhorn Onboarding helps expedite the form completion process for candidates and reduces the likelihood of errors due to manual data entry. Candidates only need to enter information upfront once, which will then flow across the rest of their documents to populate the appropriate fields without them having to reenter information on each document. 
This functionality helps candidates complete their documents faster, allowing them to start their new roles sooner. By removing much of the manual aspect of filling out documents and streamlining the process altogether, field flowback ultimately improves both the candidate and client experience.
---

Subscribe to the Customer Blog
Subscribe for trends, tips, and insights delivered straight to your inbox.