What is Recruiting Software?
Recruitment Software is an essential tool for your staffing firm. It allows you to build and maintain relationships with large pools of candidates and effectively manage the entire recruitment process. By utilising recruitment software, your firm can eliminate manual data input and save essential time while still engaging with candidates. The leading systems, however, take a step further in that they automatically capture interactions, email conversations, store it, and organise your data. With an integrated software, automation replaces your fingertips, saving you valuable time.
Features to Look for in the Best Recruiting Software
Accessibility and Mobility
The most high-powered recruitment software in the world will be of little use if your team doesn't know how to use it. The best software for your company should have a modern, intuitive system, so your employees can focus on their daily workloads while the software does the rest.
Today, accessibility is virtually synonymous with mobility. With a robust set of features, a high-performance, easy-to-use mobile software or CRM will ensure users who aren't always in front of their computers can do their job from their whatever device they wish.
Automation
No recruiter or staffing salesperson has ever complained about having too many hours in the day. It's not a surprise, then, that it can be difficult to encourage employee buy-in for software that requires manual data entry.
Modern recruitment software and staffing software should automatically capture your team's interactions with customers. Great examples of automatic data capture can be found in fitness technology like the Fitbit. These devices revolutionised how people achieve their fitness goals by automatically capturing all of your physical activity and delivering insights which encourage you to reach your health and fitness goals. Recruiting Software can operate in a similar way for agencies.
Predictive Intelligence
Want to get ahead of the competition? The staffing industry is a competitive and fast-moving one, and a reactionary approach won't cut it.
Your software should be proactive and prescriptive, suggesting the next best step for your reps rather than simply serving as a historical data repository. While it's certainly helpful to track sent emails and total calls, predictive intelligence takes this knowledge to the next level and puts it to practical use. Software with predictive intelligence can inform recruiters on which call to make and which relationships to direct their efforts.
Industry Expertise
The staffing sales model is unique to the sales model of every other industry. You aren't selling a product. And although clients purchase staffing services, you ultimately deliver people. Interactions involving people are inherently more complex on both sides of the transaction and require a tool purpose-built to manage this complexity.
A staffing-specific software is designed to successfully deliver immediate value and impactful results to your agency. General solutions might be powerful, but they're built to solve the needs of other industries. That forces you to invest in a great deal of functionality your agency will likely never use, while at the same time, not receiving the full scope of capabilities necessary to run a successful recruiting business.
What Makes Bullhorn Different?
Increase Recruiters' Productivity
From resume receipt to applicant tracking to job placement, Bullhorn helps you eliminate non-revenue-producing tasks and focus on what is really important – your business.
By leveraging the latest technology along with valuable feedback from our clients, we are able to produce a robust, user-friendly recruiting platform geared towards making more placements faster. With automated workflow, task management, and pipeline oversight, Bullhorn is sure to streamline your operations and boost efficiency.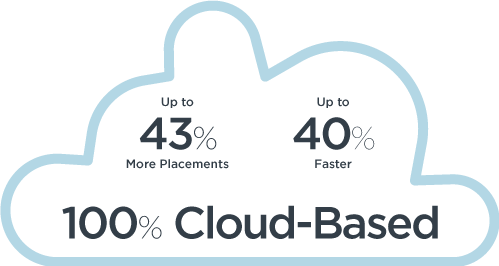 Driving Recruiting Firms Forward
Bullhorn recruiting solutions are designed for today's fast-paced, on-the-go staffing recruiters. Whether it's executive placement, direct hire, contract positions, or any sort of recruitment need, Bullhorn's web-based software should be your first choice solution. The Bullhorn team constantly monitors the industry and interacts with some of the leading professionals in the space to ensure we have the features and capabilities that the fast-paced staffing and employment industry demands. Don't settle for out-of-date desktop recruiting software that lacks new media and cutting-edge features.
Trusted Web Recruiter Software
When it comes to recruitment software and online recruiting management systems, Bullhorn is a pioneer in the industry. Bullhorn's web recruitment software is chock-full of state-of-the-art features to help you leverage the power of the web for candidate sourcing, contact management, and job placement.
Delivered as a SaaS (Software-as-a-Service) solution, Bullhorn's web-based recruiting software is accessible anywhere you have an internet connection. Just hop online and let Bullhorn help you manage the recruiting and applicant tracking process with ease.