Light industrial staffing firms experienced solid growth in 2022, with 57% reporting year-over-year revenue gains, slightly behind the average for all industries (62%). In spite of economic uncertainty, these firms remain cautiously optimistic about the remainder of 2023 but are proceeding with caution in the face of slowing demand.  
Compared to the staffing industry as a whole, light industrial remains more focused on technology and automation than other verticals. 61% of light industrial firms expect to increase their technology investments in 2023 versus 50% of firms across all industries.
As is true across the board, the tight candidate pool is top of mind for light industrial firms with 70% reporting this as their top business challenge and fully 82% saying there is a shortage of qualified workers. Reduced demand related to economic uncertainty combined with inflation and pricing pressure from clients is making margin compression a major concern for light industrial firms in 2023.
Light industrial firms that saw revenue growth last year and expect the same in 2023 are paying particular attention to automation (47%), especially when compared to those firms reporting that revenue decreased or remained flat last year (28%). And these highly successful firms are also prioritizing expansion into new markets and service lines — 24% of the top performing firms list this as a priority as compared to 17% of light industrial firms overall (and just 9% of those who have seen revenue decline or remain the same). Moving into a period of economic uncertainty, the highest-performing firms seem to be protecting margin and increasing market resiliency through strategic diversification — an approach that can also be a springboard to rapid growth when the economy bounces back.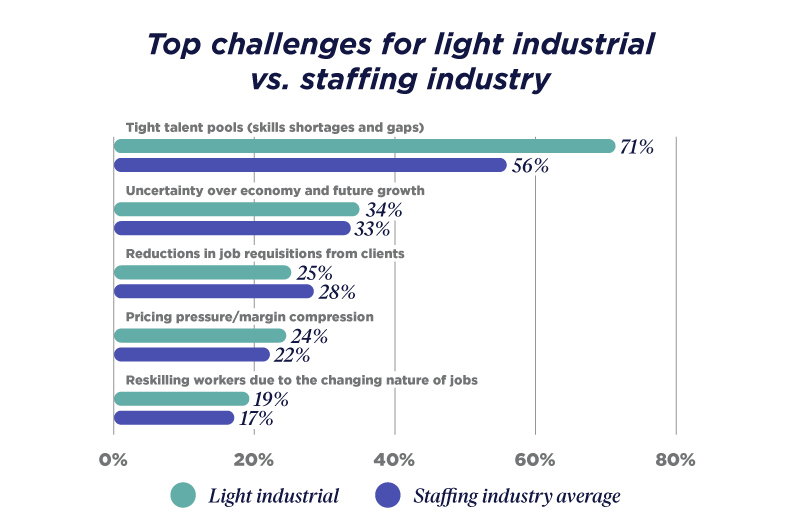 Challenges
Although the tight talent pool is a top challenge for the entire staffing industry, it is particularly pronounced for light industrial firms, with 27% more listing it as one of their top three challenges in the coming year. Light industrial firms need to deploy technology and strategies to source, retain, and enhance the experience of workers.
In addition to the extreme worker shortage, light industrial firms are somewhat more likely to be dealing with pricing pressure and changing job requirements than the industry as a whole. Nurturing strong customer relationships and specialized industry expertise may help mitigate both these factors even in the face of continued economic uncertainty.