Take the 2021 Recruitment Trends Survey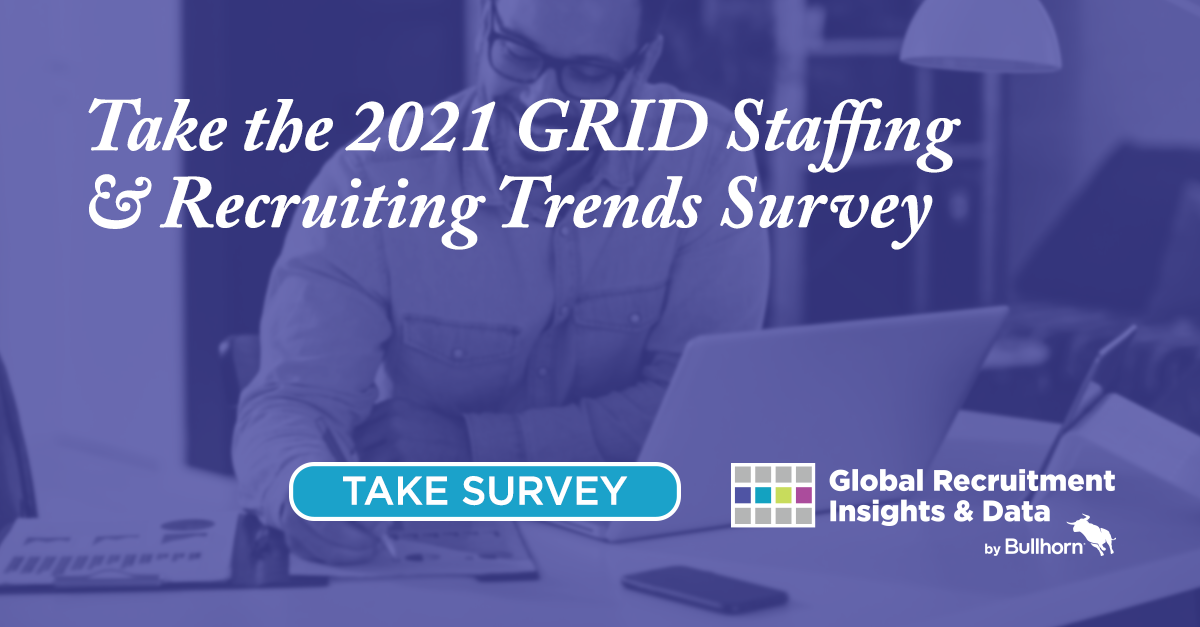 Do you work in the recruitment industry? We want to hear from you!
Each year, we ask industry pros like you to share what's most important to firms like yours in the year ahead. We then take the results of 2,000 global recruitment professionals of all functions, roles, and company sizes and share the findings with you.
These findings highlight how your peers view the industry, what they say their top priorities and challenges are for 2021, and how they're thinking about the future of recruitment.
Take the 2021 Recruitment Trends Survey
Take 10 minutes to share your insights, and when the findings are released in early 2020, you'll be among the first to see them and discover how your insights compare with others in your industry. Plus, you'll have a chance to win one of 50 £25 Amazon gift cards!

Some of the questions we'll look to answer for the year ahead:
What are the top priorities and challenges for 2021?
What are the lasting impacts of COVID-19 on the recruitment industry?
How are firms attracting and retains clients in the current landscape?
What technologies and approaches are firms using to grow their businesses?
We'll use your responses to surface some of the most significant insights and trends for the coming year so you can see what firms like yours are focusing on in 2021, global and local trends to be aware of, opportunities your firm can leverage to grow your business, and more.

You can access all of our original research—including new reports that we add throughout the year at our Global Recruitment Insights & Data (GRID) site. Here are some trends to consider heading into 2021, from our COVID-19 Impact Survey of 900+ recruitment professionals.
Clients are the (new) top priority
Year-after-year, the top priority and the top challenge for recruitment professionals remained the same. Respondents voted candidate engagement as their number one priority and the talent shortage as their top obstacle for five straight years, including 2020. But then COVID-19 changed everything.
As the unemployment pendulum swung from historic lows to highs in the midst of COVID-19, the talent shortage is not the challenge it was heading into 2020. This shift is one of the reasons a new top priority has emerged for the first time in years. Client relationships (the number-two priority heading into 2020) are now firmly the top priority for firms, as businesses struggle to win new clients and maintain existing clients in a shifting landscape.
But that's not to say that candidates don't matter. In fact, candidate engagement and improving the candidate experience are still the second-most important goal for firms since the COVID-19 crisis, ahead of other important priorities like managing cash flow. Ultimately, focusing on relationships is still a winning business strategy in this landscape and any other.
Remote Possibly: Remote Work is Here to Stay
Recruiters are increasingly reporting recruiting for remote roles which were conventionally believed to be impossible in a remote setting
When respondents were asked to name the newly remote roles that surprised them the most, "everything" came in as the most popular answer. Respondents shared a diverse and surprising list of roles they had placed for remote positions, including lab-based scientists, defense work, sign-language interpreting, and even positions at airports. 
I'm a firm believer in remote working, so there isn't a single job out there that can't be remote in my opinion. — Respondent, 2020 GRID COVID-19 Impact Survey
Read all of last year's findings here. To discover similar insights and help your firm prepare for the year ahead, take the 2021 survey today!
---
We can't wait to hear from you. Share your thoughts today and win a gift card!

Subscribe to the Recruitment Blog
Subscribe for trends, tips, and insights delivered straight to your inbox.