The Top Staffing and Recruiting Trends for 2019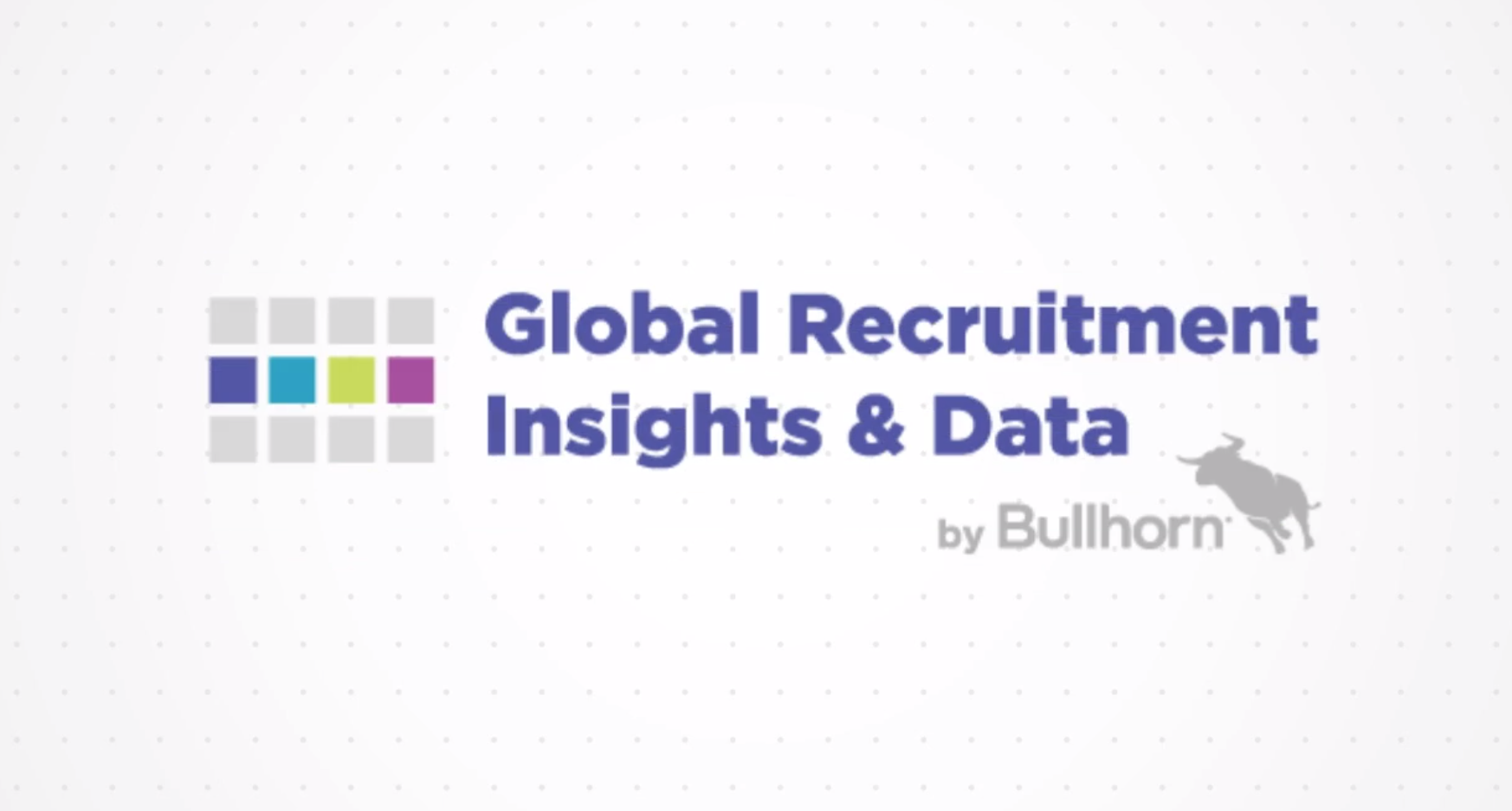 What will 2019 hold for the recruitment industry? More than 2,000 industry professionals worldwide weighed in with their thoughts on the top priorities, challenges, and issues that will be top of mind in the coming year.
And this year, we're delivering the results in a fresh, new way. We're thrilled to introduce our new Global Recruitment Insights and Data (GRID) site. Unlike traditional industry reports, you can easily navigate this robust site to find the information that's most important to your business.
Interested in the top priorities for recruitment agencies? Check out this deep dive

article

on the site.

Wondering how to reskill workers amidst talent shortages? Read this spotlight.

Want to explore an overview of top industry trends? Visit the

key findings

 or 

explore the big picture for recruitment agencies with an infographic. 
Read on below for a sample of some of this year's top findings.
Discover Top Staffing and Recruiting Trends for 2019 at the GRID
Recruitment Industry Outlook: Optimism Runs High
Recruitment professionals have high hopes for 2019. Respondents have higher expectations for revenue, budgets, investments, and placements than they did heading into 2018.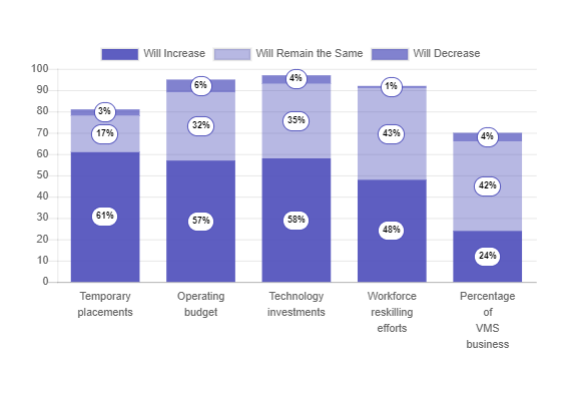 Recruiting pros are especially bullish on their revenue outlook for the year ahead, with the majority expecting revenue to increase in 2019. Some other sources of optimism? Sixty-one per cent expect temp placements to increase, and 58 per cent plan to spend more on tech.
Top Priorities: Candidates and Tech Take Precedent
Aside from the ever-present goal of driving revenue growth and increasing profitability, respondents are all-in on candidates in 2019. Fifty-five per cent of respondents cited candidate sourcing and acquisition as a top priority, making it the top focus area for recruitment pros. Engaging candidates came in second at 40 per cent. 
Other priorities on which they'll focus? A variety of paths emerge. Thirty-six per cent will prioritise digital transformation to improve their operations, 36 per cent say developing their employment brand and enhancing their marketing strategies is a top priority.  
Explore the Top Priorities for Recruitment Pros at the GRID
Top Challenges for Recruitment Agencies: Uncertainty Abounds
While the 2019 outlook for recruitment agencies is marked by optimism, the outlook's not all positive. From hiring and operational challenges, to the issues macroeconomic and political shifts present, there are numerous challenges that will need to be navigated in 2019.
Beyond the perennial talent shortage—78per cent say it's a top challenge—recruitment leaders struggle with accelerating pay increases and higher churn rates due to unemployment.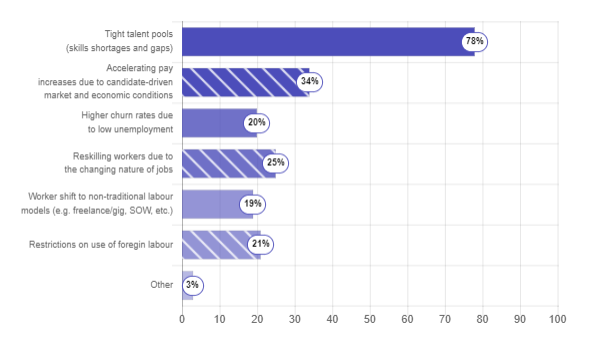 Embracing digital transformation is the top operational challenge for global recruitment professionals (80 per cent), but respondents are likely to see the digital transformation of the industry as an opportunity. Pricing pressure and margin compression came in just behind at 54 per cent.
Explore the Top Challenges for Recruitment Pros at the GRID
Big Ideas in Recruitment: AI and Reskilling
While the need for candidates amidst the talent shortage isn't new to 2019, the ways in which recruitment professionals think about talent marks a significant change from years past.
One emerging trend: reskilling, the process of helping workers transform outdated skills into skills in-demand in the modern world. Seventy-seven per cent cite it as an effective way to address talent shortages.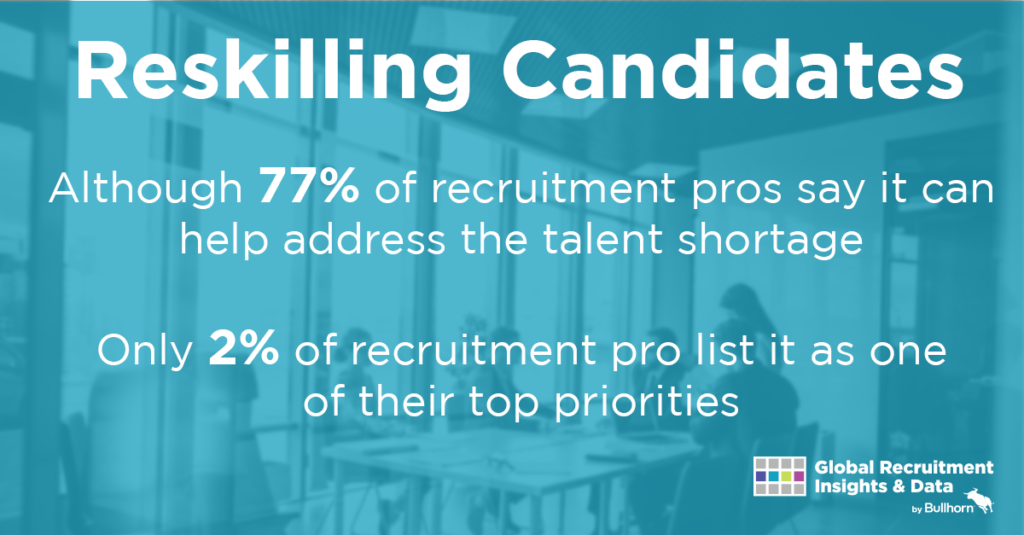 These ideas represent an exciting opportunity for the industry, but there's still plenty of room to learn and get ahead of the curve.
---
Interested in learning more about the challenges, opportunities, and ideas that will shape the recruitment industry in the year ahead? There's so much more waiting for you at the Global Recruitment Insights and Data site, like key findings and spotlights on top trends, as well as resources designed to help you be a trendsetter, like social shareables and powerpoint slides.
Subscribe to the Recruitment Blog
Subscribe for trends, tips, and insights delivered straight to your inbox.