UK Recruitment Trends Before and After Brexit Part II: Technology Is a Must-Have for Sourcing and Managing Candidates
In our last post, we looked at how UK recruitment firms are reacting (surprisingly positively) to the Brexit vote. Today, we're digging into the trends we found about technology.
Technology remains a challenge and an opportunity for recruitment firms in the UK: Agencies are comfortable with familiar technologies even as they try to get a handle on social media and emerging tools. Bullhorn surveyed over 300 UK recruitment firms both before and after the "Brexit" vote in June about their perspectives on the use of technology in recruiting. The results show most recruitment firms are wedded to their customer relationship management (CRM) platforms, and are exploring their options when it comes to social media and other new technologies.
In both the pre- and post-Brexit surveys, the responses suggest recruitment agencies rely on specific technologies to do their work. At the same time, they see new technologies as an opportunity to address some of the challenges in the industry, and are on the cusp of learning more to get the most out of them.

Here's what we uncovered.
Managing Relationships Through Tech
The pre-Brexit survey found the vast majority of agencies (83 percent) are using a CRM to manage candidates and say they will continue to do so. The survey found 77 percent of respondents could not do their job effectively without a CRM. Recruiting agencies also tend to use CRMs in sales, with 71 percent saying they use a CRM solution to manage their sales processes by providing lead, opportunity, and pipeline management.
Recruiting agencies clearly are comfortable with technology. They rely on technology to keep track of candidates and sales relationships. These factors set the stage for them to take full advantage of other tools in an evolving recruiting sphere. Technologies such as automation and big data were cited as providing some of the greatest opportunities for agency growth over the next five years.
The Challenge and Promise of Social Media
Recruiting agencies may have some ground to make up when it comes to new technologies, though. Post-Brexit, 9 percent of firms say social media is the biggest industry challenge over the next two years, while 6 percent cited new forms of CRMs and automation tools.

At the same time, recruiting agencies recognise the future is technology. In the post-Brexit survey, 30 percent of respondents said social media such as Twitter, LinkedIn, and Facebook will yield the most qualified candidates for their jobs in the next two years. Another 24 percent said existing candidates from their recruitment CRM will be the place to go for qualified candidates; 21 percent said online job boards.
As recruiting agencies ponder the post-Brexit landscape, it's clear technology will continue to play a lead role in sourcing the right candidates for the right positions. Social media, automation, and big data, combined with the right CRM, will be top tech priorities in the coming years.
Learn more about how leading recruitment are using modern technology to grow their businesses.
If you enjoyed this post and want to learn more, take a look at our other two instalments of UK recruitment trends: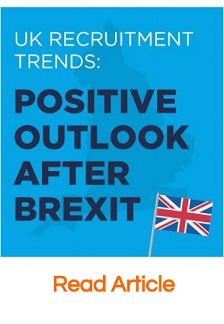 Subscribe to the Recruitment Blog
Subscribe for trends, tips, and insights delivered straight to your inbox.