Get your ATS working for you: The critical role of workflows and data in recruiting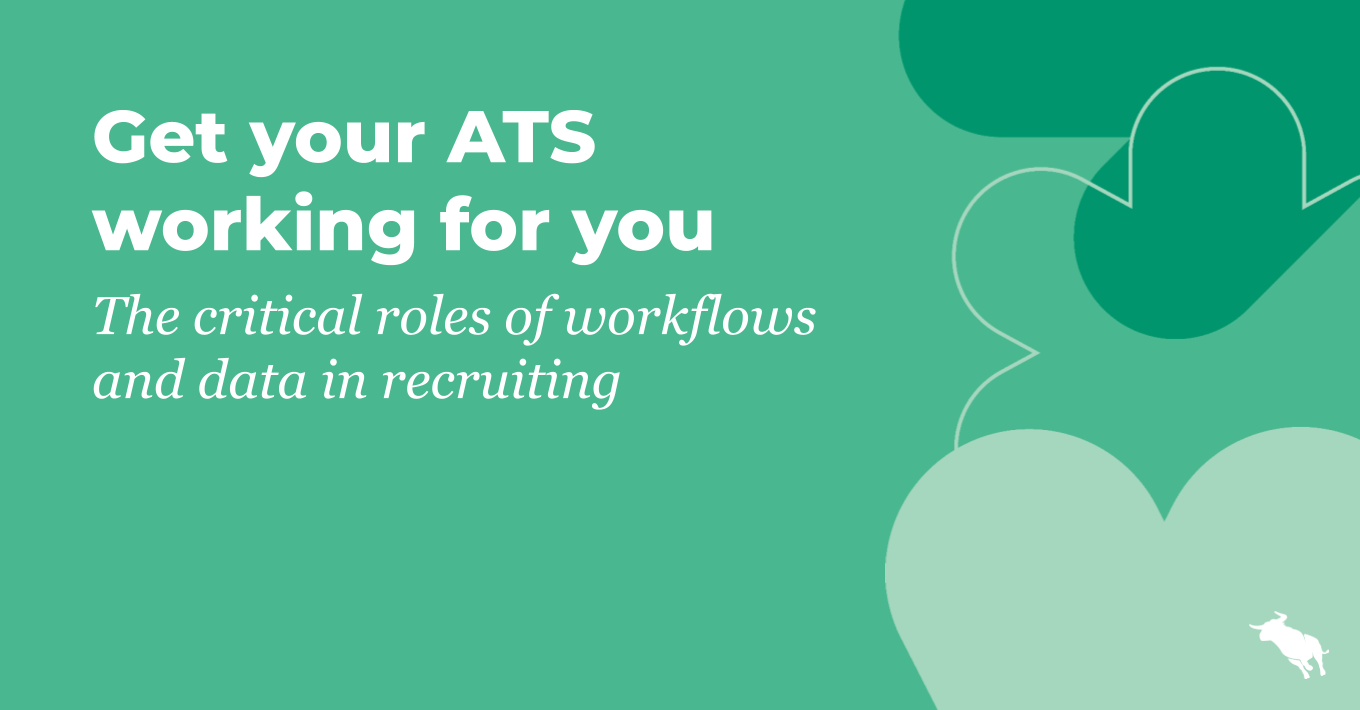 Process. Workflows. Data.
These words likely aren't the most exciting words for your team to hear, given that recruitment attracts more salespeople than it does analytical types. This inherent truth is one that Andrew Roger, a recruiting veteran of over 20 years, knows better than most.
A little over six years ago, Roger co-founded consulting business recMate, which helps recruitment businesses maximise their profit through their systems, processes, people, and practices. His prime focus is on a recruiting agency's tech stack and the workflows within.
In order for recruitment agencies to get over the technical challenges caused by an inefficient or non-existent tech stack – particularly when growth reaches a point where they need to scale – it's crucial to have someone on hand who can apply a singularly analytical mindset to problems.
Agencies should also understand the critical importance of data, workflows, and finding the appropriate tools to get the job done quickly, efficiently, and without a lot of manual input. As a whole, the recruitment industry tends to look past the importance of technology, which causes data issues early on.
The most common ATS mistakes
Using technology to be the best that you can be isn't a groundbreaking idea, but it's one that some players in recruitment are slow to accept.
This fact should be revealed early by performing a company health check. A company health check is designed to identify a company's goals and understand the current divide between those goals and the recruitment tech currently being used. Suffice it to say that this divide can be huge.
Roger has found that agecnies realise they need an ATS, but a large portion don't know how to effectively use one. Instead, they spend a lot of money on a product packed with features and potential but don't take full advantage of everything it has to offer.
An ATS is only as good as the internal processes that work around and within it, so it's critical to make sure that those processes are clearly defined, enforced, and are always driving towards specific outcomes and goals.
According to Roger, companies should "have a really good workflow, from prospecting through to post-placement care." Knowledge is power, and workflows that form a structured system for collecting data are absolutely critical to any modern organisation's success.
While issues of underutilised ATSs and nonexistent workflows are industry-wide problems, they are particularly severe in those two- to three-year-old, five-to-ten-person operations that are reaching the point where they need to scale. This is because there can be hesitancy in investing resources into technology and processes until you know your new venture will be a success. Additionally, a new company may not know exactly what they need until they grow to the point at which they need it.
But, overwhelmingly, making a small investment early will mean you avoid spending endless time and money later.
The data you should be focusing on
What is critical data? In an age where big data rules, it may be a surprise to hear the relatively small amount of data that a recruiter needs to do their job effectively.
"It's not much," says Roger. "From picking up a job to placing somebody in it, to looking after them over that initial three- or four-month period, you just need to collect six or seven pieces of data along that pathway."
He says that three metrics – date available, status, and resume update date – allow you to search for candidates in your ATS incredibly efficiently. Expand that collection to six or seven pieces of data through a well-developed workflow, and you can generate a vast pool of insights, to the point where you can gain a true understanding of your candidate community. Perhaps the data shows that you struggled to fill roles from October through December; using that insight, you can ramp up your candidate search a month or two earlier in the year, standing out among your competitors and getting a new employee along the way.
As we know, the word "data" may not inspire most recruiters. Getting them to understand its importance is about linking the why, or what's in it for them. The answer: commission. Logging a few pieces of data doesn't sound so bad if you can tie good data hygiene habits to a reward.
Workflows: the second piece of the puzzle
"Data is the most important thing," says Roger, "and making that data accessible is the second."
Effective data collection is only possible with workflows. Roger admits that when he or his team at recMate opens up a new customer's ATS, it often looks like an overgrown backyard. Candidates not attached to jobs, un-utilised workflow systems within the jobs, activities not being recorded: all of this means that there's no way to build a picture of how things are tracking.
Consequently, individual recruiters don't know where they stand or what to prioritise. And without an accurate or holistic view of business activity, CEOs are also flying blind.
Roger admits that he often finds surprisingly simplistic workflows within ATS systems. "To be honest, they can be embarrassing conversations to have, but they're incredibly important." Most commonly, these workflows are a simple case of an agency growing organically, and eventually realising their systems just don't scale.
No matter the size of the agency, doing this workflow groundwork is vital. Once you set a solid foundation, you can build automations to keep your team on track, reminding each member of what they need to do to keep the whole system working efficiently. Rather than fighting with technology, you can instead work with it, and the results can be stunning.
In the end, workflows are simply a means to help recruiters help themselves.
Here are a few examples to get you started:
Workflows that reduce the need for manual handoffs, causing reductions in the time between tasks. 

Automatically post new job listings

Automatically order background checks and place the correct order based on the onboarding packet sent or placement.

Based on ATS status, automatically send appropriate onboarding packets or change the status of candidates in your ATS and notify recruiters upon completion of each packet.

Automatically run e-Verify after Section 2 is completed.
Subscribe to the Recruitment Blog
Subscribe for trends, tips, and insights delivered straight to your inbox.