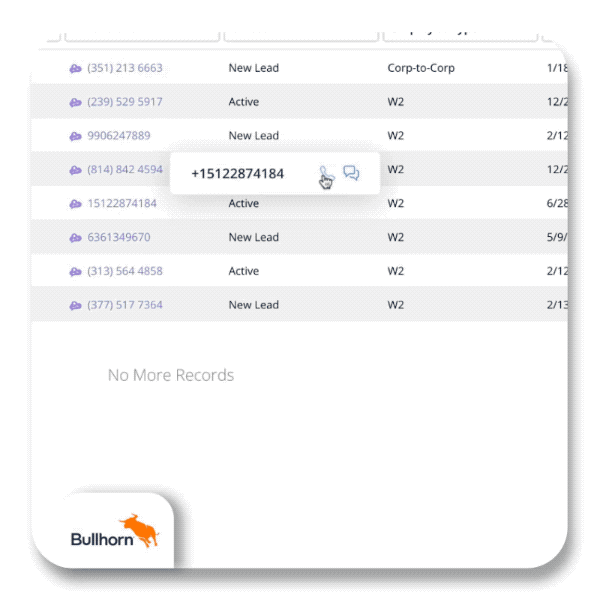 Boost productivity from directly within Bullhorn
With CloudCall, your recruitment team will work smarter, not harder.
Cut out the time it takes to manually dial numbers with Click to Call. Increase your regional and worldwide teams pick up rates with Local Presence. Automate your workflows and provide outstanding candidate service with Screen Pops. And, make calls faster than ever before with Power Dialler.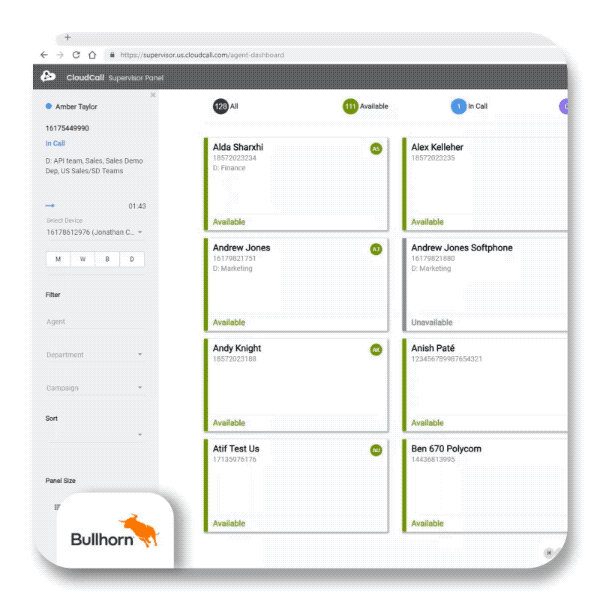 Let data drive your business
Imagine being able to turn your conversations into actionable insights… Well, with CloudCall, you can!
With Call Recording and Call Notes, you'll capture the information you need to provide outstanding candidate service, and you'll be able to use that information to inform your ongoing outreach strategy. Real-time Reports and Dashboards enable users to surface key insights, ensuring that only the best possible actions are being always taken. Plus, the Supervisor Panel provides a top-down view of all real-time calling activities for team leaders and managers.
Reach more people with SMS
It's more important than ever to be able to reach your candidates while they're on the go.
CloudCall's SMS functionality is designed to ensure recruitment teams have the tools they need to reach candidates quickly and efficiently, at any time, no matter where they are. Broadcast SMS allows you to send text messages on mass to a list of numbers, saving time, increasing efficiency and maximising profits. And, with Click to Text, you can drop any contact an SMS with a single click, straight from your Bullhorn CRM.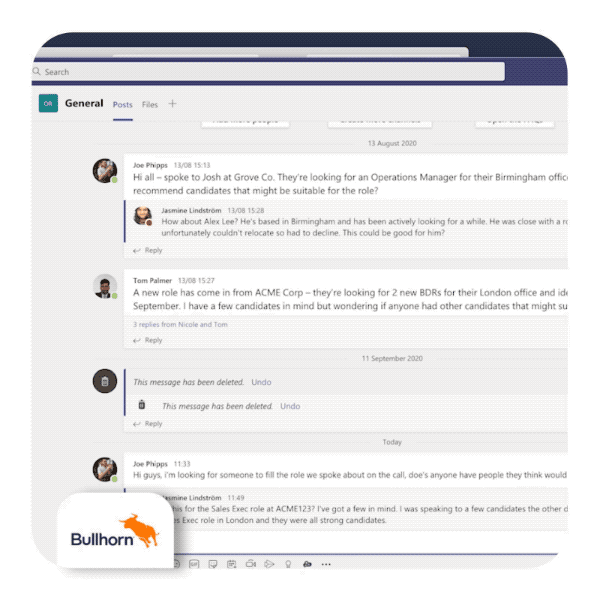 Level up your Microsoft Teams
With CloudCall for Microsoft Teams, you can share contacts, make single click calls, open contact records and sync all activity directly into your Bullhorn CRM via your Microsoft Teams interface.
And, that's just the start…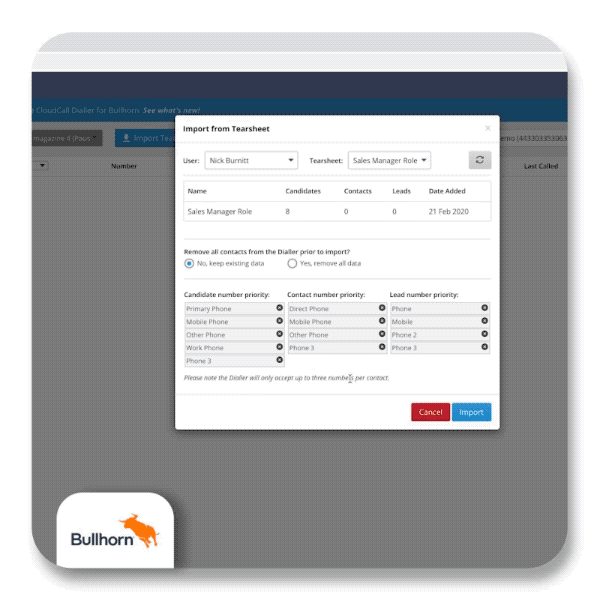 Do it all, wherever you are
Working on the go… Everyone's doing it. And with CloudCall, you can do it without sacrificing the quality of your work.
CloudCall's platform is designed for busy teams on the go, so you'll never miss a connection, and all activities will be synced to your Bullhorn records, no matter where you are.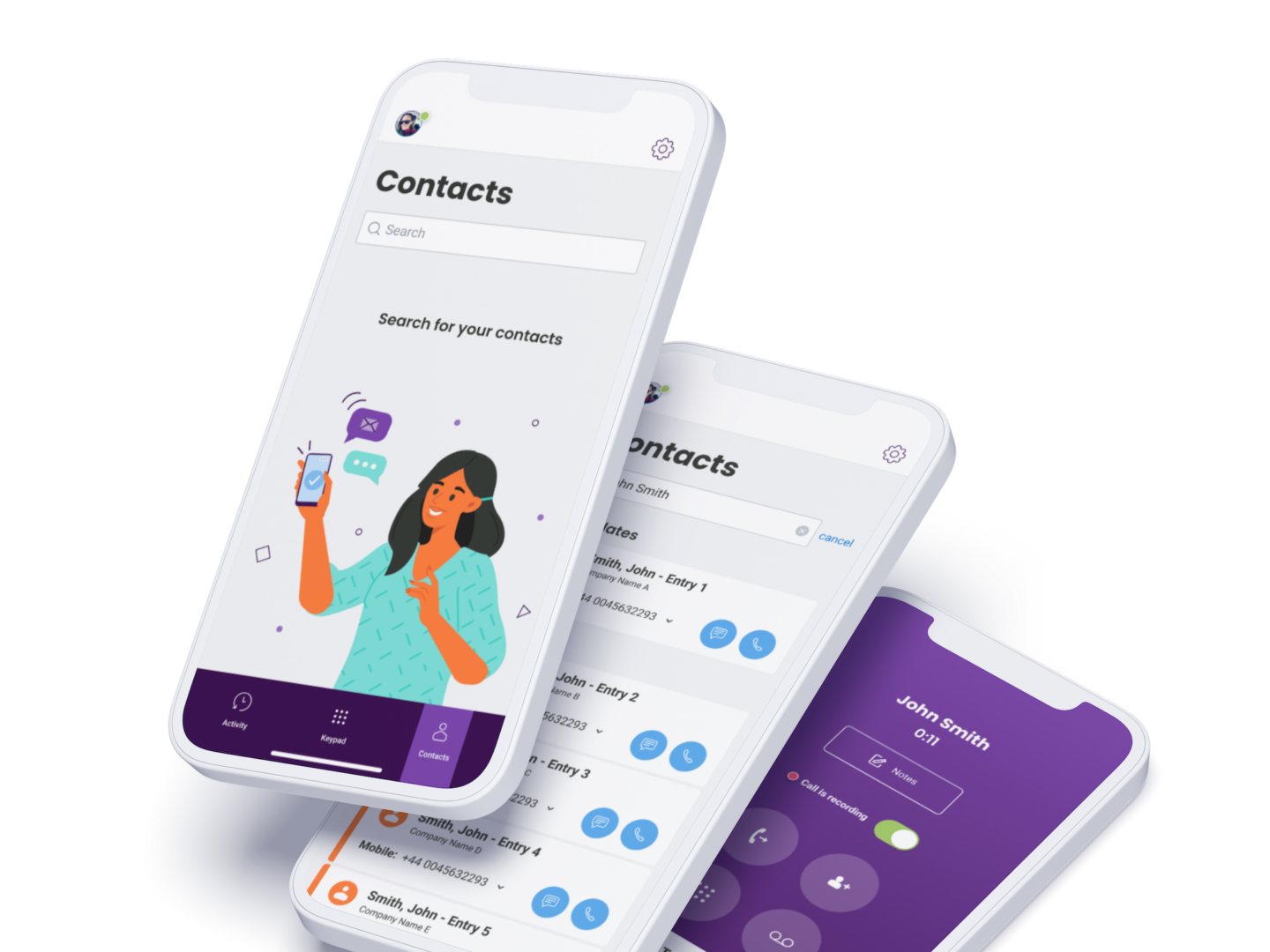 CloudCall in your pocket
Extend the power of Bullhorn and manage your communications from anywhere with the CloudCall mobile app.
Utilize the same interface and functionality of the desktop application while on your mobile phone, to remove gaps in Bullhorn records.