Top Five Things to See at Bullhorn Live Sydney 2019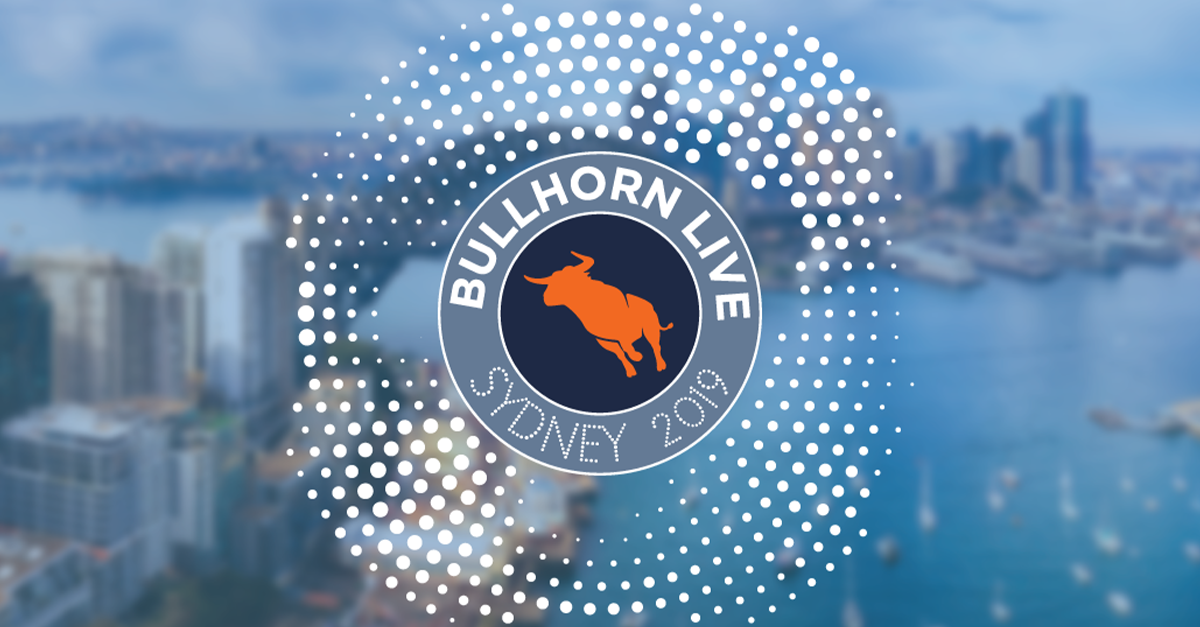 Bullhorn Live is in Sydney for the first time ever and it's less than a week away! Over the last few months, it's been overwhelming to see the incredibly positive response to the conference from the industry.
Over the course of the jam-packed day we'll bring you brilliant panels and speakers, up-to-date Bullhorn news and fantastic networking opportunities. In the breakout sessions, you'll have two tracks to choose from: Embrace Growth or Embrace Technology. Whichever track you choose to follow, I'm sure you'll find it valuable to help take your agency to the next level.
Here's five things we're most excited for you to see and do at Bullhorn Live Sydney:
1. Hear Bullhorn's Vision and Roadmap for 2019 and Beyond 
Matt Fischer, Bullhorn's President & CTO and Jeff Neumann, VP Product Marketing, Enterprise and Salesforce will be in Sydney from Bullhorn's Boston HQ to share our immediate roadmap and aspirational advancements. In one of the first sessions of the day, learn Bullhorn's strategic vision for helping companies continue to innovate, differentiate, and stay ahead of the competition.
2. Get Inspired by Your Peers
There'll be plenty of opportunities to network with your recruitment industry peers, so don't miss out. Be sure to take advantage of the allotted networking breaks throughout the day as well as striking up a conversation with anyone sitting around you, while you wait for sessions to begin. You'll be surprised how much you can learn from those quick chats.
3. Discover Valuable Insights from Leading Industry Experts
An incredible lineup of over 30 speakers is ready to share their insights, experiences, and top tips and tricks. With speakers ranging from Greg Savage, on how to build a recruitment business based on resilience, to Sinead Hourigan and Charles Cameron exploring global recruitment trends and where ANZ sits in comparison, we've got something for you.
4. Connect with Our Team and Other Bullhorn Customers
You've probably spoken to at least one member of our Sydney team at some point, now you'll get an opportunity to put a face to the name. If you haven't, this is the perfect setting to get to know us at the Bullhorn Connect Room. Hear from other Bullhorn customers, on how what they've done, how they've grown and learn how you could do the same.
5. Learn from our Marketplace Partners 
The exhibition area will be your only stop at the conference to meet some of our key marketplace partners in APAC. Learn what pre-built integrations are already set to work seamlessly with Bullhorn and how you can utilise them to boost your business.
Don't expect your day to end there—to finish the day, we will be hosting a drinks reception. You'll be able to ask those last-minute questions to our team, seek out someone you missed in the crowd earlier in the day, or just enjoy a few drinks with your industry peers. Whether you're considering a Bullhorn solution for your company or you already have Bullhorn hard at work in your business, we can't wait to share the day with you.
---
If you haven't had a chance already, check out the Bullhorn Live Sydney 2019 full agenda and see what else is in store for the day!

Subscribe to the Recruitment Blog
Subscribe for trends, tips, and insights delivered straight to your inbox.