Support Tip: Your Mass Mailing Questions Answered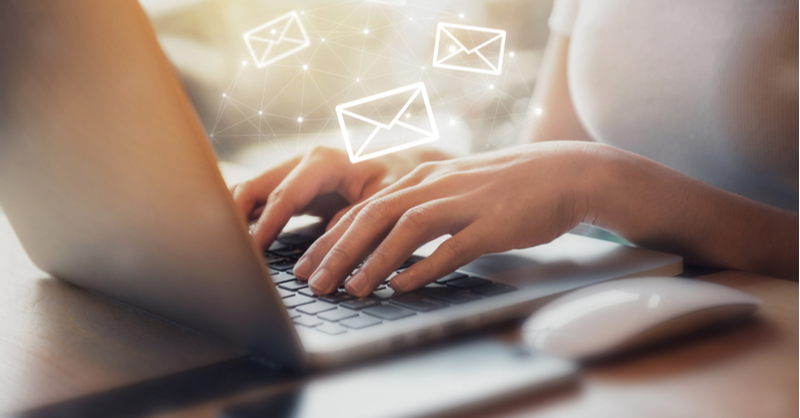 If you're reading this, you're probably familiar with Bullhorn's mass mailing feature. If mass mailing is entirely new to you—or you just need a refresher—check out the Sending Mass Mail section on our help site.
While sending a mass mailing is easy, you may not think to ask certain questions until you believe there's an issue with your email. In this post, we want to discuss some of the most common mass mailing questions we see from Bullhorn users.
Why do I get an error when sending a mass mailing?
Receiving an error when emailing anyone can be scary. Do you resend the email? If you do, will the recipient receive two copies of the same email? Rest assured, if you receive an error, your mass mailing won't be sent.
Most of the errors we see can be resolved by emailing through a Distribution List, as they provide better performance. If you use a Distribution List but are still having issues, check to see that you're using the Email All action:

If you're still not having any luck, we recommend having an Account/Support Contact reach out to Bullhorn Support on your behalf so they can help you get to the root cause.
Where do replies to mass mailings get sent?
Replies get sent to the same email address you use for Bullhorn. Replies also get logged on the Emails tab of your records (or the Activity tab if you're on S Release).
How will I know if my mass mailing was sent correctly?
It's simple: If you don't receive an error, then your message sent correctly. However, if any recipients have opted-out of notifications or have invalid email addresses in your database, Bullhorn will notify you after you send your email.
Another factor that would prevent a recipient from receiving your message is if it gets marked as spam. Having an email admin set up Bullhorn's Sender Policy Framework (SPF) records on your email domain can help prevent this. This won't resolve the issue in every case because just about every email filter is different. It's ultimately up to the recipient's email filter if your message gets flagged as spam. The recipient could also mark it as spam. Which they'd never do, right?
My email looks different than I expected. What do my recipients see?
We see this question a lot and for good reason. When you send a mass mailing, you receive a copy in your inbox but some things on it may seem off:
Notice the email address this email came from. Mass mailings should come from the email address you use for Bullhorn. So why does this one have a domain of @bulhornstaffing.com? And why on earth does it include $first name$ and $title$ in the email body?
Since you receive a copy of the email to the same email address you use for Bullhorn, the copy you receive will have a domain of @bullhornstaffing.com. This domain is used in the backend and isn't exposed to anyone outside of your company. Recipients will instead see the email address you use for Bullhorn.
As for $first name$ and $title$, these are merge fields that pull information from field values on your Bullhorn records. Since you don't have a record in your database with the same email address you use for Bullhorn, the merge field isn't able to pull any data. Recipients will see the merge field replaced with the information from their record (e.g. Frank instead of $first name$).
For additional mass mailing questions, make sure to explore the Sending Mass Mail section on our help site. Not only does this resource provide you with steps on how to send a mass mailing, but it also discusses every field on the Compose a Message screen and answers many other questions not addressed here.
---
Keen to get the latest Bullhorn tips, product news, and updates straight to your inbox? Subscribe to the Customer Blog today and make sure you never miss a thing! 

Subscribe to the Customer Blog
Subscribe for trends, tips, and insights delivered straight to your inbox.