Webinar Breakdown: Understanding Bullhorn Dashboard Cards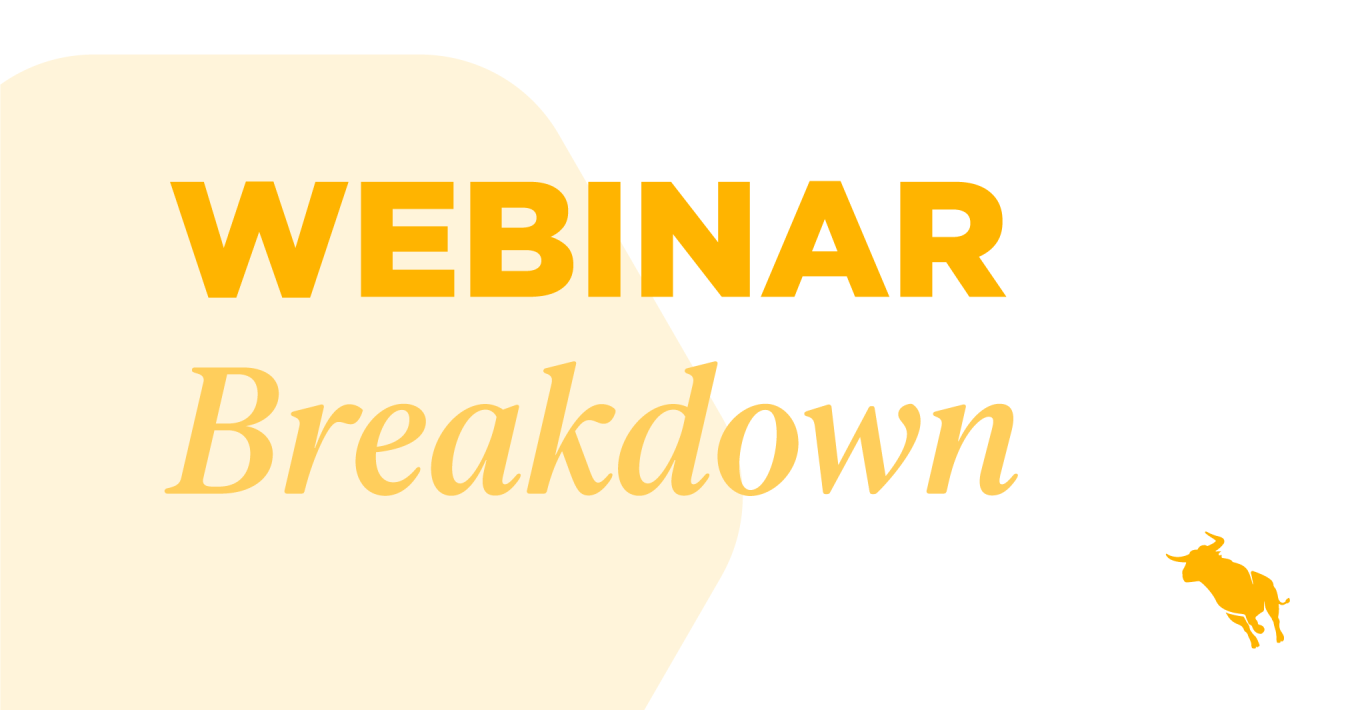 Did you miss our first training webinar of the year on Understanding Bullhorn Dashboard Cards? Don't worry, we've highlighted the key takeaways below. Read on to discover the value of Bullhorn Dashboard Cards in helping you track and analyse your company's data.
What are Bullhorn Dashboard Cards?
Bullhorn Dashboard Cards collates your company information and presents it in a personalised fashion for each user. They are designed to show you relevant real-time information from your database which you can then take action on quickly. Our existing library of dashboard cards allow you to view your database through different lenses to get a quick view of what actions need to be taken or where you are against your goals.
4.56 How to Access Bullhorn Dashboard Cards?
Bullhorn Dashboard Cards are available to all Bullhorn Enterprise Edition users, if you're unsure whether you have access please contact our team. To access Bullhorn Dashboard Cards click on Menu > My Dashboard. If you click on Add Card located on the top right, you'll see the full list of available dashboard cards separated by entity. For example, there'll be a number of different cards based on companies, contacts, leads or opportunities information.
View dashboard cards specific to any entity by navigating to the List View on the entity then clicking on the toggle on the top left to change between List and Dashboard. In this webinar we used the example of Dashboards in the Leads. To access them go to Menu > Leads > click on the Dashboard toggle on the top left.

Dashboard Cards Specific to Leads
Leads by Lead Source
7.13: Leads in Bullhorn allow you to track people you may want to talk to as there is potential for new business, for example someone you meet at an event or a referral. By keeping all this information in Bullhorn you are able to easily track and report on all the business development activity you're doing. Leads by Lead Source displays the most effective channels through which you're bringing in new leads to potentially convert to new business.
Configuring your Leads by Lead Source Card
7.55: There's a couple of different ways you can dig into this data. Firstly see the information on the card how you like, using either list or graph view, by clicking the first option on the top right of the card. Configure your card using the Gear icon also found on the top right (you'll notice this gear icon will be present on all dashboard cards so you can easily configure them). You can filter this card based on User Type, My Leads, All Leads, Department, User, Date Added or Status. This is where you can also rename the card to something relevant to your use case.
9.46: You can have multiple cards of the same type. For example, you can have two or more Leads by Lead Source card focusing on two or more different consultants or departments to easily compare their data side by side. Be sure to rename the cards to reflect the difference in configuration. An important call out here is anything in blue on dashboard cards is clickable. By clicking through you'll be taken to a list view of the information where you can start to take actions on specific records.
Dashboard Cards in My Dashboard
Jobs by Age
13.00: This card tracks how your jobs are 'aging over time'. It gives you a snapshot of the number of jobs currently in your system, broken down by the number of days since they were added into the system.
If you're a manager, you can easily set up multiple cards of the same type to track the different members of your team. You'll be able to see the number of jobs your team are working and how long they've been working on them. As a consultant, you can use it to gain a quick snapshot of which of your own jobs are aging so you can take the appropriate actions quickly.
13.47: Click on any of the day ranges, this will make a list appear below the graph. Scroll down to see the specific open job, which company the job is for, who your contact is and when the last activity was recorded against the job. You are able to open the full list of jobs in a particular day range in a list view to work on the specific jobs requiring attention faster.
Starts and Ends Card
15.07: The Starts and Ends Dashboard Card is a placement card that displays both the start and end dates of your placements in an easily digestible calendar format. The green squares on the calendar indicate the placements that are starting on that particular date. Clicking over to ENDS on the top left, the red squares represent the reverse showing you the placements ending on those dates.
15.50: Back to STARTS and scrolling down past the calendar, you'll see more details about each placement starting in the month. This allows you to double check each placement is ready to go on their start date and also schedule in check-in calls after the placement has started to make sure everything is going well for the candidate.
The same applies for placements coming to an end. By identifying the candidates whose placements are coming to an end earlier you can reach out to them to either get an extension on their current placement or boost up your redeployment rates by presenting other relevant roles to the candidate.
Jobs without Coverage Card
17.19: There may be a few differences in terminology with this card. For your company it may be Jobs without Shortlist or Jobs without Submissions, this is where renaming the card to suit your needs will be helpful. The Jobs without Coverage card shows your jobs that require activity and attention (by way of internal submissions, client submissions, or interviews) from your recruiters.
In this webinar, we filtered for jobs without shortlists by Add Card > Jobs without Coverage > click on the Gear icon on the top right > select Shortlists under Coverage Type > Click Apply. As a recruiter, clicking on a certain month, for example December 2020, you'll see a list of the jobs you don't have shortlists for yet so you can start to take action on them. From a managers perspective, you'll be able to track the jobs that have aged and take action if they have started to drift or have not been closed out properly.
Again, you can make multiple versions of this card showing different information such as Jobs without Shortlist, Jobs without CV sends or Jobs without Interview. With these different cards you are able to drive jobs through your pipeline faster or quickly take corrective actions where needed whilst ensuring you're also working with a clean database.
My Activity Card
19.07: The My Activity Card runs off the Goals & Quotas section of Bullhorn (Menu > Goals & Quotas) so please ensure you have them active before viewing this card. Goals & Quotas allows you to set goals for yourself or goals for your team based on activity within Bullhorn. The My Activity card shows the goals that are currently assigned to you and your attainment towards them as a percentage. This allows you to track your progress in real time and ensures you are constantly keeping the data within Bullhorn updated with the most relevant useful information for you and your team.
Where to go to access further resources on Dashboard Cards?
We recommend 3 useful resources you can explore to learn more:
21.55: The Bullhorn Learning Hub
The Bullhorn Learning Hub offers a range of different interactive resources. It includes recordings of previous webinars and a massive catalog of different interactive training courses you can work through at your own pace.
22.47: Bullhorn Customer Community
The Bullhorn Customer Community can be accessed via Bullhorn > Help found on the top right corner. Select Bullhorn ATS product then use the search bar on the top right to search 'Dashboards' to access all our relevant articles on the Dashboard Cards.
23.32: Contact Bullhorn
Reach out to your Bullhorn Account Manager to discuss how you can make the most of your Bullhorn platform using Dashboard Cards. They may have other suggestions as well on how to make your system optimised for your agency.
---

Subscribe to the Customer Blog
Subscribe for trends, tips, and insights delivered straight to your inbox.