Innovation for the Future – We Are Invested in Your Success
Experience is crucial, but not at the expense of innovation. With $50+ million AUD in maintained, sustainable R&D spend every year, we are committed to innovating for your benefit.
Bullhorn pioneered the concept of cloud-based CRM in 1999, and with recent investments in automation, VMS integration, MSP offerings, ad-hoc reporting, new hire onboarding, and the first recruitment-specific integration with LinkedIn Recruiter – our pace of innovation is only accelerating.

Automation that Frees You Up to do What Matters Most
Bullhorn's intuitive recruitment platform allows you to develop your client relationships and look after your candidates. By automating your recruitment processes and eliminating manual tasks with Herefish by Bullhorn, you have more time to focus on your clients, form relationships with candidates, and build your talent pools.
With Herefish by Bullhorn you can:
Automate recruiting busywork in a few clicks
Personalise communication via email and text
Improve the health of your ATS data overnight
Capture feedback from key stakeholders
Gather intelligent insights
Herefish has helped us streamline our processes, improve communication relevance and provides opportunities for us to improve customer retention.
Michelle Oliver
Chandler Macleod Group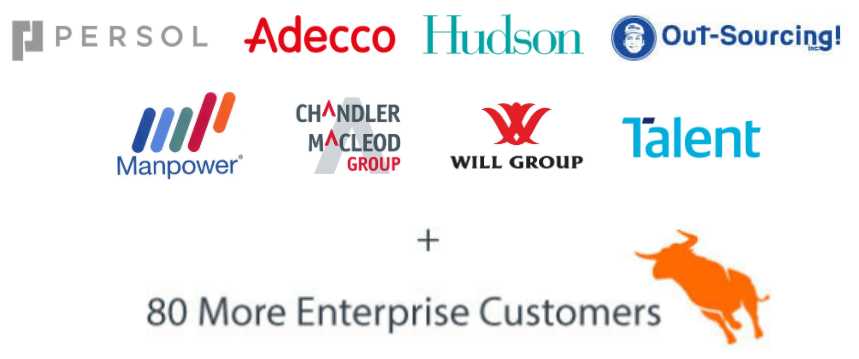 Committed to the Enterprise
Ultimately, technology is just one component of a fruitful partnership. The other is continuous relationship management. Your local Bullhorn team understands your specific business drivers, and will work to ensure that our software facilitates your business goals.
PersolKelly, En World, Hudson, People Bank, Talent International, and 80 more enterprise companies trust their front office processes to Bullhorn.
APAC Expertise and Collaboration to Grow Your Business
Bullhorn is a partner to your business, not just a vendor.
Each of Bullhorn's enterprise customers receives its own dedicated APAC customer and professional services team consisting of an executive advocate, client service manager, technical account manager, and a strategic account manager. This will ensure that user adoption, platform optimisation and overall customer success is achieved, so your business gets the most out of the platform.
Expertise is at the foundation of our customer relationships. Bullhorn is unique in its understanding of the Staffing and Recruiting industries challenges. With a very international customer and employee base we have the ability to deliver a truly local experience while leveraging best practices and industry trends from across the globe. Whether you are based in one country or many the Bullhorn platform will support you and the Bullhorn team will ensure your success.
World-Class Customer Support and Training