Bullhorn Live Event Recap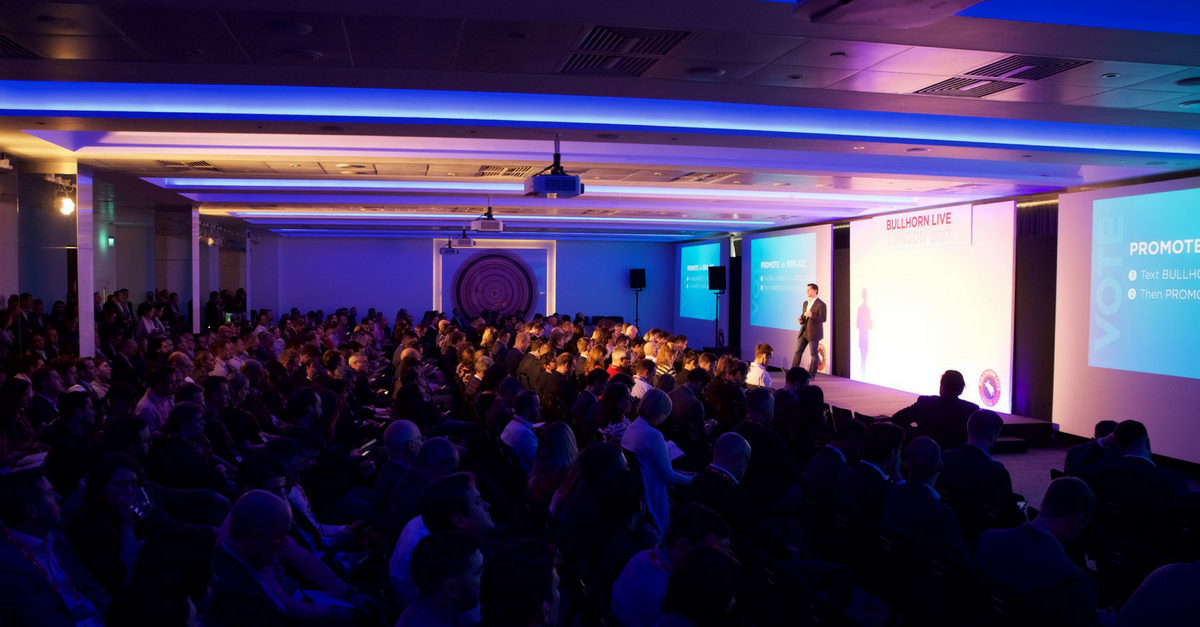 Bullhorn Live was an exciting, action-packed event full of stimulating ideas, great conversation, and leading recruitment professionals from Europe and beyond. Read our recap of the first full day's events here or check out the full event recap below.
https://twitter.com/ZakPollicino/status/918052448727715840
Leveraging Recruitment Technology to Drive Your Productivity
According to a study conducted by Bullhorn, 65 percent of UK recruitment agencies consider it their top priority to increase profitability, with 48 percent predicting an increase in their tech investment.
How can you be sure that you're choosing the right tech tools? Can these tech tools enable you to increase your productivity and provide a great candidate experience?
Gary Browning of CloudCall was called upon to explain how today's industry leaders can drive productivity, automate processes, and ultimately, accelerate their growth through the use of advanced recruitment technology
New technology is very important to society. Currently, 85 percent of people own a smartphone – and by 2020 that figure will hit 90 percent.
New technology is also extremely important in the drive for productivity – and productivity is a big issue for the UK. Research shows the UK is 30 percent less productive than the USA, prompting the government to set up a workgroup to investigate. Initial outcomes of their work have shown:
It's a complicated issue.

Flexible labour markets don't necessarily help – it's easy to hire, fire and change contracts, but that's not necessarily good for productivity.

We're a service economy. 80 percent of the UK is Leadership and management – we lack other economies

There has been low investment in IT and Infrastructure and automation
There's also a lack of talent compared with five years ago – and this was foreseen. Experts have predicted this downward trend for the last 30 years from birth rates and statistics.
These issues aren't limited to the UK; Of 27 EU economies they evaluated, all have the same problem, summarised neatly as "the Workforce Cliff".
Why does this matter?
In some countries, such as Germany and the Netherlands, there's already a massive shortage of people in the labour market. For the economy to be successful and move forward you need 2 percent GDP – 1 percent growth in labour and 1 percent in technology and productivity growth. What is actually happening right now is -0.5 percent labour growth.
This is impacting management roles – as the baby boomers retire, there's a decrease in interested talent to replace them. Generation X and Y are simply not interested – their passions lie in more technical roles, not managerial ones.
Why does this matter to recruiters?
For starters, the candidate experience is even more important if there are fewer candidates in the market! With increased competition, decreased qualified candidates, and potentially a generation of workers with more career choices than before, recruiters need to be on the ball.
In spite of this, 85 percent of candidates say the recruiters they speak with never get back to them. With 19000 recruitment companies in London alone, recruitment businesses can't afford to get this wrong; candidates have hundreds of agencies on their doorstep, all vying for their attention and engagement.
What strategies can we implement to combat this?
Initial contact
How can you use gamification in the initial contact process which can be dull and boring? This can bring an improvement in initial contact responses.
How could you improve the candidate attraction and application process for candidates?
Assessment
How could you improve the assessment process?  What happens if you suddenly get a significant spike in applications, how do you ensure everyone has the same experience?
KPMG used a virtual office and introduced digital "Lucy" that would take a candidate through the assessment centre.
Adecco launched an AI recruiter last month named Mya. Mya is a chatbot that talks to people about their application, and when asked, nearly 90 percent of candidates didn't know they weren't interacting with a human.
Cloudcall's telephone software integrates with Bullhorn. Harris Global have been monitoring the impact on productivity on their recruiters, say they have become 10 percent more productive and the quality of the conversation is better.
Recruiters spend 63 percent of their time on the telephone, so improving integrations means they are able to spend more time and have a better experience not thinking about the mechanics of making the call. Integrated phone systems also allow you to record conversations, which are invaluable for training.
Overall, improving the candidate experience should be top of your agenda for 2018.

The Importance of Candidate Experience in Achieving Business Outcomes
In the middle of a talent shortage, how are you differentiating your firm from the competition to bring in the best candidates? Shaun Weise and Richard Boyd wanted to bring a holistic view of candidate experience and why it's important in today's environment.
A few stats that bring home the importance of candidate experience:
80 percent of job seekers wouldn't be interested in other relevant job openings if they weren't informed of the status of their first application.

78

 percent

of job seekers say they've never been asked for feedback on the application process
Nearly 62

 percent

have had a poor experience during the recruitment process, and 72

 percent

of those people talk about it with colleagues and friends.
Why do these statistics matter?
Candidate engagement is key in the new relationship economy we find ourselves working in; becoming candidate-centric as a recruitment business will lead to great success. How can you achieve this? Shaun and Richard point out that your own internal database is the best source for quality engaged talent. So why aren't you using it to source and build relationships?
No.1 source for candidates? Your own database. Really interesting example of switching off external sources – hmm!!!#BullhornLive

— ChrisHowardSEC (@ChrisHowardSEC) October 12, 2017
It's vital that recruiters create a relationship-driven environment for their candidates. That being said, recruiters have lots of spinning plates on the go, so it's easy for a candidate to slip down on the long list of daily activities.
Ways You're Annoying Your Candidates
"Did you even look at my CV?"
Typically applicants spend 3-4 hours perfecting their cover letter and CV, but 72 percent of employers spend fewer than 15 minutes reviewing that application. If you're asking questions that were answered in that application, a candidate will guess you aren't taking the time to thoroughly read their CV and understand how they fit the role requirements.
"Stop sending me generic, irrelevant emails"
It's very easy to spend a few minutes getting to know your audience so you can build credibility with people. Once you understand them, you can engage with them effectively and personalised outreach.
The communication method is important as well; respect their chosen medium to enhance your chances of success.
"Someone from your company already called me"
it's highly important to protect your brand and portray yourself positively – things like this shouldn't be happening. Recruitment consultants need to take advantage of the tools in place to ensure they aren't stepping on anyone's toes or irritating candidates with mistakes.
"I've had a few interviews from you and haven't heard anything back"
You have the tools in place to leverage and repurpose qualified candidates. Candidates who don't receive feedback are 3.5 times less likely to re-apply to that company. If you keep your candidates happy and engaged, you can reduce your online spend and cost per hire.
"Networking is a two-way street; If you only engage with the top talent when you need them, they will become disenfranchised by you."
Richard Boyd
"Applications that take more than 1 minute aren't worth my time"
Don't lose out on the best talent by over-complicating the process – integrate with tools such as LinkedIn for quick apply options. If a candidate spends 3-4hrs preparing their CV and cover letter, you shouldn't make them spend more time on forms. Get them straight onto your database, then call them up for the extra info you might need.
"This job description is awful"
It's been proven that better job descriptions make all the difference to candidates. Use details in your job ads that are attractive and relevant. Ensure your consultants are up to speed so they can attract the best candidates – ask your talent what engaged them n the first place about the ad.
How to Build a Truly Data-Driven Recruitment Company
There are many steps to becoming a truly data-driven recruitment company and implementing a business intelligence platform is only one, and often the last, of those steps. What are the benefits to getting it right… and the dangers of getting it wrong?
What metrics should recruitment leaders be measuring, and how do you truly become a data-driven business? The underlying principles are simple. Cube19, CloudCall, and Bullhorn conducted research within the recruitment industry that revealed:
91

 percent

of respondents use data to make decisions regularly.
65

 percent

of them use them to measure KPIs.
50

 percent

use them in board decisions.
Interestingly, 39 percent either don't trust the accuracy of their data or can't access it when they need it. Even worse, only 17 percent are using real-time data to make decisions!
So why should recruitment leaders become data-driven?
Removes inefficiencies and maximising productivity.

Facilitates faster decision making at all levels – facts beat options

Measurable results – during the process as well as outcomes

Recording data becoming habit – which is important for business growth and security
So we can see it's important that all staff can access relevant data on demand, but the data quality also has to be excellent (or at least very good) to make relevant and accurate business decisions.
https://twitter.com/HeadResourcing/status/918455765379231745
What separates data-driven businesses from the rest?
There are 2 key things you need to consider:
Leaders need to understand that technology should support the company business strategy.

Leadership must have the correct mindset otherwise the correct culture isn't driven.
Many businesses are good at buying tech, not necessarily using it well. Including his company, Spencer Ogden, Ben Carter reveals.
They bought a lot but weren't getting value from it all. The technology strategy wasn't quite there and this was the important start for any project in changing mindset: "If the technology doesn't work, then getting buy-in to the change just won't work."
It's vital to have the technology working efficiently and integrations sorted before you try to change the culture and mindset of users.
Next, it's important to ensure the leadership team is on board. For Spencer Odgen, our Founder David Spencer-Percival knew data was important, so the mindset was already there.
"Don't buy something that you need today, buy something that is needed to achieve a company strategy."
Ben Carter
When rolling out a data-driven strategy, ensure that you roll it out top down. Work with the CEO first and get them to see the data, then management, and eventually consultants.
Practical Data Tips
How do you decide which data you need to collect?
Assess – are you storing too much data?

Decide what data you really need to store.

Understand what fields you need consultants to complete in your CRM?
What KPIs should you record?
Adding new contacts is not a KPI… if you have 10000 contacts on your DB why are you recording and targeting recruiters to add more data? Why are you not leveraging the data already on your database?
Think about the behaviour you want to encourage in your business, that will help your consultants compete more effectively and successfully, then look to set KPIs that help this.
Data – A Safety Net During Uncertain Times
Spencer Odgen was a 100 percent energy recruiter, with 85 percent Oil and Gas. When the oil price crashed and their client projects stopped, Spencer Ogden looked at the data and candidates to understand how their business could transition and diversify into new markets.
Post-crash and transition, Ben Carter overlaid the sales activity on the oil share price and it turned out that they could have predicted what was likely to happen.
Spencer Ogden now uses data to look at where they open new offices; it's surprising that the normal locations are not high growth areas. Data is allowing them to identify more profitable locations that they otherwise might not have considered.
How do you get the business to change mindset to record data?
You need to have trust and confidence in your CRM system. Assess if the system does what you need and is it going to support your business going forward.

Global Bullhorn Day – started the process of driving the business towards the CRM. Turn off all peripheral systems and only allow consultants to use their phone and Bullhorn. Keep it going, plan the next one, perhaps hold one every other month? (Spencer Ogden has seen a 2500 percent increase in Bullhorn usage!)

Build a Bullhorn University – run webinars, encourage training that helps consultants and managers use the system effectively.
Running a CRMFirst Strategy
The New Relationship Economy, GDPR, recruiting innovation, and business growth: your recruitment CRM should tackle all of these.
Lisa Jones, Director of Barclay Jones, revealed the impact of a CRMFirst strategy and some practical tips on how to implement it, whilst future-proofing for the latest trends, legislation, and increased competition.
Why CRMFirst?
90 percent of recruitment leaders we polled last year told us that they expected their recruitment CRM to be the first port of call. Then their staff admitted that this was not the case. In fact, only 17 percent of recruiters admitted that they respected their CRM enough to search it first.
Why is this happening when it is assumed that your recruitment CRM is a critical piece of technology? And it's a significant spend; there is clearly a disparity!
"What are consultants doing instead?" I asked the audience, "How are they sourcing and where do they spend their time?"
The audience responses?
LinkedIn

Job Boards

Spreadsheets

Social Media

Writing down everything in their notepads!
An effective CRM with great data is vital to business growth – and your recruiters are key for this. Great training, KPIs, and incentives will ensure that your recruiters are engaged and using your CRM properly. This helps them generate more ROI, for themselves and for the business!
How does this impact recruitment businesses?
There are three reasons to have an effective recruitment CRM
Relationship economy is NOW – and you need the tools to keep up

GDPR is coming – and you need your data to be excellent (and legal!)

A viable and relevant USP is critical – do you have a database that has candidates relevant to your company? And your clients?
Relationship Economy is Now!
There is a fundamental shift in the nature of B2B relationships… and candidates and clients are not as loyal as you think, and your recruiters are not as loyal as you think. Having the right tool in your recruitment business to help you build, maintain and grow relationships is crucial in today's economy.
GDPR is coming and it's good!
Security is important, you need to consider where your data is, who has access and how transportable (and pinchable is it?).
"CRMFirst and great marketing is the antidote to GDPR."
Lisa Jones
Use GDPR as an excuse to look at the data and processes within your business, ensuring that it's up to date (and up to scratch!), and then create an excellent recruitment marketing strategy that will feed your database.
"The goal isn't just to create a clean database of candidates," I explained. "It's to create a community of engaged talent that is happy and willing to answer your phone call."
CRM as a USP
Think about your CRM as a Unique Selling Point… how relevant is the data on your CRM, what data are you capturing, how are you using the data to help your sales funnel?
Great data should be putting you ahead of your competition and creating a hidden asset that your clients (and prospective clients!) want access to.
No recruitment leader buys a recruitment CRM to simply dump data and then create an admin team to manage it, and an IT team to store it, a recruitment team to ignore it… and then have finance and marketers working from other data…
Your recruitment CRM should be a USP – a unique selling point. Your recruitment software can be an addiction for your recruiters, your clients, candidates, and investors. All of which does the one job you bought it for – to make you more money.
Digging into Data to Create Hiring Strategies that Work
Data, data, everywhere—but not sure what to think? With heaps of data at your fingertips, figuring out what data to use and how to apply it to your talent attraction strategy can be intimidating. Rob Williams from Indeed was on hand to discuss the new analytics capabilities that tap into Indeed's 6 terabytes of daily collected data to better understand market conditions in the cities where you need to hire, how you rank against competitors, and how to harness click data to maximise recruitment ROI.
There have never been more ways to recruit talent
What you need to think about is whether you're using an inbound or outbound talent attraction strategy – and how we can sequence these investments to get the best ROI.
"Accurate data gives you the power to attract great talent" Rob Williams
Rob Williams
Indeed
The Four A's of Data
Assign
It's important to give someone in the business responsibility and accountability for putting in place measurement of how you're spending advertising money. Some organisations have teams of people measuring, testing to make sure they're attracting the right candidates with ad spend and getting a great return on this investment.
Automate
Make sure you're tracking the source of your candidates – sometimes it's just a case of making sure it's switched on! Candidates that apparently came from the job board named "other" shouldn't be in your dataset – this is useless!
Analyse
So how do we set the right data points to analyse? Consider: What's my cost of apply, and cost per hire? Do you want to get more granular, and consider cost per Start of Apply and Apply Complete? Details like this can also help identify where you're losing applicants.
"For every minute we add to our application process we lose 6 percent of candidates" Rob revealed, "and I believe we lose a higher proportion where this applies to high-quality talent because they have more options."
Adjust
Put time in the diary to review as a team and ask questions; should we adjust spend, tracking, data, application processes? Something that works great today might not work in six months' time.
Making data-informed decisions
There are three  types of recruitment data:  
Labour market, demand, and supply

Internal performance, how we play in that game

Competitive benchmarking, how do we rank compared to everyone else playing?
Labour market
"What game are we playing?" Rob asks "We look at 2 key factors to define the labour market – what's the job seeker interest, and what's the local talent? Map that onto a matrix that shows us how favourable or competitive that employer market is, and use this to inform our strategies for attracting the right talent."
Internal performance data
"Job descriptions need to be optimised for search and relevancy to job seeker – does it speak to the seeker or is it cut and paste? These two things massively increase the number of applicants." Rob said. "There's a genuine advantage for recruitment firms who invest in search and digital marketing."
42 percent job searches across EMEA are mobile-only, he revealed. So recruitment firms who are not allowing for a mobile search and mobile application, are turning off 42 percent of searches. "We're putting barriers in the way!"
Another important fact? "For every 10-12 questions added to an application, we're losing a significant amount of applicants."
Competitive benchmarking data
Indeed collects a startling 2 million telephone directories of data each day – so they have the data available to deliver great insight. For example: "We see a 60 percent increase in traffic just by having a job title that resonates with the job seeker" said Rob.
Consider the competition as well though – are they talent competitors or commercial competitors? It's not the same thing! And this can change over time as well – for example, Rob revealed that PPC agencies are suddenly "hiring lots of tech talent that they weren't searching for 12 months ago". Industry needs can change, so recruitment businesses need to keep up.
Google for Jobs vs Indeed?
As the session came to a close, an intrigued audience member asked Rob what Indeed think of Google breaking into the market.
"After 17 years, we know this is difficult. It's the ultimate validation of what we've been doing, and we welcome the competition. Of course, we're aware of them as a competitor – but we're more driven by the kids coming into the game now who are inventing something completely new that we've not even dreamt up yet."
"Relevancy will ALWAYS beat budget, no exceptions. Our focus is the jobseeker experience – we put them first. Whoever has the engaged jobseekers will win the battle."
Blank job searches
And a final interesting fact that Rob revealed to the audience: "Our most popular search query is: blank! They want to know what's in the location, not just the industry."
"Blank searches in silicon valley are one of our most popular searches – people want new opportunities."
Extending Your Bullhorn Investment: Leveraging Technical Innovation for Competitive Advantage
Andy Jones and John Weston, Newbury, explained how Technology is driving recruitment industry innovation but most firms are not equipped with the skills to bring good ideas to their operation.
Why is technology important?
A younger workforce is coming into the industry, they are already tech savvy and need to have an environment that they feel comfortable with. So how is this impacting recruitment? Firms need to stay innovative to keep up.
However, innovation doesn't come easily, you have to invest in order to get more out of the system.
Developments in Bullhorn
Candidate Portal
It's a candidate-driven market, so you need to ensure you make it easy for candidates to engage with you. Use the Candidate Portal.
How do you track how candidates get within the registration process?

Use the candidate screening questions to help strip out inappropriate candidates.

Look to use the Candidate Open Source toolkit, it's a good starting point to understanding the Candidate portal.

The candidate portal can also include compliance data.
Client Portal
Modern users expect information available 24/7 – and now they can. The client portal allows them to:
Check progress anytime, anywhere.

View a key metrics dashboard

Integrate with approved timesheet approval
Maintaining data quality
Ability to use front-end validation methods, i.e. postcode lookup, telephone number lookup, email lookup etc…

Use algorithms that search for and highlight data quality issues

Use Mass change to allow you to update lots of records.
Integrations
Bullhorn's platform allows for integrations. This means you can streamline processes both inside and outside of Bullhorn, whilst still allowing the user to remain within the Bullhorn system.
Remember: It can become complicated very quickly, so it's important to ensure you have a clear strategy.
Mobile applications
Communicating with candidates is becoming harder and harder.  Email gets ignored, SMS is expensive. Push notification is the future. The only way to get a Push notification is through a mobile native app, rather than a responsive website. Bullhorn has this functionality.
Prioritising Operational Improvement to Drive Business Growth
Sinead Daly and Charlie Rodger, Bullhorn, discuss how to glean powerful insights from otherwise hidden data and truly understand the metrics that are driving your business.
You should be gleaning powerful insights from what might seem like "hidden data" in your Bullhorn system. It can help you truly understand the metrics that are driving your business.
Sinead Daly wanted to know how the audience is measuring the success of their businesses. Were they tracking everything they should be in order to hit their business goals? Or are they focused on top-line data to make business decisions?
"It is dangerous to focus on one specific measurement to make decisions."
Sinead Daly
She sees focussing on top-level metrics as the reason for bad decision making; time needs to be taken to focus on the detail. Sinead uses Pulse to do this.  
The Relationship Analytics suite in Bullhorn is a great tool for help recruiters and their management to drive great business behaviours and decisions.
Activity goals and quotas
"These allow you to quickly understand if a behaviour needs to be changed or updated to reach your business goals" Charlie explains.
Is there anything that you're not measuring that you'd love to measure? Are you leveraging your CRM to give you the data you need to manage your business?
Canvass, which is available on Corporate as well as Enterprise, is comfortably the most customisable element of Bullhorn. Charlie took the opportunity to show the audience latest reports that were designed off the back of client feedback, including:
Hit Rate Analysis reports

Customers That Need Attention

Web Responses Engagement
These types of reports are real-time and can help drive up output and manage recruiters.
A new report to measure client performance
New Client Performance is a great report for helping us to track submissions and jobs/placements in new clients to help manage new accounts.  How proficient is your new activity?  You can use conditional formatting to help you colour code goals and this really helps you visualise your activities and goals.
The report every recruiter needs
This is a report which the entire industry needs to engage with: Time to Fill Velocity. Not enough time is spent understanding the cost of a placement – yes we understand the invoice, but how about the time and cost to fill? Time to Fill Velocity can really help recruiters
The report every manager needs
The Employee Performance Report is key to helping managers in recruiting firms to manage on fact and accurate data. This is crucial in today's market where managers are extremely time poor and need facts to improve performance.
There has been a lot of content today around data – and the reporting suite in Bullhorn is something that can really drive the productivity and decisions of recruiters and managers alike.
Innovation Throwdown
This energetic session is a competition between finalists from Bullhorn's Innovation Week when programmers dedicate themselves to bringing their most creative and inventive product enhancements to life without oversight or influence from our Product Management team. Senior Developers Bryan Kimball and Josh Godi took to the stage to show the audience what they'd developed.
Innovation is key to Bullhorn, so the developers get a whole week to build some new and innovative ideas that could be used within the Bullhorn platform… they do all this during Innovation Week.
5 Prototypes were displayed:
Platform Extension Portal

– a one-stop shop for quick installation of extensions. Before installation, the application will show you useful information about the extension, what it does and the benefits to installing it.

Scroll Spy

– A really convenient feature that will save you minutes every day. You can scroll between different sections of your Bullhorn Form, using the headings at the top of the menu page.

Record Reports

– Allows you to save a custom report within a tab within an entity. Meaning you don't have to jump into Canvas to run the report.

Screen Droid

– Used with the Career portal, it allows you to use a basic chatbot with some screening questions sent via text, after a CV submittal. The responses and attachments are added to the Notes.

Footprints

– you can format your system to open all tabs when you start a new Bullhorn session. You can create groups that will help you with training…
The audience voted for their favourite, and a clear winner emerged!
Marketplace

9

Scroll Spy

26

Record Reports

4

Screen Droid

49

Footprints

11
The winner was Screen Droid! So users can look forward to seeing this hit the Bullhorn roadmap in the future.
---
About the Author: Lisa Jones helps recruitment leaders, IT leaders and recruitment marketers to set ROI-led goals and use recruitment technology and digital marketing strategically. ROI is key! She's a keen technology strategist and recruitment advocate. She's passionate about making a difference to recruiting firms. As a founder of Barclay Jones, Lisa brings a wealth of experience in recruitment technology and digital marketing. Clients love her passionate, strategic and impartial advice and how she challenges their processes and helps them to grow their businesses. She is UK Recruiter's "Agency Influencer" 2017.
Subscribe to the Recruitment Blog
Subscribe for trends, tips, and insights delivered straight to your inbox.