Now Available: 2015 Australian Recruitment Trends Report

Today we released our 2015 Australian Recruitment Trends Report – "Making Headway." This year, we once again examined key recruitment industry benchmarks, including hit rate, fill rate, time-to-fill, recruitment consultant remuneration, agency revenue, and the most successful candidate sourcing strategies. The report is based on a survey of 105 recruitment agency professionals.
Download it for free: 2015 Australian Recruitment Trends Report
Over the next several months, we'll be sharing in-depth data on recruitment industry trends from the report, along with some valuable information that didn't make it into the final report. This particular post will break down some revenue- and metric-based highlights from the Trends Report.
Revenue Performance and Expectations:
In 2014, 75% of Australian recruitment agencies met or exceeded their revenue goals, including 35% of agencies that exceeded their goals. Contingent executive search agencies displayed the worst performance of any primary recruitment type, with 37% of agencies falling short of their revenue goals. Of particular note, while permanent and contract agencies had similar percentages of agencies that fell short of their goals in 2014, contract agencies had a significantly greater percentage of agencies that exceeded their goals (44%) than permanent agencies (29%).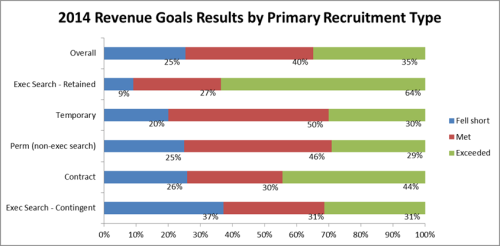 As a result of this past year's success, 86% of recruitment agencies expect their revenue to increase in 2015. This includes 62% of agencies that expect their revenue to increase by more than 10% over the next year.
Metric Performance:
APAC recruitment agencies' fill rate has an inverse relationship with agency size – small agencies (made up of 10 or less recruitment consultants and salespeople) filled over half of the job orders they received in 2014, but fill rate decreased as agency size increased, all the way down to 37% for agencies with 75 or more consultants.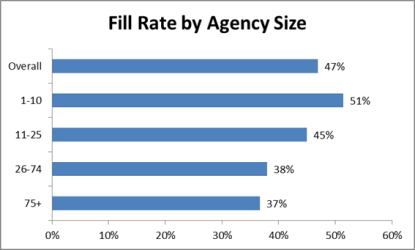 Average hit rate, meanwhile, varied interestingly by industry. Agencies recruiting for healthcare positions had the best average hit rate by a significant margin, perhaps indicating a lesser amount of submissions required for healthcare job orders due to a binary focus on technical qualifications rather than individual fit. Recruitment agencies that recruit for manufacturing jobs, meanwhile, also performed well in hit rate despite the manufacturing industry's recent trend toward contraction. Agencies placing candidates into government jobs not only had the lowest average hit rate by industry in 2014 (33%), but also the lowest fill rate and the most difficulty with finding skilled candidates, with 80% of government recruitment respondents indicating a shortage of talent.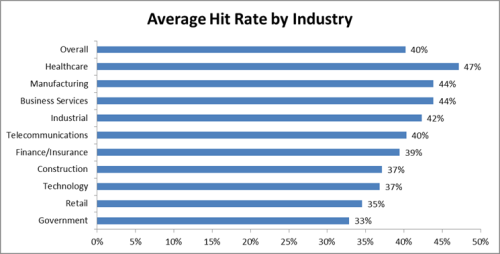 Sourcing Strategies, Remuneration, and More:
You can use information from the Trends Report like the metrics above to inform your firm's decision-making, including:
Remuneration figures and revenue earned per recruitment consultant/salesperson, to help you determine the value of each employee on your staff. For instance, despite a modest 57% of respondents receiving a pay rise in 2014, 81% of the same respondents expect a pay rise in 2015.
Recruitment has recently proved difficult in certain areas, particularly for government jobs, where recruitment agencies lag behind in terms of both fill rate and hit rate. Government recruitment could be a target for improvement for agencies looking to capitalise on an opportunity and willing to cope with obstacles like the lack of current funding by the Australian government.
The most popular sourcing strategies by agency size and primary recruitment type – give your agency the best tools and resources to succeed in your segment! Large agencies, for example, find more value in job boards and aggregator sites than agencies of other sizes, likely due to the expansive pool of candidates to be found in these sources and the correspondingly large amount of job orders received by agencies with 75 or more consultants.
Stay tuned for more industry data and insights in the coming weeks, and download "Making Headway" – the 2015 Australian Recruitment Trends Report – here: 2015 Australian Recruitment Trends Report
Subscribe to the Recruitment Blog
Subscribe for trends, tips, and insights delivered straight to your inbox.