Bullhorn Cares Spotlight: Sunnyfield Disability Services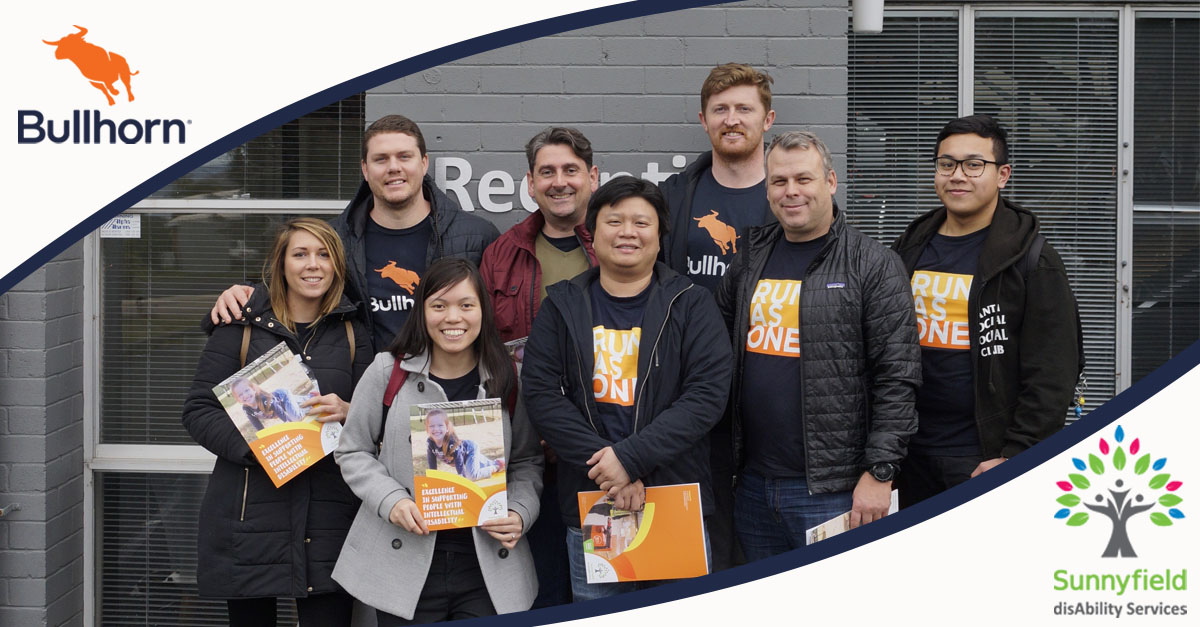 Giving back to the community is a core part of the DNA at Bullhorn. It's what drives the central idea around our volunteering initiative, Bullhorn Cares. Bullhorn Cares is a company-wide policy allowing our employees to take four days a year away from work (in addition to annual leave) to volunteer for different charities or causes that are important to us. With the time away from our desks, we can give it back to worthwhile causes and engage with the community.
With this in mind, when we started planning for Bullhorn Live Sydney earlier this year, we knew it would be a great opportunity for us to give back to the community by donating the ticket sales from the conference to a great organisation. The only question was, 'which one?'.
This is when we first stumbled upon the incredible work of Sunnyfield. Sunnyfield's mission is to enrich the lives of people with disability by creating opportunities and skills for life. They deliver support services for people with disability such as assistance with daily life, social and community participation, supported employment, skills development and accommodation services. They support a brighter future for people with disability. Once we learned more about their organisation, it was an easy decision to support their work.
Aneliese Hynes, Bullhorn's Senior Marketing Manager, gives some insight into how they became our partner of choice, 'Sunnyfield's online presence stood out to us due to the amazing engagement that they have with the community. Donna Taanman, Sunnyfield's Fundraising Manager, invited us to see their offices and factory at Allambie Heights, where supported employees assemble and package a range of products. Initially unsure what to expect, we were truly humbled by the experience and were in awe of the excellent supported employment opportunity they offered for people with disability.' Donna adds, 'Sunnyfield was thrilled when we were told that we'd be a beneficiary from Bullhorn Live, as an employer of people with disability, we saw it as a great alliance'.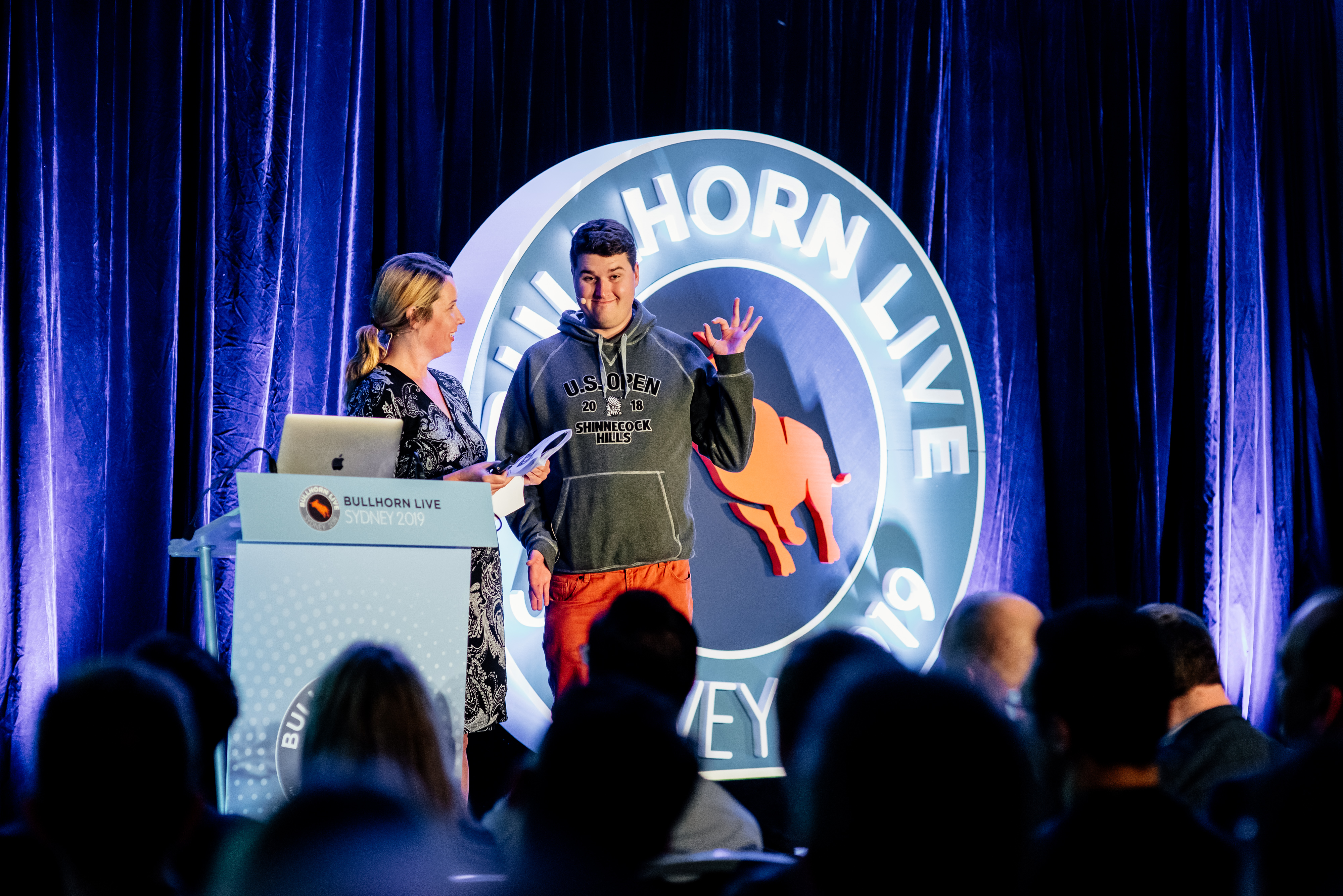 On the day of Bullhorn Live Sydney, Donna and Max, a supported employee at Sunnyfield attended the conference. Together, they went on the main stage, speaking about their important work at Sunnyfield. It was a special moment to have Donna and Max at the conference. 'Max did a wonderful job, explaining to the audience his role working with Sunnyfield in their factory and thanking the audience for their presence/donation. It was a very memorable moment from the day', said Aneliese. Donna described the experience, 'Max was super excited to get the bus into the city with me and present on stage. He beamed with pride when speaking about his job at Sunnyfield and what he does. A number of people from the audience came to shake his hand afterwards.'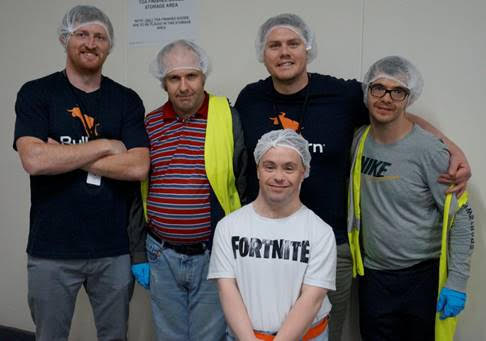 From Bullhorn Live, we were able to donate 12 thousand dollars to Sunnyfield. We've learned this has gone towards one of Sunnyfield's essential priorities in setting up new shared living homes (supported by Sunnyfield staff 24/7) so people with disability can live independently. Donna let us know, 'Australia's National Disability Insurance Scheme (NDIS) covers costs for staffing and support but does not fund any household items, furniture, appliances, set-up costs or property modifications. So Bullhorn's donation is going to furnish one of these homes we are planning to open on the Central Coast later this year. It's amazing to know through our small part, Sunnyfield will be able to assist numerous people with a disability who live in that particular home.
Our time with Sunnyfield didn't stop with Bullhorn Live Sydney. Our office wanted to get more involved, so we organised our latest Bullhorn Cares volunteering day with Donna to witness a portion of their incredible work first-hand. A group of eight of us from the office travelled to their main facilities at Allambie Heights to spend the day side by side with Sunnyfield's supported employees to work on the jobs of the day.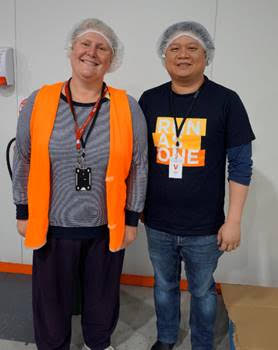 Upon arrival, we were warmly greeted by Donna and Michelle, a team leader and supported employee. After a brief orientation and signing in, we were shown around the factory to see how they operate. The precise nature and high standard in their work could be seen by our team immediately. Michelle explained processes in detail and we listened with fascination. We were introduced to the other supported employees and jumped straight in to help where we could. We scanned, loaded, weighed, packaged and stamped the product with our buddy who we were paired with.
Every so often we'd be stopped by another worker coming over for a handshake and a hello. At lunch, we experienced the same thing as employees came over to have a friendly chat with our team eager to learn more about our group and share their stories. It was gratifying to learn from Donna later that, 'the guys absolutely love the social interaction and always ask me when are we having another volunteer day.' This makes us excited to participate even more in the future. Our team hopes there will be another one soon so we can contribute to Sunnyfield's amazing work.
Read more stories on how Sunnyfield supporters are making a difference in the lives of people with a disability. If you'd like to find out more on how you can get involved check out this page or contact the Sunnyfield Fundraising Team on 1300 588 688 or via email at fundraising@sunnyfield.org.au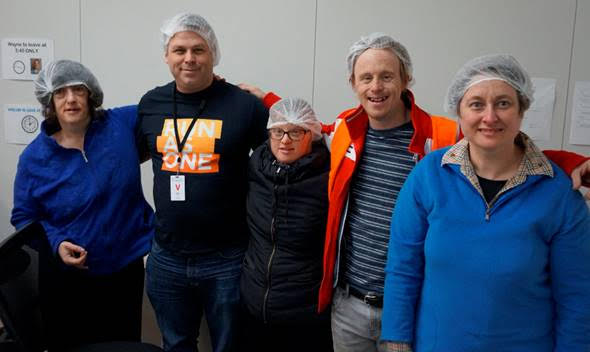 Subscribe to the Recruitment Blog
Subscribe for trends, tips, and insights delivered straight to your inbox.