Getting Practical about DEI: From the "Why" to the "How"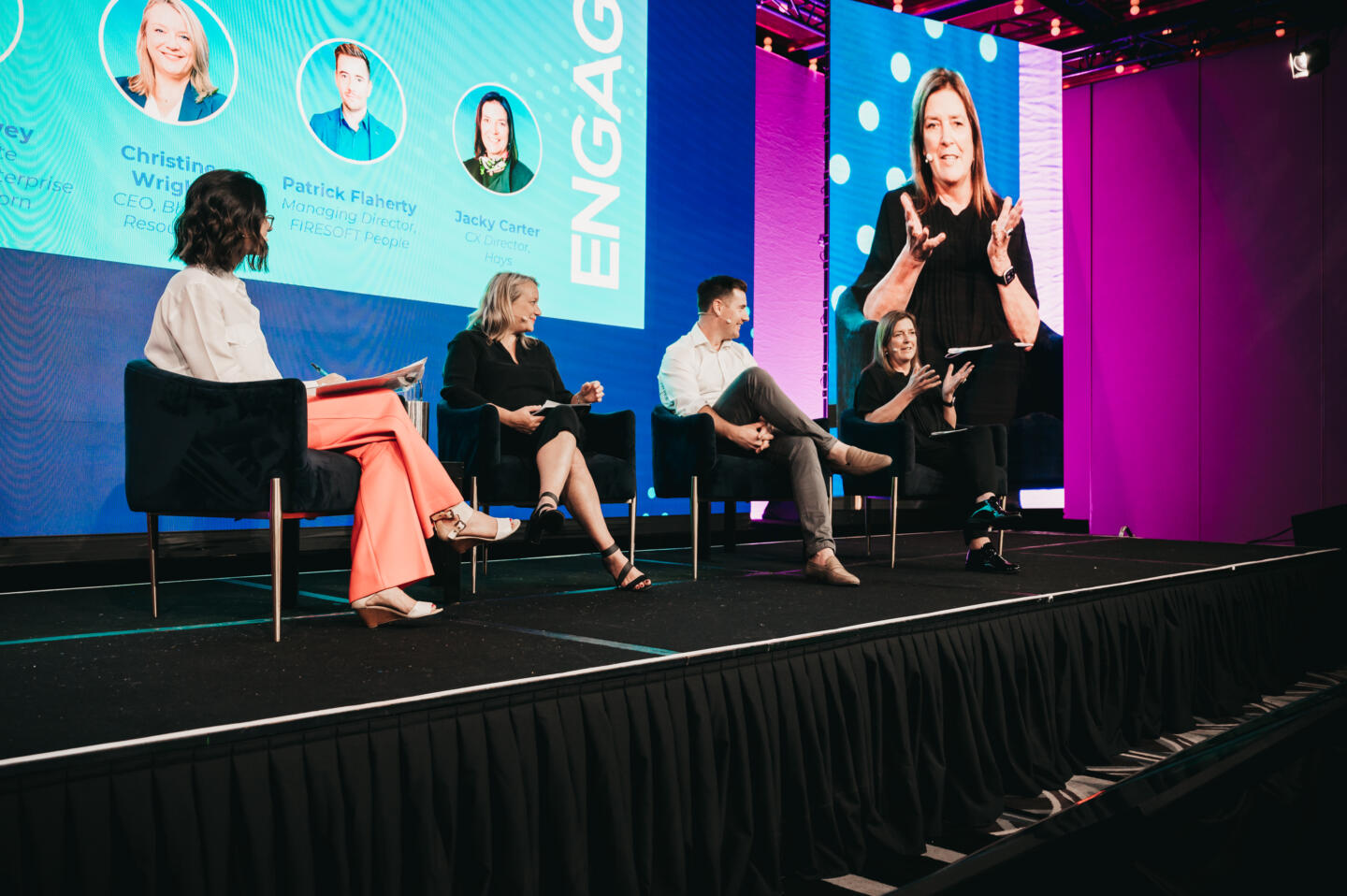 There has been a lot of discussion (and research to back it up) about the need for more equitable teams, the value of representation, and the positive business outcomes that are associated with a stronger internal culture.
At Engage Sydney 2023, senior recruitment leaders—Christine Wright, CEO at Bluefin Resources Group, Patrick Flaherty, Managing Director at FIRESOFT People and Jacky Carter, CX Director at Hays—joined Bullhorn's Senior Vice President, Corporate Development & Enterprise Strategy, Leah McKelvey to offer a pragmatic approach to DEI (Diversity, Equity, and Inclusion) that agencies can implement today.
They explored why DEI is so important and how your recruitment agency can implement programs to bolster your efforts in this area.
WHY DEI is important
As mentioned above, there has been a considerable amount of research into the effects of DEI on workplace productivity and culture. By being proactive in this space, recruitment agencies of all sizes can ensure that individuals feel welcome and valued whilst ensuring they're attracting and retaining top talent for their agency.
Wright said, "As a leader, I wouldn't want to think that someone is leaving my business or clients' businesses because they don't see anyone else that looks like them or they can't be their true selves." She continued, "it is important for recruitment agencies to not just pay lip service to DEI, but rather to actively practice it on a daily basis." This means as an industry "we need to practice what we preach but also work with clients to help them not have bias in their hiring processes", Christine explained.
The importance of inclusivity cannot be overstated. "Inclusivity matters every single day", Carter said. Flaherty agreed with Jacky's sentiment and added "we need to open up and challenge our people's bias and lead by example as a leader."
HOW to put a focus on DEI at your agency
1. Start with a conversation
Not sure where to start tackling DEI initiatives at your agency? Often it's as simple as starting a conversation with your team!
From the conversation, ideas start to flow and all of a sudden your leadership team is involved to drive actions from that initial spark. "Whatever the strategy, it has to start from the conversation", Patrick stated. By having a conversation you're opening up communication within your agency and creating awareness of other people's backgrounds and perspectives to be able to understand them better.
Be creative with how you start the conversation – Try this with your team:
Share X number of facts or quirks about yourself then bring in other team members to do the same. By doing this you start to learn something new about each other, your background, likes and dislikes to create conversation. This can be rotated between consultants on a round robin basis so there's always something new to learn from your team.
2. Be proactive not reactive
Implementing DEI plans takes time, as it's an ever evolving process. You must be consistent with your messages to ensure your team is onboard at every step of the journey.
"Don't react, you need to plan. You need to pick one thing and do it really well", Christine said. If you don't do this you risk alienating your team with mixed messages. "Don't go too big too quickly", Christine urged. Rather focus on one area of DEI that is important to your team, implement it and ensure you have ongoing clear actions to sustain your efforts.
Gather your people's experience – Try this:
Gain a pulse on your team whether large or small by asking them a series of questions. This may be done via employee engagement surveys or a casual conversation over coffee. You'll be surprised at the number of new ideas you'll gain to take action on! Ask them their thoughts on what the company could improve.
3. Benchmark for success
One piece of advice Jacky shared was to "benchmark where you are now". At Hays, they worked with a company called Hatch who spoke with their team about how they felt about inclusivity at Hays. The consultants were asked about their experiences in different scenarios, such as their experience when returning from maternity leave or their experience as a new starter in the company.
This gave Hays a really good benchmark. If they go back to do the survey again or track it internally, they will be able to see progress. "Don't look for perfection, look for progress", Jacky said.
Start small – Try this:
You don't have to include your whole agency to kickstart DEI programs. Pilot programs with a smaller focus group of 2-8 individuals. Try to create diversity of thought in your focus group by selecting people with different skills, from different departments, age groups and genders.
---
Interested in more insights from Engage Sydney 2023? Read about the recruitment technology trends panel.
Subscribe to the Recruitment Blog
Subscribe for trends, tips, and insights delivered straight to your inbox.