The Future of Work: Recruitment Technology Trends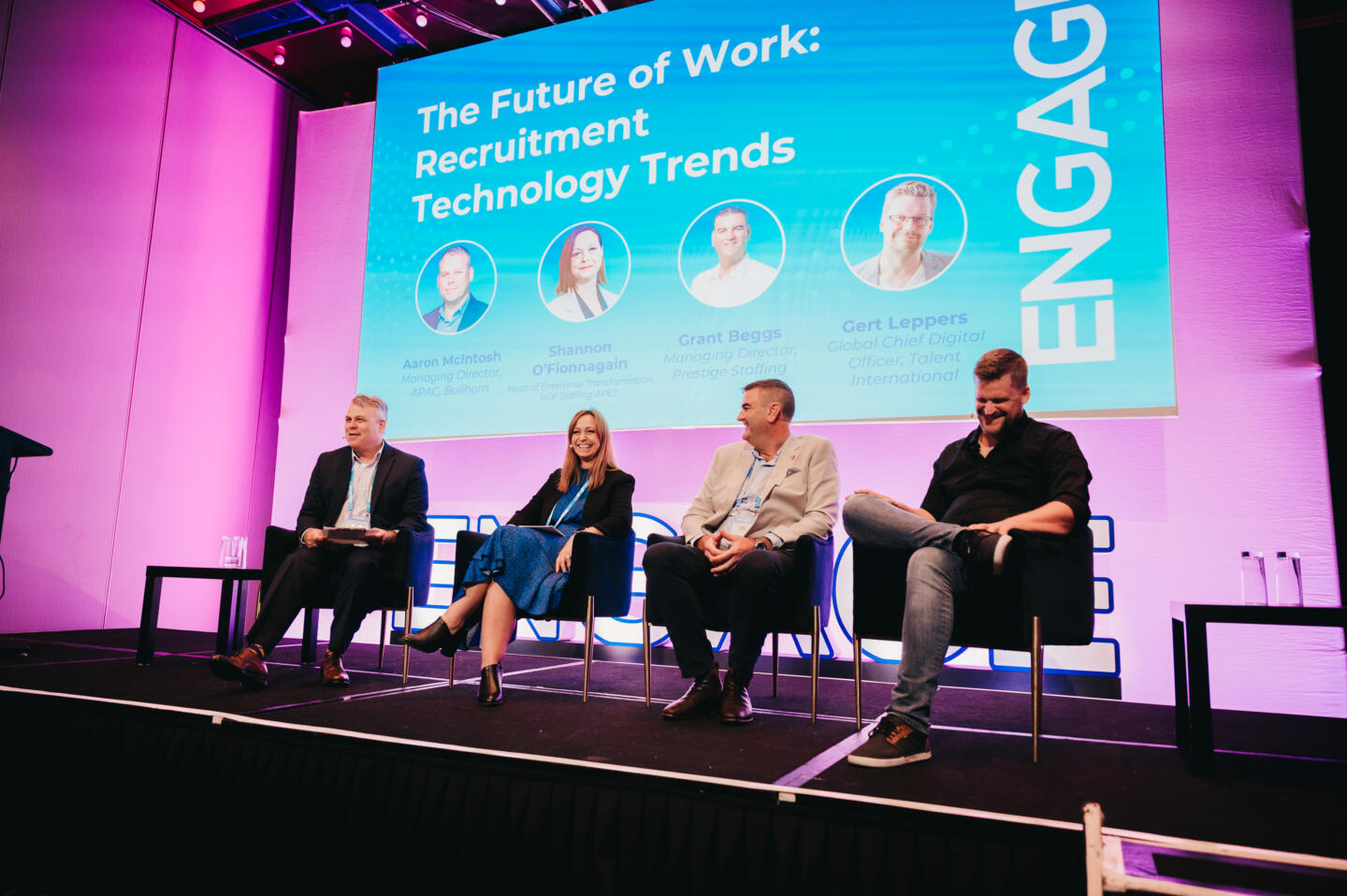 Technology is constantly evolving, and recruitment tech is no exception. Digital transformation has played a pivotal role across the industry over the last few years. Whether agencies are faced with the growing need for top talent, or changing candidate and client expectations, it's never been more crucial for businesses to future-proof themselves with high-performing teams and top technology.
At Engage Sydney 2023, Aaron McIntosh, Managing Director at Bullhorn, joined three of the industry's leading tech panellists for the session, The Future of Work: Recruitment Technology Trends.
Read on to hear what Shannon O'Fionnagain, Head of Enterprise Transformation at RGF Staffing APEJ, Grant Beggs, Managing Director at Prestige Staffing, and Gert Leppers, Global Chief Digital Officer at Talent International have to say about what to expect from future technology trends in recruitment.
The evolution of talent platforms
While the past 12 to 18 months have not seen any significant revolutionary change, it has seen many programs evolve. It's safe to say that talent platforms and programs will only continue to grow in the next six to 12 months.
When asked what trends they see in their sector, O'Fionnagain gives an example of how Coca-Cola uses AI talent platforms in their HR space. She adds that companies like Gloat and Eightfold are creating employee marketplaces within their workforce.
"I think there's a real excitement about that type of technology, and I think that we're going to see that come into the recruitment space pretty soon—that sort of concept," said Shannon. "So, this will include technology that can improve the talent mapping of organisations, allow employees to create their own career paths, tell you how to get from A to B to C, and move them around within the same company."
"I think for the recruitment space and redeployment, that type of technology can be really exciting if it shifts over," she continued. "And some of these platforms, they're not just using the workforce data of the company they're working for, but they're also using AI to draw from other companies and just the industry itself."
Emerging technologies in the recruitment industry
When thinking about emerging technology currently in other industries that may make its way into recruitment. Shannon shared an example of how people's engagement is much shorter than it used to be. She mentions that the rise of TikTok has shortened people's attention and engagement levels and that it's about time that the recruitment industry makes time spent in the recruitment cycle much shorter for candidates.
"I think we're going to see more around shortening engagement, particularly in the retail space, technology monitoring that and how you capture that engagement piece a bit better….data and technology that allows us to capture that quickly and to grab onto it quicker," she concluded.
Grant added, "I think a lot of the tech within the industry is really focused on industry-specific issues. We are recruitment companies, marketing to generate new clients and candidates. But we need to think of ourselves as marketers and look outside to find better technologies and think about the candidate and client journeys."
Future of AI in recruitment
"So we can't talk about tech trends without talking about AI," Aaron stated. In the past few months, ChatGPT has been a big talking point across many industries and platforms, whether on LinkedIn or any other platform. So how may ChatGPT be used within the recruitment industry?
Shannon states that businesses, from white-collar professionals to industrial ones, use ChatGPT to generate creative content for job ads. Grant agreed and said, "It's the real low-hanging fruit that's gonna help individuals within a business in terms of job ads, creating PDs or reshaping PDs."
"In terms of ramping up learning curves, I'm a fairly good user of Excel, but there's some stuff that I've just never bothered to do because I know I need to spend 40 or 100 hours to be good. But I've jumped into ChatGPT and elevated the learning curve real quick." Grant added.
Gert mentioned that anyone could easily use chatbots to write a short introduction, provide their name, history, and current job, and get a response that catches the essence of it, whether written or spoken.
"You can ask specifically targeted questions to fill in the blanks along that. You can basically fill in the whole profile as you would with a conversation without having to ask every single question in succession. So that's just very interesting to see where that could go—which I think is very far."
On the other hand, Gert cautioned fully trusting AI chatbots as it's important to realise that when you ask it to generate a job ad, it will learn from what you provide it, including your bias and what you get wrong. He stated, "you always owe it to yourself to look at the outcome of it [and] correct it, so it could get you 80% of the way there, but never trust it to be the full hundred percent. Because if you start doing that, you'll actually lose the trust of your audience."
Storage and security of sensitive data in agencies
Toward the end of the discussion, Aaron noted that they couldn't talk about AI, automation and digital transformation and not the recent data breaches that occurred with Medibank and Optus. Recruiters are responsible for storing a lot of sensitive information on candidates and clients after all.
"I certainly think that there's going to be increased pressure from our user base to provide evidence of what we're doing, which I think is going to cause a lot of pressure on companies to certainly invest in it [data storage and security]," said Shannon.
"It's top of the agenda for every meeting we have—how we're going to look after our data," said Gert. "We're doing some development ourselves through that. We need to put some extra gates in place and it's a demand from our clients, our contractors, everyone."
---
If you'd like to read about our other Engage Sydney 2023 panels and presentations, check out our Engage Sydney Content Hub.
Subscribe to the Recruitment Blog
Subscribe for trends, tips, and insights delivered straight to your inbox.