Improve ATS/CRM Adoption With These Tips from Oliver at Trust in SODA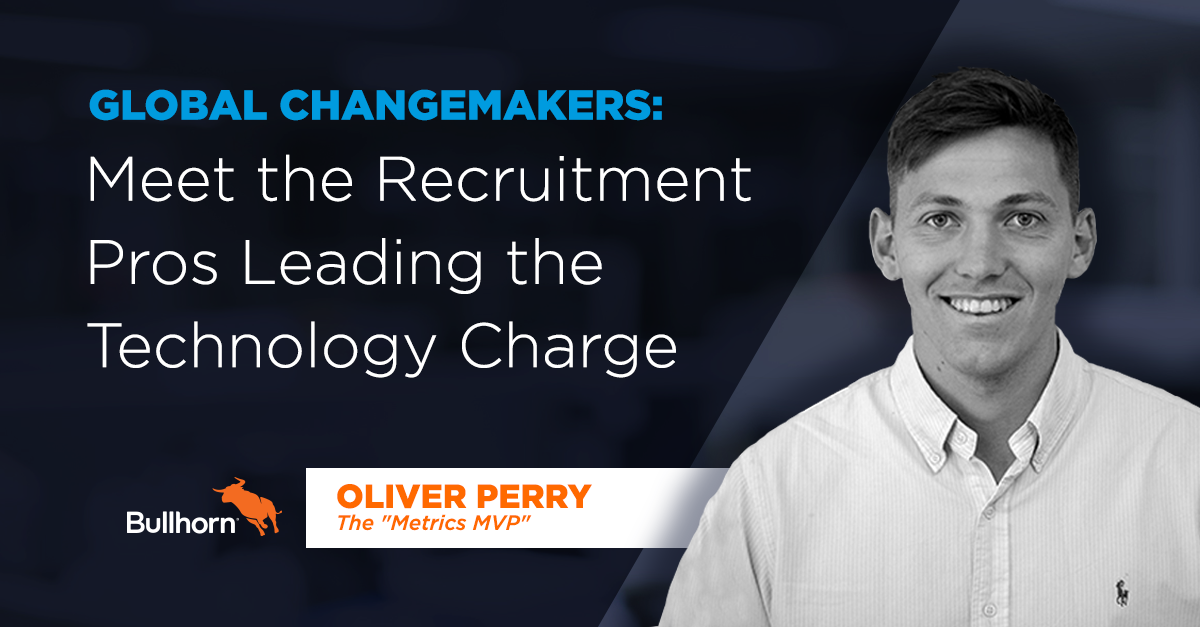 While recruitment agencies across the globe are forced to re-examine the way they do business in light of the recent global events, we understand that you still have a commitment to your clients and candidates to be as effective as possible. With that in mind, here is a spotlight from our Global Changemakers series, highlighting those who have successfully navigated a technology change within their business.
---
Oliver joined the Trust in SODA team when they were already established Bullhorn users, but he quickly realised that the team was not using their ATS/CRM to its full capacity. This made it difficult for Oliver and the rest of the team to successfully recruit and place candidates.
Time to Make a Change
Every consultant had their own spreadsheet for their book of business, including tracking clients, open jobs, or qualified candidates. With everyone on a different system, visibility across the team suffered, making it difficult to start meaningful connections with candidates and clients.
It was quite evident that Bullhorn wasn't being used to its maximum capacity and both the data quality and quantity were lacking. We needed to get to a point where our data was correct, and therefore our candidates and clients would receive relevant communications based on accurate data, proving our value as a company. If you have a CRM that is accurate and scalable, it's easier to bring new employees on, get them up to speed, and have them get value out of the system.
Oliver Perry
Trust in SODA
Oliver wanted to market correctly to candidates and clients, shying away from spamming communications out in favor of proactive and accurate outreach instead. But, with a lack of quality data in the system, he knew he would have to be proactive to ensure the business—and his career—could grow.
Roadblocks to Progress
After diving into the analytics and metrics to gain insight on how the team used Bullhorn, Oliver met with key stakeholders across the business to get buy-in and provide the vision for how Bullhorn could look if everyone adopted key best practices. There were also duplicate records in the system, so Oliver and the team needed to clean up the data and show the team how to approach adding records in the future. 
There was resistance initially when consultants didn't immediately see the benefits. They had their routines in place already, so we had to get those users to truly adopt the new approach rather than us just delivering the changes. Following up and getting consultants to see the benefit of the new way of doing things was key.
Oliver Perry
Trust in SODA
After leadership was on board with the changes, Oliver had to tackle the next challenge of getting everyone on the same page. Oliver, working out of the Dublin office, traveled to the other offices in London and Manchester to hold training sessions for more than 100 consultants. He created resources to showcase the vision of what their system could look like if they implemented the much-needed changes and adopted a new way of adding and managing data.
Reaping the Benefits
Trust in SODA focuses on measuring the quality of their contacts, clients, and candidates within each geographic area, rather than just the quantity. Previously, contacts were being added into the system but then were never able to be reached because of inaccurate data. Now, the team is able to more closely measure and report on their communications since they are qualified, relevant connections.
We're now adding quality data to the system correctly, which leads to better conversations and a better candidate and client experience overall. There's definitely been a positive change with consultants using the system effectively and then seeing the positive results from that effort.
Oliver Perry
Trust in SODA
As a result of championing this change to better usage and adoption of Bullhorn, Trinnovo Group, Trust in SODA's parent company, named Oliver their 2019 MVP. The entire organisation voted to award Oliver with this title after his dedication to training the team on best practices and ensuring ongoing success with Bullhorn. 
---
To read more stories about global recruitment professionals who have successfully navigated change within their business, visit our Global Changemakers series.
Subscribe to the Recruitment Blog
Subscribe for trends, tips, and insights delivered straight to your inbox.