Bullhorn Trends: How APAC Agencies Are Using Recruitment Technology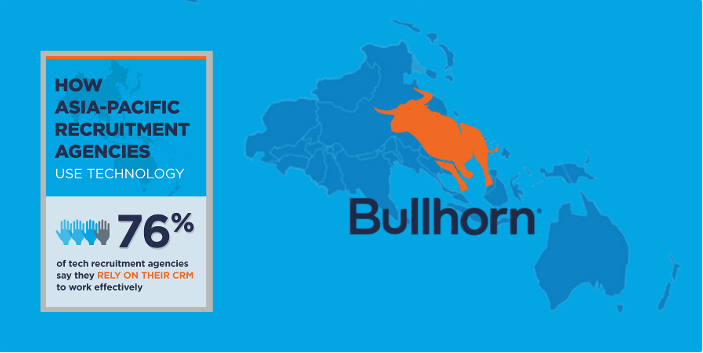 How does your business use recruitment technology?

Through-out 2016, Bullhorn surveyed more than 170 APAC based recruitment agencies on how they are using technology. While most are using technology as a powerful resource to source candidates and drive business, some also expect technology to represent one of the greatest challenges in the future. Diving into the data, here's what we've learned.
CRMs: A Must-Have for Recruitment Agencies

Across the board, recruitment agencies are relying on customer relationship management (CRM) systems. Our surveys found 78 percent of respondents reported they have one in place to manage candidates for positions. In addition, 63 percent reported they use a CRM system in the sales process to provide lead, opportunity, and pipeline management.
Tech recruitment agencies were even more likely to report using CRMs. Eighty-one percent of tech recruitment agencies use a CRM system for candidate management, while 68 percent reported using one for sales management.
Applicant tracking is critical to filling jobs. Respondents said existing candidates from recruitment CRMs were the top source for filling jobs, while job boards were ranked No. 2. In addition, 69 percent of respondents said they could not do their job effectively without their CRM system. That number rises to 76 percent for technology recruitment agencies.
VMS: Changing Expectations
For many respondents, vendor management systems are not a big driver of business — yet. Thirty-eight percent of respondents said none of their work orders came from a VMS in 2015. However, that number dropped to 31 percent for 2016 predictions.
Technology recruitment agencies were slightly more likely to use a VMS to drive business, but interestingly may be moving away from them. According to the survey, 36 percent of tech recruitment companies said none of their work orders came from a VMS, and 42 percent said they don't expect to use one in 2016.
Technology: Still a Challenge and an Opportunity
Technology plays an ever-evolving role in sourcing, managing, and placing candidates. When asked about the biggest opportunities for recruitment agencies, many responses included technology solutions and social media. ("Construction" was a frequent non-tech answer.)
When it came to the biggest challenges, respondents cited "technology" here as well, in addition to "finding skilled candidates."
Technology recruitment agencies reported "technology" and "social media" as the biggest opportunities in their industry, and said "candidate shortages" and "technology advances" would be challenges.

Learn more about how leading recruitment companies are using modern technology to grow their businesses.
If you enjoyed this post and want to learn more, take a look at our other two instalments of APAC recruitment trends:
Subscribe to the Recruitment Blog
Subscribe for trends, tips, and insights delivered straight to your inbox.