Top 5 Recruitment Automations with Immediate Impact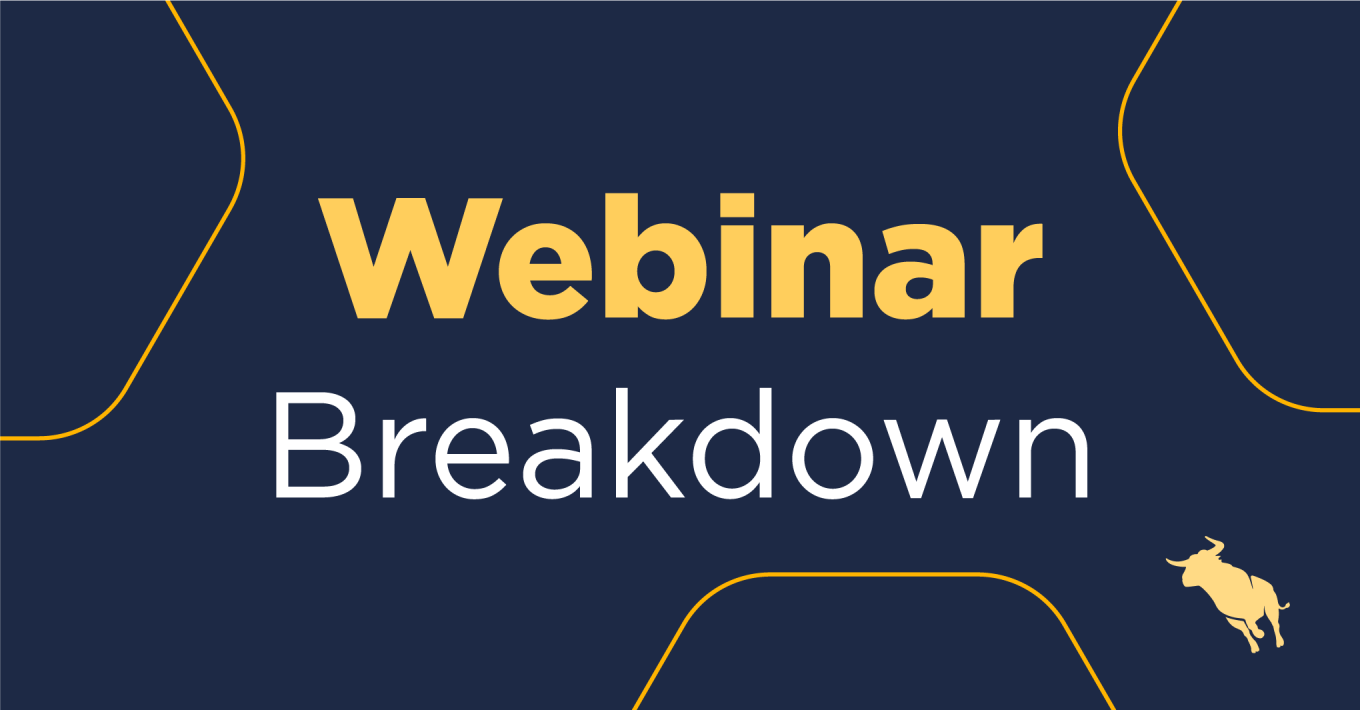 These days, speed is everything. Consultants don't have time for repeat and mundane tasks not directly related to making placements and driving revenue. With recruitment automation, you equip your consultants with the best tools to make faster placements, and you deliver a better experience for your clients and candidates—all in a few clicks.
We caught up with experts from across Bullhorn, including Jay Roberts, Account Executive, Erik Mateev, Sales and Strategy, Automation & AI, and Leigh Clarke, Senior Solutions Consultant, to understand how automation can have an immediate impact on your recruiting organisation.
Read the recap below or catch the webinar recording here.
Setting the stage
By the end of 2021, 587 million data points of entry were automated, a sign that recruitment is evolving and teams are adopting automation at a rapid pace.
When it comes to recruitment automation, there are three key pillars: 
Productivity on the administrative side, like checking emails, updating fields and notes, creating tasks, etc. The goal here is to take effort away from consultants to give them valuable time back to create more opportunities for new business. 
Experience is the second pillar – how can you create the best experience for your candidates and clients? It's about creating proactive engagement and good communication. 
Data health is the third and arguably most important pillar – in order to have your team to be the most productive, your data needs to be clean. With accurate data, your ATS will become a reliable source of truth and the first point of reference for your consultants.
Finally, before we dive into the automations, it's helpful to keep in mind the logic behind every automation: if this, then that – this being the trigger, that being the actions that will follow on to take in the background.
1. Engage inactive candidates
This automation begins with any candidate that hasn't had any submission in 24 months or no note in the past six months. 
First, bring them through an engagement workflow, which will start with a newsletter-style, HTML email, showing content, a photo of their recruiter, and displaying a link to open jobs.

Then, after a few weeks, send them a more personalised email that feels as if it's come from a human being.

Four weeks after that, send them a survey.

Two weeks after that, update their status to "archived".
If at any point, the candidate does interact, you can add a note on them, which will take them out of the automation flow.
One of the main priorities this year, amidst the talent shortage, is to re-engage candidates. Creating a campaign to proactively engage candidates will allow you to bring that relationship back to life. 
2. Get an alert when a candidate views a job on your website
If you have a candidate perusing open jobs on your website, you can create an automation that reacts to a candidate visiting your website.
The

trigger point

is your candidate having visited a page on the website in the last seven days where the URL contains "jobs".

Then, send a notification to the candidate owner – that is, the recruiter – telling them that the candidate has visited and looked at that job. That notification will come through via email.
As the candidate engages more with jobs, more information will come through about the candidate in their Bullhorn record. A numerical engagement score will start to appear, based on how many times the candidate has interacted with what you send them. From that score, you can determine how actively the candidate is engaging with our brand, as well as how actively they may be looking for a new position.
3. Make data cleansing easy
This automation will help you update, maintain, and populate data in your ATS/CRM.
Start with a list of candidates with no submissions or notes. In addition, there might also be missing information, like their phone number or their position title.

This time, you'll be sending them a survey, which will land in their inbox. 

The candidate will then follow the survey, where you can ask them questions, like what their current job role is, what the best number to reach them is, or even GDPR-related questions. 

When they populate that information, their candidate record will update automatically in Bullhorn. The survey can also allow them to update their resume or CV.
Going back into Bullhorn Automation, you can build out this process and make it a bit more complex by using something called branching.
One branch, or option, of the automation is if your candidate fills out the survey and updates their information – then their status will be updated to active.

If not, you can create an alternate branch, or path, for that candidate, where you can wait a while – say, a week – and then send a follow-up. 

From there, another branch: if the candidate responds to the follow-up, you'll make them active.

If they still do not respond, you can update their status to archived, and also add them to a hotlist, where they'll be marked for deletion.
This is just one example of the many data-driven automations you can set up so you have a clean and accurate ATS to work with, allowing your recruiters to rely on it as a source of truth.
4. Reply to online applications automatically
This automation is a bit different. This automation triggers a submission, or, in this case, an application. 
In this case, you can bring

submission status

into the "if this" portion of the automation. Here the submission status would be "web response in the last 7 days". This means anyone who's applied via our website, or via an integrated job board that we have in the Bullhorn system, would be pulled into the automation.

What you can do here is respond to that submission with an automated email thanking them for sending in their information. You can also send a text message via SMS, which can also include a survey they can fill in. 

Some clients have built branching options from here, depending on how the candidate responds, which can then set up a chat experience for the candidate via text.
This makes sure the candidate gets a personalised experience as soon as they interact with you. That initial outreach can go a long way into making sure your candidates feel appreciated and valued.
Our GRID findings show that every second candidate drops out of the process because they find that the engagement is too slow, or they're not being engaged with at all. This recruitment automation is an excellent way to address that.
5. Speed up business development
We've done a lot of automations dealing with candidates, but here's one you can use for your contacts and sales leads.
This automation is based on a follow-up for a cold call that you've logged for one of your sales contacts. So, if, in the last day, you've logged a prospect call or a cold call (or even logged a left message), that will bring that contact into this automation.

From here, you can send them an email following up, acknowledging that you had a call or left a message and sharing your contact details. 

Then, after three days, a task will be added reminding you, the recruiter, to follow up with this conversation you had earlier in the week. This way, you can ensure that you're speaking to those folks again after that good first initial call.
Everyone in a sales role can understand the stress of calling tens, maybe even hundreds of people in a day and having to follow up with those leads. With this automation, you can empower your consultants to either automate the follow-up or proactively start the follow-up process.
One Bullhorn Automation customer created a similar recruitment automation to follow up with every new lead added in their Bullhorn system where a consultant was unable to engage with that prospect on the first try. By the end of month one, the group resulted in a 97% success rate in showing some form of engagement with those emails by the prospect.
Less busywork. More ROI.
On average, recruitment automation is saving roughly 12.75 hours per person per week, which translates back around to about $60,000 to the recruiter's topline. The focus of automation is to remove busy work and allow recruiters to focus on what they do best: building relationships and generating revenue.
---
Are you ready to empower your recruiters and automate your recruiting workflow? Request a demo of Bullhorn Automation today.
Subscribe to the Customer Blog
Subscribe for trends, tips, and insights delivered straight to your inbox.