The Bullhorn Learning Hub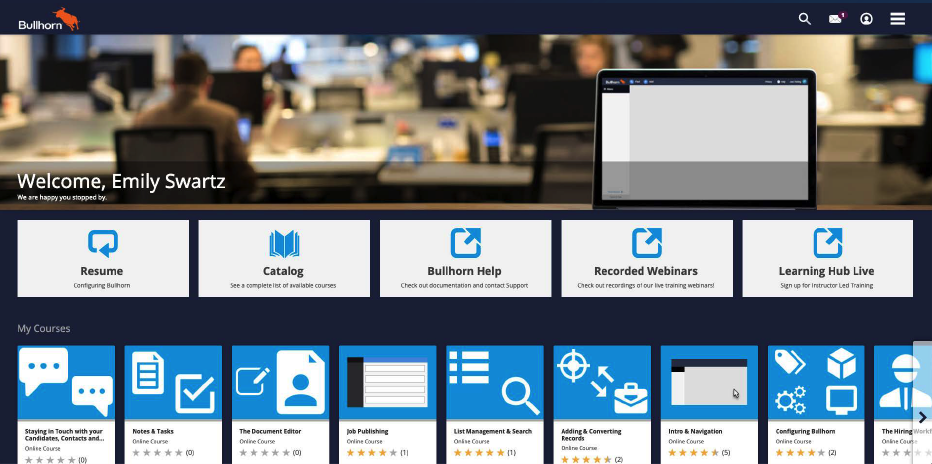 What is the Learning Hub?
The Bullhorn Learning Hub is your new and complimentary learning resource with guided learning paths for you and your team. From user training to best practices, this resource will help you get the most out of your Bullhorn investment.
What does the Learning Hub solve for you?
Train your workforce faster, without additional cost
Use Bullhorn content as a core part of your onboarding program
Upskill employees as their role evolves or changes
What type of courses and content are in the Learning Hub?
Start with our featured courses right on your home page. There you will learn end user, manager, and admin best practices and standard functionality. We are adding new content constantly, so check in regularly for new content!
How do I log into the Learning Hub?
Logging into the Learning Hub is easy! Your Bullhorn User ID and Password are synced to the Learning Hub and will automatically log you in.
While logged into Bullhorn, select Help to access the Bullhorn Community.
Choose "Training" from the menu bar.
Select "Log into the Learning Hub" from the Bullhorn Learning Hub Image
Learning Hub Topics Include:
End User
Creating records (including notes, candidates, contacts, and jobs)
List Management and Search
Job Publishing
Managing Records
The Hiring Workflow
Admin
Configuring Bullhorn

Field Mappings
Adding Custom Fields
Configuring Submission Statuses
Configuring Preview Slideout and Tearsheet Columns

User Management (including adding or disabling a user)
Manager
Reporting Options
Record Management
Add Ons
S Release To Novo
Navigating Novo
Record Overviews
Notes
Hiring Workflow
Administrator Tools
Recruitment Blog
https://www.bullhorn.com/au/blog
The Bullhorn recruitment Blog is a comprehensive resource for knowledge and insights into the recruiting industry. Blog posts cover a range of topics, from recruiting tips and tricks, to industry trends, to innovations in recruitment technology. Subscribe to the Recruitment Blog for these trends, tips, and insights delivered straight to your inbox.
Customer Blog
https://www.bullhorn.com/au/customer-blog
Where can you find blog posts and insights specifically for Bullhorn customers? The Customer Blog is your go-to resource for all things Bullhorn, including events, product updates, and a glimpse into what life is like at Bullhorn! We add new posts each week, so bookmark this page for easy access!
RIX
As the only purpose-built, peer-to-peer content platform for the industry, The Recruitment Innovation Exchange (RIX) serves as a venue for thought-provoking discussions and value-added strategies. Visit RIX for insights from global leaders in the recruitment industry so you are always up-to-date with the latest trends.
Recruitment Speaks Out
https://www.bullhorn.com/staffing-speaks-out
Recruitment Speaks Out is a conversation series where professionals from the recruitment industry share their ideas, insights, and expertise on a range of topics, including how to effectively onboard new hires, tips to improve candidate engagement, and how to grow your career in recruitment.
Social Media
Twitter: @BullhornAPAC LinkedIn: Bullhorn
Bullhorn's social media channels are the perfect way to get updates and content right from Bullhorn straight to your timeline or newsfeed. We regularly post content from our blogs and other industry insights to ensure you stay up-to-date with what is happening in the recruitment space.
Tips From Support
Our Support Team is asked about these five things more than anything else! Get ahead of it and explore the Learning Hub and Help articles to make sure you understand these topics!
How to Update Field Mappings
Field Mappings are used to control where and how your users input data into Bullhorn. Users with this functionality can customise Field Mappings to track data specific to business needs, ensuring Bullhorn is configured the way that works best for your company.
How to Add/Edit/Delete Records
Records – including candidate, client, contact, or job – are an integral part of Bullhorn. Without records, Bullhorn would not be a valuable source of information and insights into your business!
How to Add/Disable/Replace Users
Maintaining user accounts is necessary to ensure that everyone who needs a Bullhorn account has one, and conversely, people who didn't need a user account don't have one.
How to Import/Export Records
Using Bullhorn's Custom Import tool, you're able to import Candidates, Contacts, and Leads into Bullhorn directly from a CSV (comma separated values) file. You can also export records such as Candidates, Contacts, and Submissions directly from each respective list view. This functionality allows you to bring in existing data to Bullhorn easily and export all of your records in just a few clicks.
How to Mass Mail
Sending a mass mail allows you to quickly send a message to many contacts at once, all from within Bullhorn using the data you already have. You can personalise the messages to incorporate names and other information you have in Bullhorn.
For information and directions on completing the above items, visit the Bullhorn Learning Hub!