The Recruiter's Guide To Event Networking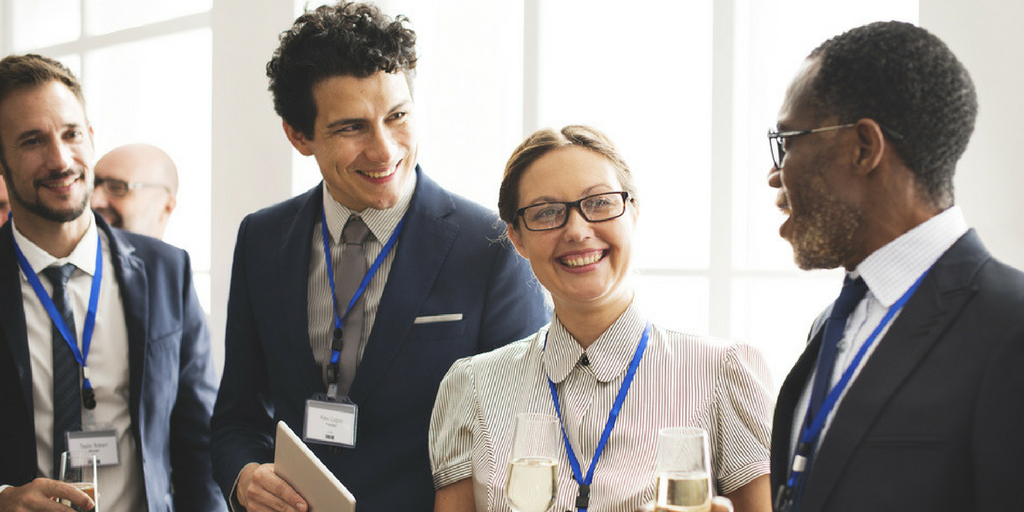 The recruitment industry is built around relationships—relationships with your clients, candidates, colleagues, and peers. Networking is the fuel on which these relationships run, and industry events are one of the best platforms for your networking efforts. Use these tips to make the most out of your networking.
Before The Event
Do Your Research: There are endless opportunities to network at recruitment events, but a little research in advance will ensure that you make the most of your limited time at the event. Research ahead of time to:
Find designated networking breaks and networking events: Many conferences and events now schedule networking breaks. Sometimes these networking events occur a day before or after the official event dates, so be sure to check the event website for the full list of events.
Pick your sessions strategically: Audience demographics will differ depending on the session's subject matter. If you're hoping to connect with an individual with a specific background or role, consider attending a session tailored to that role.
Study up on key attendees before the event: Are there any specific people you're hoping to meet at the event? Look them up ahead of time to learn more about them. A little knowledge goes a long way. Looking for inroads to develop a new relationship? Check their LinkedIn profile for any common connections that can introduce you.
Reach Out To Key Connections: If you're planning to meet up with a specific person, coordinate a time to meet in advance. You may want to attend a session together or meet up at a reception or after-party. Most staffing events are fast-paced, so it's a good idea to schedule in some guaranteed time to meet up with important connections.
During The Event
Don't Limit Yourself to One Networking Outcome: Networking can serve more than one purpose. It's ok to network with a specific goal in mind, but be open to the other benefits of networking too. Here are some potential reasons to network:
Learn from the experts: Does the event you're attending offer time to talk to the speakers? Take advantage of being there in person and pick the brain of thought leaders and influencers.
Learn from your peers: The recruitment industry doesn't exist in a vacuum. Use the time with your peers in the industry to discuss strategies for bettering your business and becoming better at what you do.
Make friends: The recruitment industry is intimate enough that you'll run into many of the same individuals at different events. Friendships make these events less lonely and more fun. They can also introduce you to connections you wouldn't meet otherwise.
Drive word-of-mouth recommendations: The more relationships you build, the more likely you are to develop valuable referrals.
Win new business:

95 per cent

of surveyed business professionals say face-to-face meetings are essential for long-term business relationships.
Find valuable candidates: According to a recent study from staffing expert

Lou Adler

, 85 per cent of jobs are filled through networking. While it's hard to beat social networking for speed and efficiency, networking in person can be vital for placing senior and executive-level positions.
Perfect the Art of Networking:
Ask questions: It demonstrates to potential contacts that you're interested. Even if no valuable relationship emerges from your conversation, you'll likely learn something worthwhile.   
Be someone worth talking to: Networking is a two-way street. The other person doesn't exist to further your goals. Give them a reason to build a relationship with you. Be insightful, helpful, funny, or interesting depending on your strengths and what the situation calls for.
Don't be pushy: If you steamroll your way through a conversation with an agenda, your potential prospect will notice. Let the flow of the conversation dictate the right time to pitch.
Take notes: Use a note-taking app on your smartphone or tablet to write a brief summary of each interaction. When you follow-up later, you can use these details to write a killer personal message.
After The Event
Follow Up: Your networking isn't over when the event ends. Connect with new contacts on LinkedIn, and personalise your message with the details of your interaction. Contacts can tell when you send a stock, bulk message. Alternatively, send them an email. Hubspot provides a template for following up with contacts you've met through networking.
Nurture Your Relationships Through Social Media:  Make a Twitter list of the contacts you've met through networking and reach out to them periodically. If you're connected on LinkedIn, comment on their updates and congratulate them on professional accomplishments.
---
Put your new networking skills to the test at Engage, one of the largest events for staffing professionals. Learn more about Engage London 2019.
Learn More About Engage London 2019
Subscribe to the Recruitment Blog
Subscribe for trends, tips, and insights delivered straight to your inbox.