Announcing Engage Sydney 2022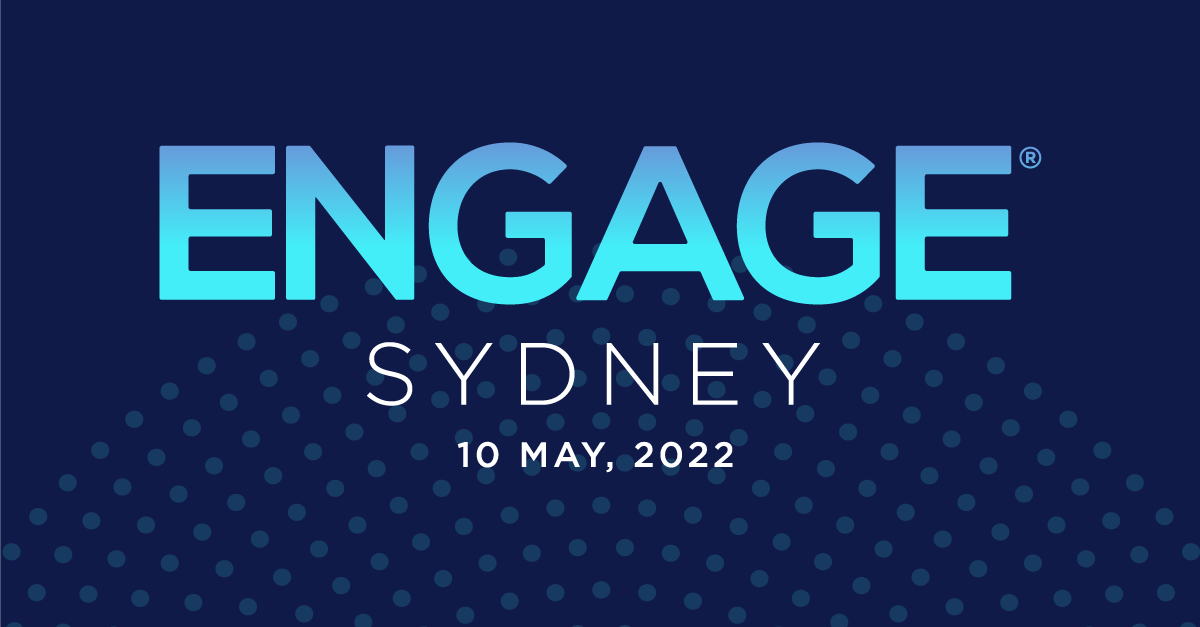 The foundation of Bullhorn Engage has always been about bringing together our incredible community of recruitment professionals to share ideas, learn from one another, and unlock the Power of People through technology.
After Engage Sydney 2020, we made the difficult decision to bring our Engage conference online, and we were thrilled to host EngageX in North America and Europe in 2020 and 2021. With that said, we're very excited to announce that we will be back in-person next year for Engage Sydney 2022, the premier global recruiting conference series, on 10th May 2022!
Register Now for Engage Sydney on 10th May 2022
At Engage, immerse yourself in key industry trends, technology innovation, and Bullhorn best practices to make the best decisions to grow your business. Full of highly personalised experiences and one-to-one interactions with ecosystem partners, agency peers, and Bullhorn experts, Engage Sydney is the perfect place to make new connections and learn from the brightest minds in the field but is still intimate enough that you'll see some of your favorite recruitment friends.
Take a look at this recap of Engage Sydney 2020 for a glimpse of what could be in store for Engage Sydney 2022.
What can I expect from Engage Sydney?
At Engage Sydney, join hundreds of recruitment professionals in one space to learn, engage, knowledge-share, and everything in between. Here are a few of the takeaways you can expect at Engage Sydney:
Engage Your Way
Engage Sydney will feature keynote speeches, breakout sessions, and discussions in a jam-packed one-day agenda. Hear from industry leaders, Bullhorn experts, and customers on key industry trends and practical strategies to get the most out of your business and technology stack.
At Engage, you can select from a variety of sessions, from tactical how-tos to industry insights to discussions with your recruitment industry peers.
Learn from Inspiring Speakers
Get prepared for exceptional recruitment content delving into the key trends affecting the industry, plus a fusion of technology innovations and expert predictions for the future of recruitment. As an attendee, you'll walk away with not only a deeper understanding of the current recruitment landscape but also actionable industry content you'll be able to put into practice immediately.
Discover Technology Innovation and Best Practices
For those looking for guidance on how to get the most out of your Bullhorn investment, we offer plenty of opportunities to hear from our team of Bullhorn experts. You'll be able to meet with our local team, including Customer Success, Trainers, and Support, to receive individualised technical guidance.
Are you interested in learning about platform extensibility? Our partner ecosystem gives you the choice, confidence, and customisation you need to address the unique challenges of your business. Hear from our incredible partners on how to future-proof your investment and enhance the capability of your platform.
Whether you're looking for industry trends and thought leadership, insights into technology, inspiration from your peers and colleagues, or the opportunity to elevate your Bullhorn platform to the next level, Engage Sydney 2022 has everything you're looking for. Engage is genuinely a one-of-a-kind event, and we hope you will join us in 2022 for an unforgettable experience.
Learn more about Engage Sydney and register at https://engage.bullhorn.com/engage-sydney-2022/.
Subscribe to the Recruitment Blog
Subscribe for trends, tips, and insights delivered straight to your inbox.