Join us at Bullhorn Engage Sydney 2024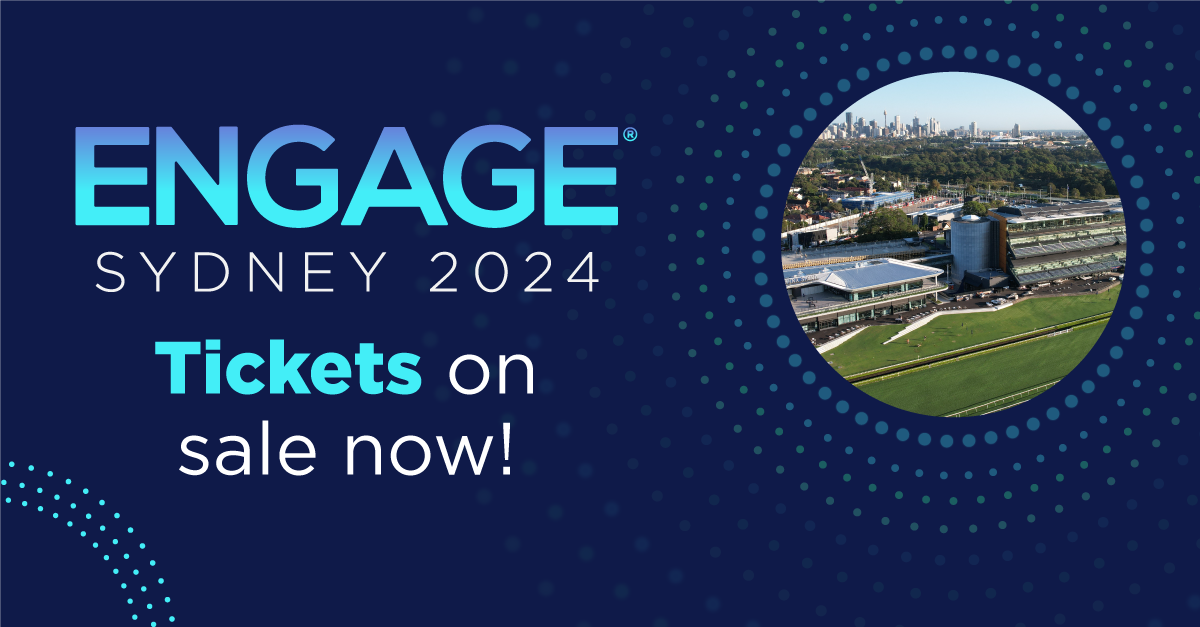 We are buzzing with excitement to announce the launch of Engage Sydney 2024 on 14 March 2024! This year's event promises to take innovation, collaboration, and insights to the next level, bringing together hundreds of recruitment leaders and experts from around Australia and the globe. As a frontrunner in the recruitment technology space, Bullhorn is all set to deliver an experience that transcends expectations.
Engage's global presence
For years, Bullhorn Engage has been a cornerstone event on the calendars of recruitment professionals worldwide. From Boston to London, the Engage series has garnered a reputation for fostering unparalleled networking opportunities, thought-provoking discussions, and the unveiling of cutting-edge recruitment solutions. Engage Sydney 2024 is poised to continue this legacy, further solidifying its position as the premier event for recruitment professionals.
A new venue for 2024
In 2024, Bullhorn Engage Sydney is breaking new ground by moving to a spectacular new venue – the iconic Royal Randwick Racecourse. This shift to such a prestigious and dynamic setting reflects the evolution and growth of Engage as it continues to adapt to the changing landscape of recruitment. The Royal Randwick Racecourse provides the perfect backdrop for a conference that merges business acumen with the spirit of community.
What to expect at Engage Sydney:
Engage Sydney 2024 isn't just an event; it's an immersion into the latest trends, strategies, and technologies shaping the recruitment industry. Attendees can look forward to:
Thought-provoking keynotes: Industry luminaries and thought leaders will take the stage to share their insights, providing attendees with fresh perspectives and actionable takeaways.
Networking galore: Engage Sydney has always been celebrated for its networking opportunities. This year, the spacious and vibrant atmosphere of the Royal Randwick Racecourse will foster connections and engaging discussions with your recruitment industry peers.
Tech showcase: Get up close and personal with Bullhorn's cutting-edge recruitment solutions and witness firsthand the tools that are revolutionising the way recruitment agencies operate.
Panel discussions: Hear in-depth discussions on pressing topics and challenges facing the recruitment industry. Gain insights from experts who've navigated the same waters.
You will not want to miss Bullhorn Engage Sydney 2024, so make sure you register for your ticket today! With its global reach, new venue, and promises of unparalleled learning and networking, this event is set to redefine what it means to be a part of the world of recruitment.
As the excitement builds, we invite you to join us at the Royal Randwick Racecourse for an event that promises to inspire, connect, and transform. Mark your calendars for Bullhorn Engage Sydney on 14 March 2024 – where innovation meets opportunity, and the future of recruitment takes centre stage.
Registration is now open, so secure your ticket now for the best pricing. We can't wait to see you at Engage Sydney 2024!
Subscribe to the Recruitment Blog
Subscribe for trends, tips, and insights delivered straight to your inbox.