APAC Recruitment Agencies Enjoying Healthy Growth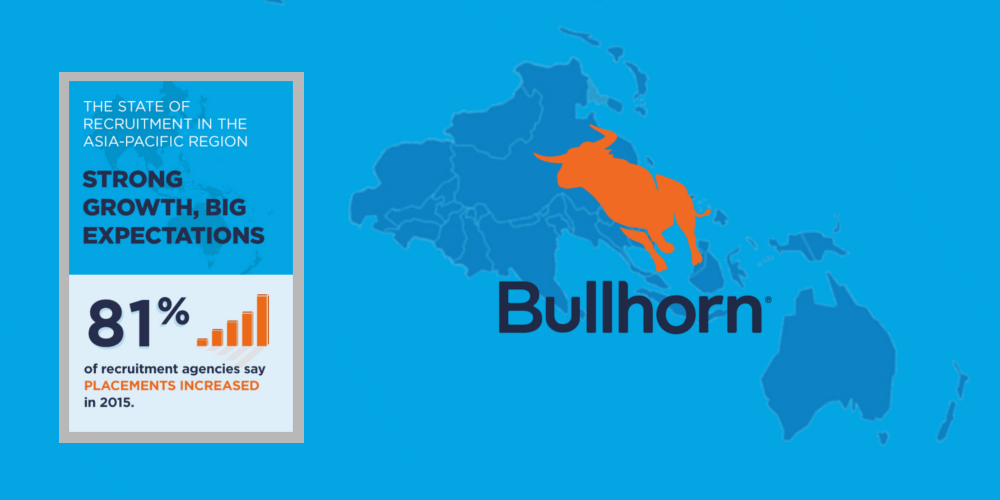 According to Bullhorn data, 81 percent of agencies increased placements in 2015

Recruitment agencies in the Asia-Pacific region are feeling confident after some solid performances in the past year. Repeat business is expected to play a strong role in driving growth and overall, agencies believe 2016 will prove to be a stronger year than 2015. These figures are derived from Bullhorn data captured throughout 2016, with input from more than 170 recruitment businesses across the region. Here are some of the highlights.

Building on Past Performance

Placements are up, with 81 percent of respondents saying that placements increased in 2015 compared with 2014. With placement figures improving, revenue figures have also increased. The largest section of respondents — 48 percent — met their revenue goals in 2015, 37 percent surpassed their revenue goals, and only 15 percent fell short.
Expecting Continued Growth
After a strong 2015, APAC recruitment agencies expect even greater success in 2016. A total of 84 percent of respondents expect an increase of some kind, while only 2 percent expect a decrease in revenue. 33 percent of respondents said revenue will increase between 11 percent and 25 percent in 2016; 31 percent said it will increase up to 10 percent, and 20 percent said it will increase more than 25 percent.
Repeat business is expected to play an important role in this continued growth. 78 percent of respondents said that at least half of their revenue would come from repeat business. Out of the major recruitment metrics, total number of placements is ranked as most important when it comes to driving revenue. Average placement fee/bill rate is second, and total number of job orders is third.
Demographics
To understand more about the focus and location of these recruitment agencies, let's take a look at the demographics profile.
A third of the respondents were permanent non-executive recruitment agencies. 79 percent of respondents were contract recruitment agencies, 14 percent were contingency executive search agencies, and 13 percent were temporary agencies. Finally, 9 percent were retained executive search agencies.
The majority of respondents were located in Australia, with 61 percent. Next came Singapore, at 9 percent; New Zealand, 8 percent; India, 6 percent, Japan, 5 percent; and Hong Kong at 3 percent.
Professional, IT and finance positions led as the most common positions recruited for. 33 of respondents said they primarily recruit for professional/specialty/managerial positions; 26 percent said they primarily recruit for IT/tech positions; and 20 percent said they recruit mainly for finance and accounting positions.
The most popular industry reported by respondents was technology, at 27 percent. Next was business services, at 23 percent; and construction, at 20 percent. Financial/insurance recruitment came in at 19 percent, as did manufacturing. Healthcare notched only 16 percent.
Learn more about how leading recruitment companies are using modern technology to grow their businesses.
If you enjoyed this post and want to learn more, take a look at our other two instalments of APAC recruitment trends:
Subscribe to the Recruitment Blog
Subscribe for trends, tips, and insights delivered straight to your inbox.