Announcing the Engage Sydney 2023 Closing Keynote: Magda Szubanski AO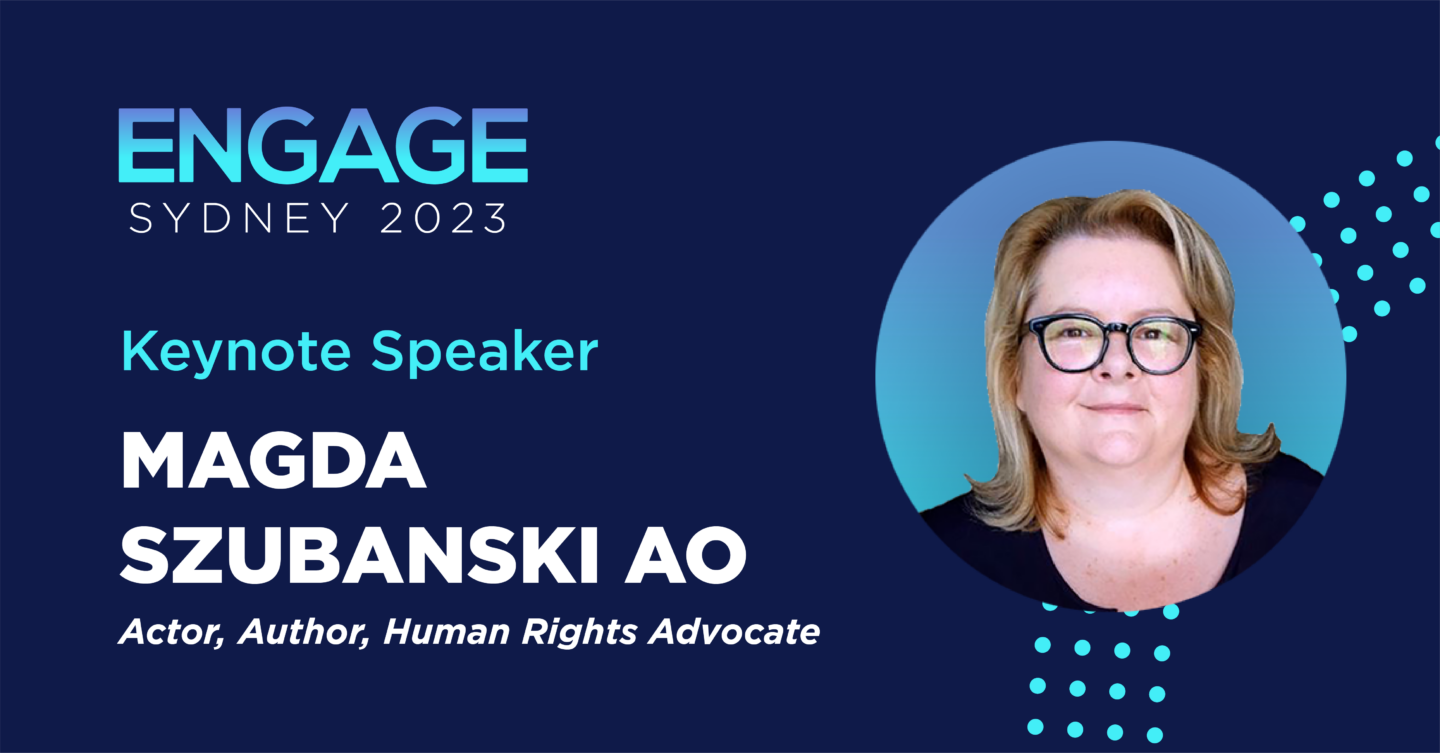 We are delighted to announce Magda Szubanski AO as our keynote speaker for Engage Sydney 2023! For three decades, Magda has been a household name as one of Australia's most loved and respected actors, writers, and producers. We can't wait to see Magda take the stage at Engage Sydney.
You won't want to miss Magda's keynote session, sponsored by Bullhorn Marketplace partner CloudCall. Magda will speak on inclusion and diversity, specifically how important these matters are in the recruitment industry. We will also host a Q&A with Madga, where you'll hear about her background and entertainment industry experience.
Magda has been famous for making Australia laugh for over 30 years, and she was named the 'Most Talked about Person of 2017' following what many have called her 'crucial role' in the complex and difficult 2017 Same-Sex Marriage Survey.
Magda was a key player in some of this country's most successful, iconic, and groundbreaking shows: "Kath and Kim," "D-Generation," "Big Girl's Blouse," and sketch comedy show "Fast Forward," which played for several seasons and became one of Australia's highest-rated comedies.
Magda was appointed an officer in the general division of the Order of Australia (AO) "for distinguished service to the performing arts as an actor, comedian, and writer, and as a campaigner for marriage equality." in 2019. Magda was also awarded the 2018 Victorian Award for Excellence in Women's Leadership by Women and Leadership Australia.
We look forward to watching Magda's session in March with our recruitment industry peers!
Purchase your ticket today to see Magda and other amazing industry speakers at Engage Sydney 2023.
Subscribe to the Recruitment Blog
Subscribe for trends, tips, and insights delivered straight to your inbox.