Connected Recruiting in practice: How to transform your talent lifecycle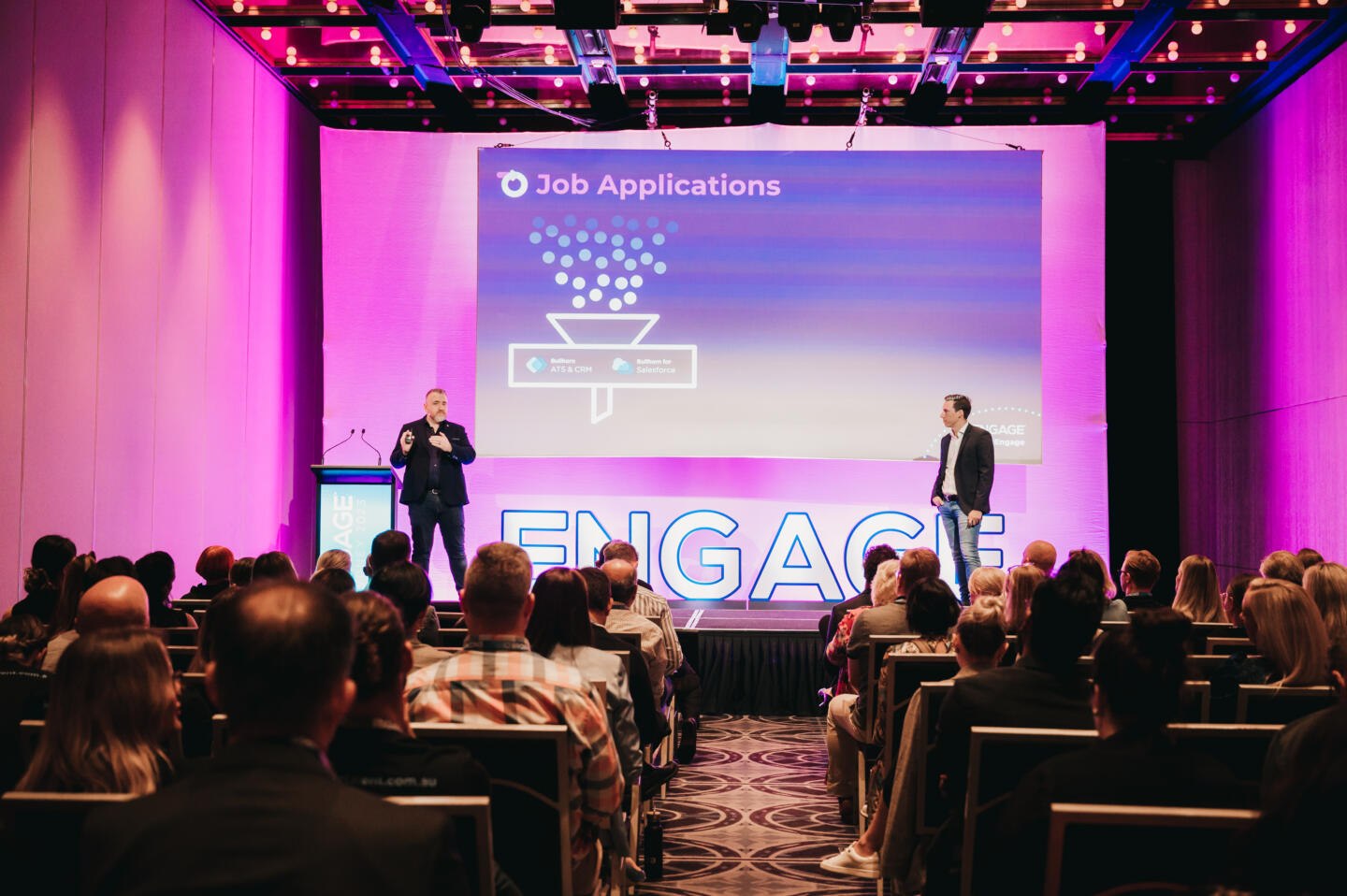 At this year's Engage Sydney, we gathered with recruitment peers, experts, and partners to explore the latest recruitment trends, technological innovations, and the industry's challenges – and how to meet them head-on. Among these keynotes, sessions, and demos, one strategy emerged in conversation again and again: Connected Recruiting.
In one memorable session, two Bullhorn pros, Ben Carter, Senior Director, Automation & AI, and Hugh Catterall, Global Account Director, Enterprise, broke down Bullhorn's Connected Recruiting strategy into actionable tips. Below, read a few key takeaways from their conversation, including a breakdown of the modern candidate, Bullhorn Automation's capabilities, and just how impactful Connected Recruiting can be.
What does talent want?
Last year, we conducted our GRID Talent Trends survey, where we connected with candidates to learn why they choose to work with an agency, what value they see in working with a recruiter, and what their experience with agencies has been like.
Among the top reasons talent chooses to work with a specific recruitment agency are providing access to the right jobs, directly reaching out with good opportunities, and having a good reputation. As for the value of recruiters specifically, that came down to their expertise. Candidates trusted recruiters to guide them through the process, securing the right interviews and providing invaluable advice along the way.
The biggest theme we saw emerge from the GRID Talent Trends Report was an emphasis on a personalised candidate experience. Candidates want consistent engagement – three out of five candidates want to be reached out to once a week with new opportunities. And they want communication through the right channels, with email, texting, instant messaging, and social media rising in popularity.
The results can be detrimental when talent doesn't have that engagement over the right channels. Detractors for an agency were 6x as likely to cite multiple challenges through the talent lifecycle as advocates. Additionally, 42% of candidates said poor communication is the primary reason for a poor experience.
The modern candidate is also changing. Four different generations of candidates are all part of the workforce, from the Baby Boomers to Gen Zs. Millennials are the largest group, with 40% of workers in the workforce today. Gen Z is also entering the picture, and in the next five years, they will represent nearly a third of the global workforce.
All these different generations have different traits, perspectives on career growth, and are motivated by different needs. Not surprisingly, each generation has its own preferences on how they want to be communicated with.
What does this all mean? Candidates value the expertise of recruitment agencies, but they want a better experience, with consistent communication over the right channels. How can agencies make that happen?
Introducing Connected Recruiting
Deliver an incredible talent experience at every stage of the candidate lifecycle. Say hello to Connected Recruiting.
By leveraging modern digital marketing best practices, you can:
Create ever-growing and consistently engaged talent pools
Lower your cost of candidate acquisition
Increase your redeployment rates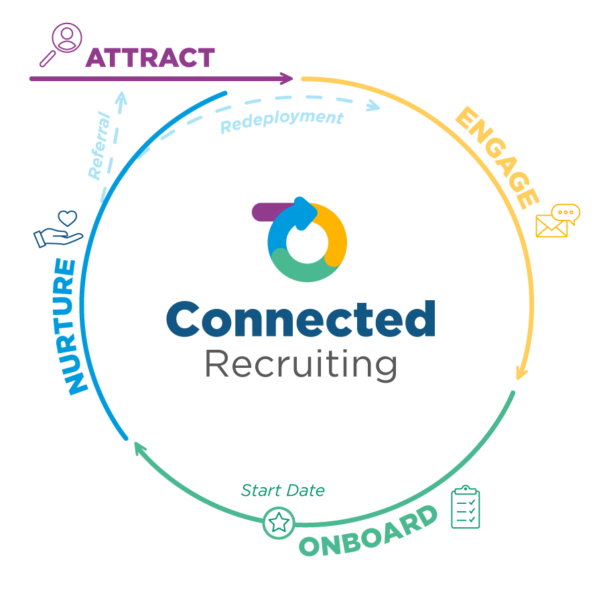 Connected Recruiting is best envisioned as a flywheel effect, that, if achieved properly, can attract, engage, onboard, and nurture your talent all while delivering an incredible candidate experience.
Using tech to meet talent where they're at
Omnichannel engagement is critical in making Connected Recruiting happen. Think marketing emails, text messages, surveys, and chatbots, all working together to gather information and send it back to your single source of truth. To make this omnichannel engagement happen, you'll need to leverage automation across the candidate journey to ensure your communication is consistent, personalised, and at scale.
Let's dive deeper into how you can leverage automation and an omnichannel engagement strategy to transform your candidate database into a candidate community.
Attract
Attracting candidates is the first step of Connected Recruiting, which focuses on building talent communities. Three common ways candidates enter your community are through registrations, sourcing, and applications.
Registrations, like signing up for a newsletter or attending a webinar, should be simple and frictionless. After a candidate registers, they should promptly receive a welcome email with a call to action to complete their profile and view jobs on your website. You can leverage a chatbot to help your candidates fill out their profiles, asking them simple questions and verifying that their personal information is correct.
Sourcing helps you to find candidates from beyond your Bullhorn database. You can take advantage of automated messages to reach out to these candidates via email or text. The call to action in these messages should be to complete screening/knockout questions and input information to help you gather a complete candidate profile that immediately feeds into your database.
Applications are the most noise any recruiter has to deal with. Bring them in and get tagged against the job. If you let automation be that first layer of qualification, you can sift through the noise to the best candidates and be notified when they actually fit the role. Opening up and taking all applicants means more people in the funnel and fewer sitting inboxes, improving the first impression you leave on candidates.
Engage
Engaging your candidates doesn't mean blind outreach; it means engaging with the right candidates through the right channels at the right time. A few examples of engagement include whitepapers, blogs, and thought leadership, but it can also be as simple as asking candidates to refresh their information or matching them to jobs that may be a fit.
Engagement also includes notifying candidates of in-process applications – or even rejections. (Rejecting candidates can be an opportunity for using AI auto-matching to send along other jobs that may be a fit, especially given that most candidates apply for multiple jobs within one agency!) Interview confirmations, reminders, and check-ins are all low-lift methods of engaging with your candidates through automation – yet they can help increase those response rates, increase the data health of your database, and help candidates feel valued and guided along their journey.
Onboard
How can we improve the candidate experience leading up to and during the start date period?
First, a confirmation email goes a long way; it helps ensure that candidates have all the information they need. (Think of it like an order confirmation when buying something online.) You'll also want to ensure you're keeping in touch between the confirmation and start dates, as this time is especially high risk for candidates to drop off. Make sure to check in on the start date as well, so you're not scrambling for a backfill. (Sending this check-in via a text in addition to an email creates an additional touchpoint!) This consistent communication reduces your no-show rates while increasing your satisfaction rates.
Onboarding is also a great time to ask for feedback. NPS or ratings allow you to understand where you can improve – or, if your candidates have had a great experience, you can ask them to leave a review on Google or Glassdoor.
Nurture
Nurturing talent beyond the assignment is complex, but if you can get it right, you can turn one-off assignments into productive relationships with candidates. One strategy to highlight is using job auto-matching for redeployment. Sending candidates recommended jobs as they reach the end of their assignment can bring your redeployment rates from 10-20% up to 50% or beyond.
We're also excited to announce our calendar integration, allowing users to:
Integrate calendars so candidates can schedule during available slots
Send available slots as part of automated notifications
Improve engagement through automated reminders and scheduling notifications
Track availability in Bullhorn with automated appointment creations
This level of self-service drives a wider engagement capability over your active workers and placed candidates.
By leveraging automation to execute your Connected Recruiting strategy, you'll be able to:
Attract more candidates into your ATS,
Engage with them no matter how long they have been in your community,
Create an incredible experience with information that matters in the moments that matter,
And nurture them through their placements with a redeployment strategy that engages them at the right time.
---
Want more insight into candidate expectations? Check out this blog about What Candidates Expect From Recruiters (and How You Can Keep Up)
Subscribe to the Recruitment Blog
Subscribe for trends, tips, and insights delivered straight to your inbox.