Behind Bullhorn: Rob Henshaw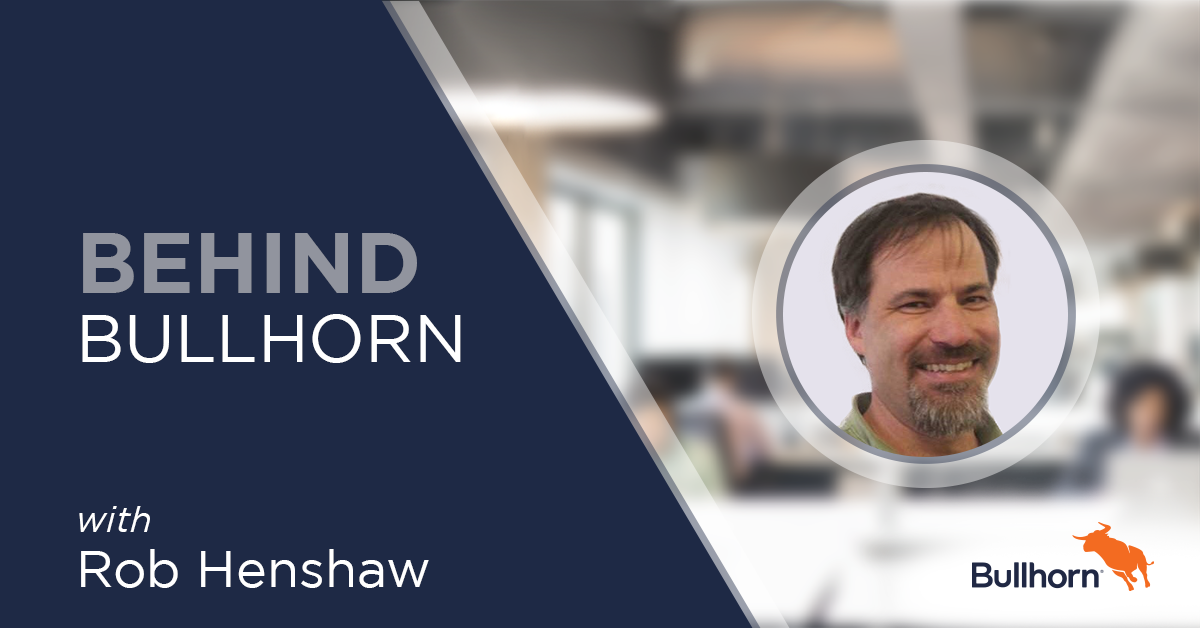 At Bullhorn, we've made it our mission to create an incredible customer experience, and in doing so, we've hired some incredibly talented people who put our core purpose into action every day, in everything they do. Introducing Behind Bullhorn: A spotlight series on those employees, bringing to life the unique personalities that drive our business.
We continue our series with Rob Henshaw, Bullhorn's Director of Product Management. Rob plays an integral role at Bullhorn, overseeing a team of technical product managers who work directly with the software development teams as the product owners. Rob ensures that his team is focused on continually making improvements to Bullhorn products, each and every month.
Building on Bullhorn Solutions
Much of Rob's day-to-day consists of managing what his Atlanta, St. Louis, and Boston teams are working on, as well as managing customer requests. Rob explains that the technical product managers are a key point between customers, internal stakeholders, and the team who writes the software. "It really comes down to cohesive communication, prioritisation, and decision making," says Rob.
"In the back of my mind, I'm constantly asking, 'How do we make this process better? How do we improve it so that we have more reliable, higher-quality deliveries on the things that people are asking for?'"
Exciting Releases on the Horizon
In addition to technical product managers, Rob coalesces the inputs of Marketing, Support, and other stakeholders to ensure the vision for Bullhorn's products are properly aligned. He's currently most excited about Bullhorn's work on Novo, the latest edition of Bullhorn.
Rob's also excited about expanding Novo internationally and about working on a project to bring an ATS solution to mobile platforms. He's also passionate about the integration of Bullhorn Peoplenet; "Bringing Peoplenet into the Bullhorn family as a major part of our products suite is a real challenge and I find a lot of excitement trying to get there," he says.
Developing More Than Just Apps
While the ultimate goal of Rob's job is to build software that creates an incredible customer experience, the end product is hardly what Rob values most about his role. "Talking with other people to help them solve problems—not solving it for them, but getting them to think a little bit different through why they're stuck and how they can come up with better solutions—that's what I really like doing," Rob says. "The people at the front lines know more details than I'll ever be able to absorb. I help in those brainstorming sessions, not by being the subject matter expert, but by being the person that can help drive the team to get to a better solution."
Balancing a Large Team
Managing teams from different parts of the country, while ensuring they're all focused on the same goals is certainly no easy task. "Each of these teams can get caught up in the day-to-day," Rob says. "They have projects they're working on now and can lose visibility into where we want to be six or 12 months from now. Just keeping up with them is a full-time job!"
Thankfully, Rob's personal mantra helps foster a good culture across his teams. Rob believes transparency, communication, and taking ownership are key. "I really like that everyone read The Oz Principle at Bullhorn because it really resonated with me on the importance of accountability and ownership," Rob says. "If everybody's doing that, then it's easy because you know the team has your back at all times."
Delivering Great Products and Service
Before Bullhorn, Rob was a Director of Technology at VistaPrint for 13 years and led the development and product teams. He was most drawn to Bullhorn by its incredible company growth and practical mindset. "Bullhorn is really focused on what brings the best value to the customer and delivering a great product," says Rob.
Since joining Bullhorn in June 2018, Rob has been thrilled to learn how engaged the leadership is. "They listen and learn and really want to know what's going on in our day-to-day," says Rob. "Just because we've done things one way in the past doesn't mean we're not willing to try new things. Without that, you won't keep growing as a company. There's just a great group of people working here."
Where are you from?
Templeton, Massachusetts.
Describe your role to a 5-year-old:
I work with a great team of teams to make great apps.
Favorite 90s jam?
Neil Young with Pearl Jam as the backing band.
Name your fictional debut album.
Here I am.
Where would we most likely find you outside of the Bullhorn office?
Hopefully at home, outside, working on the garden or hanging out with the kids, but probably on the side of a soccer pitch, watching my daughter play.
Describe your high school self in one word.
Wallflower.
What do you enjoy most about working at Bullhorn that may surprise people?
It won't surprise anyone, but it would definitely be the free coffee!
What's the worst summer job you've ever had?
Working for a company that made fibers for rugs that go inside of cars. It was a night job and the factory was just full of these little tiny fibers. You'd know the color you worked on that night when you went home after work and blew your nose.
What's the weirdest summer job you've ever had?
A mud rubber in a gold mine in Alaska during the 1980s. 80 hours a week. One summer was enough.
What's your biggest pet peeve?
Dishonesty.
Favorite food?
Sushi. Tuna Nigiri.
Least favorite food?
Eggplant.
Best concert you've ever attended?
Lollapalooza 2 in 1992.
Dream dinner guest?
My wife.
Favorite place to eat?
Picasso's in Barre, Mass.
Movie or TV show you're ashamed to admit you love?
Spongebob Squarepants.
Biggest Phobia?
Snakes.
Dream concert?
Jimi Hendrix.
Strangest trend or fashion trends you participated in?
The goatee.
What's the top item on your bucket list?
Travel around the world in one trip.
A favorite quote or movie line?
"I coulda been a contender, I could've been somebody, instead of a bum." – On the Waterfront (1954)
The next big trend?
Sharks as pets.
---
If you'd like to read more from Behind Bullhorn, subscribe to our customer blog. 

Subscribe to the Customer Blog
Subscribe for trends, tips, and insights delivered straight to your inbox.