Maximise productivity with Bullhorn dashboard cards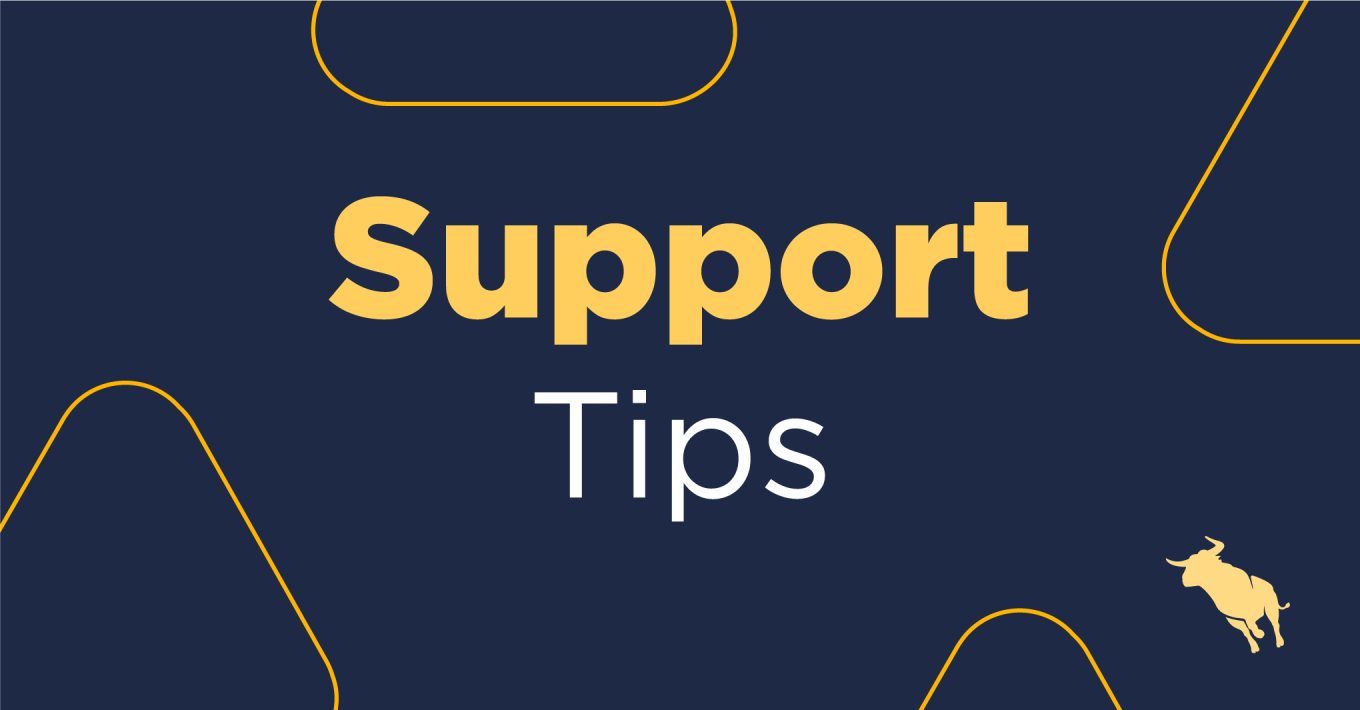 In this blog post, we'll showcase some innovative things you can do with dashboard cards to maximise value from the Bullhorn platform.
My Dashboard is your one-stop source for your company's analytics.  It allows you to mix and match across entities and configure cards to create a personalised space that tells you everything you need to know in real time.
My Dashboard can be accessed through your Menu → My Dashboard, and you can add a card by clicking on the "Add Card" button in the top right corner. 
My Dashboard can be personalised for every individual user: they can choose their own card, move them around, and start configuring. 
If you are currently on the Bullhorn Enterprise edition, you will already have access to this feature and be able to personalise and use it fully. If you don't see this feature in your database, please reach out to your account manager. 
Configure your cards to view what's relevant to you
Dashboard cards are not just static cards with fixed values and parameters. Bullhorn allows you to configure each card by clicking on the configuration toggle in the right-hand corner of each card. 
If we take the "Response Times" card as an example, we can first see the option at the top to rename this card. Maybe the name "Reaction Time" aligns more with your business lingo. Following this, there are three core areas where we can apply filters: User, Date and Other.
Here, you can define whether, for example, you only want to see response times for your team's jobs, for the last quarter, for a specific client, and only for permanent jobs.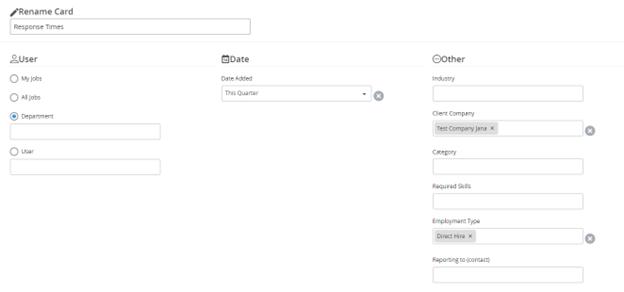 You can even add several of the same types of card in your dashboard but with different filters applied. It's a fantastic way to see data in a quick snapshot without having to run a full report. 
Lesser used cards: what they mean, why they're useful
After reading through the above, you might already feel like you're pretty comfortable in starting to make the most out of your dashboard cards, but there might be a few where you're not sure what they mean or what they show. Let's have a look at a few of those here. 
Jobs without Coverage
If I could choose a favourite dashboard card, it would definitely be this one. Although the name might be confusing to some, this card can be extremely useful. 
It shows you jobs that require activity and attention (by way of shortlists, CVs sent, or interviews), allowing you to consider the following: is your team missing the mark on candidate quality? Is your client not being responsive to submissions?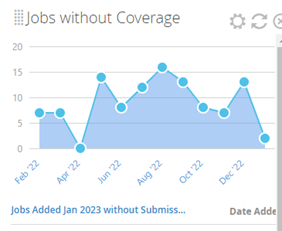 You can configure this card to only view those jobs that either don't have anyone shortlisted, no CV's were sent or no interviews were scheduled. It's a great card to look at on a Monday morning and set up a plan for the day/ week.
My Activity
The My Activity card shows all goals that are currently assigned to you and your attainment towards them. Goals can only be set by administrators using the Goals & Quota menu icon.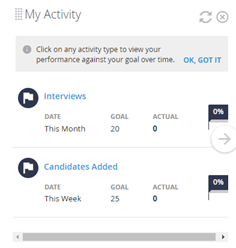 Selecting the hyperlink for one of your goals will open a graph that allows you to see your attainment history for goals with the activity you selected.
To find out how to set goals and quotas, please use this article. 
This is a great way of setting weekly or monthly activity goals for yourself and for your team, as well as a way to ensure you log all activity in Bullhorn.  After all, if it's not in Bullhorn, it didn't happen.
Every user can only see their own activity card, whereas administrators can see everyone's activity in the Goals & Quotas section. 
Sales Performance
Like the "My Activity" Card, the Sales Performance card links to targets set in the Goals & Quotas section in your menu.  These are linked to the sales quota and total revenue for the current quarter, based on Opportunities that have been moved to closed-won, as well as the total # of deals for the company.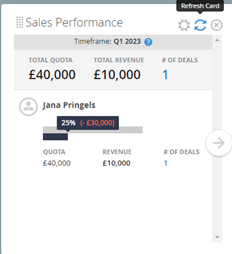 You can also view this to see the top 25 performing users, sorting from highest to lowest.  
Opportunities Requiring Action
The title of this card might seem straightforward, but have you ever wondered what it actually looks at? 
This card shows you a list of opportunities that are still open after their expected close date or have been inactive (i.e., the record has not been edited) for at least 30 days. So if you or your team focus on generating new job opportunities and don't want to miss out on following up on these, this card is a great way to monitor that data.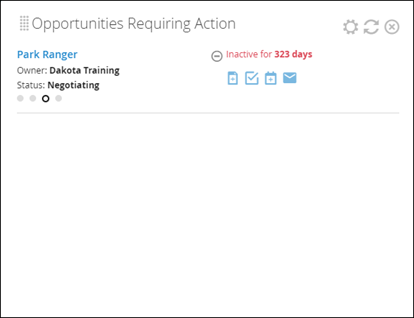 In general, if you're not 100% sure of the use of a specific card, don't hesitate to try them out and see what data comes back. Alternatively, this article provides a great overview of everything My Dashboard has to offer. 
Bullhorn dashboards are a useful tool to help increase productivity and quickly bring to focus the key areas which recruiters and account managers need to focus on. In an economic environment where there is a talent shortage and a surplus of jobs, trying to get the right candidate at the right time is paramount. Dashboards can be a key tool in your arsenal to ensure you don't miss a thing.
Subscribe to the Customer Blog
Subscribe for trends, tips, and insights delivered straight to your inbox.