Why Software Advice Loves Bullhorn S Release
Bullhorn's S Release is the talk of recruiting industry circles, as further evidenced by our inclusion in a recent article on review comparison site Software Advice. In the article, titled "Our Favorite Applicant Tracking System User Interfaces," editor Erin Osterhaus cites S Release's intuitive color-coding as one of her favorite parts of the UI. Granted, it's just one of hundreds of features that make Bullhorn S Release the most streamlined and powerful applicant tracking system for recruiting agencies available on the market.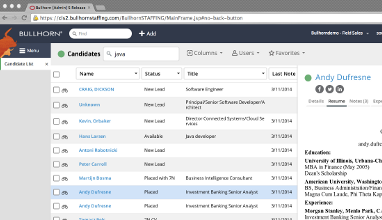 Erin says of S Release: "We were impressed with how Bullhorn offers robust recruiting functionality specifically tailored to the needs of recruiting and staffing agencies. The home screen offers recruiters the ability to easily navigate through the system with minimalist, color-coded buttons for each of their most-frequented workflows (such as, "Tasks," "Candidates," "Jobs," or "Clients). For example, having all the information associated with "Candidates" denoted by a green dot makes it both easier to use Bullhorn, and creates an aesthetically-pleasing experience."
To learn more about S Release, please visit: https://www.bullhorn.com/au/news-and-press/press-releases/new-bullhorn-atscrm-enables-60-faster-searches-43-more-placements/?LS=Website&LSD=Blog&utm_source=Website&utm_medium=Blog&utm_campaign=S_Release
Subscribe to the Recruitment Blog
Subscribe for trends, tips, and insights delivered straight to your inbox.