Research: Artificial intelligence in the recruitment industry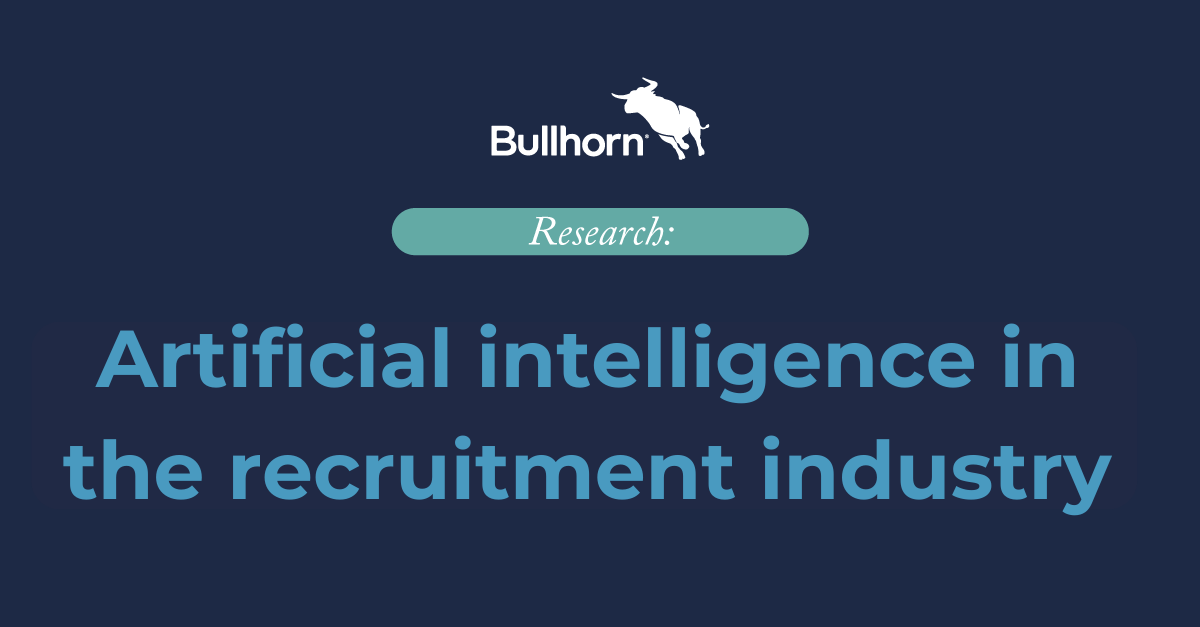 Everyone is talking about how artificial intelligence will revolutionise the recruitment industry. But how many agencies are actually using it and how? And where will AI go next? Bullhorn surveyed around 50 recruitment agencies to find out.
AI focused on internal efficiency
The majority of recruitment agencies, 54%, are planning to roll out new AI-driven solutions within a year. With that in mind, it is not surprising that most agencies (52%) are focusing first on AI to upgrade their internal systems and become faster and more efficient. Another 38% are using AI for talent-facing solutions, to reduce friction in the candidate experience — technology can be one of the strongest tools to create a truly talent-centric platform. 
Only 10% of respondents have ventured into client services powered by AI. And they are doing it to get out in front of the market, since the vast majority said fewer than a quarter of their clients are pushing them to offer more AI solutions. 
Most are using generative AI
Almost two-thirds of respondents (63%) report that they are already using generative AI in some way — most with ChatGPT or other open AI products.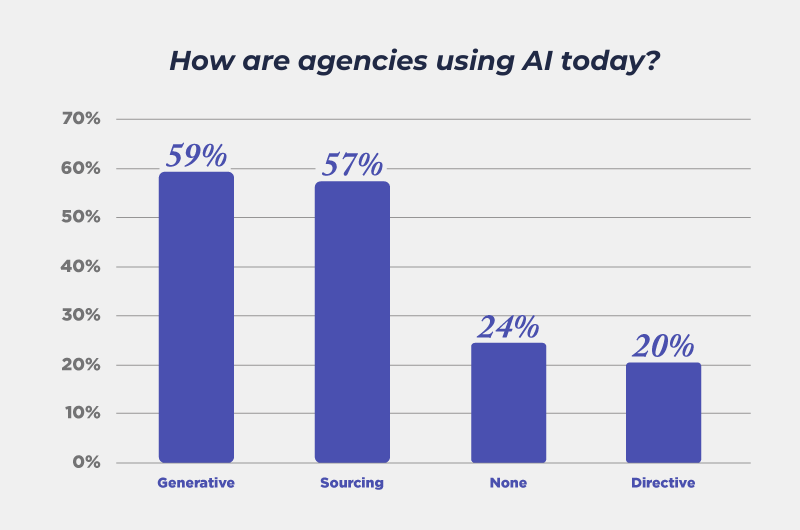 59% are currently using AI to create candidate emails and notifications, building new job searches, editing resumes, and other generative functions, taking advantage of the ability to automate rote processes and stay in touch with candidates.
A close second priority is AI for sourcing functions: matching candidates to jobs, screening candidates, and collecting and summarising candidate information. Again, the focus is on speed and productivity, rather than what could be considered directive functionality, using AI to tee up the next step in a workflow for recruiters or relying on advanced analytics to identify best practices.
Not yet using AI to guide the process
Over the course of the next year, agencies are planning to double down on AI for sourcing, with 46% reporting they will be using AI to match candidates to jobs, taking advantage of the speed and accuracy only technology can deliver.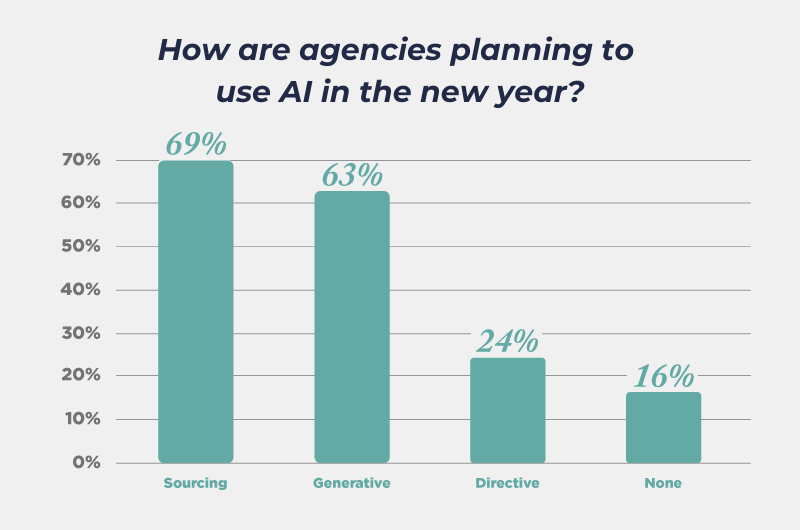 Sourcing will soon take over the top spot in terms of AI uses, with nearly 40% planning to use it to summarise candidate information and automatically build new job searches.
Generative applications will remain important, but directive functions are the next horizon and hold great promise for increasing recruiter efficiency. This is a big opportunity for agencies since the first step to efficiency is tracking the metrics that matter. (Link to BH analytics?) In the coming years, AI will likely make all aspects of the recruitment cycle — sourcing, generative, and directive — faster, more efficient, and a better experience for clients and talent alike.
Agencies are eager for a roadmap on how to make the transformation — more than half of respondents (58%) asked to learn more about practical steps to implement AI.
Learn more about Bullhorn's AI capabilities for recruitment agencies.
Subscribe to the Recruitment Blog
Subscribe for trends, tips, and insights delivered straight to your inbox.