What Candidates Expect From Recruiters (and How You Can Keep Up)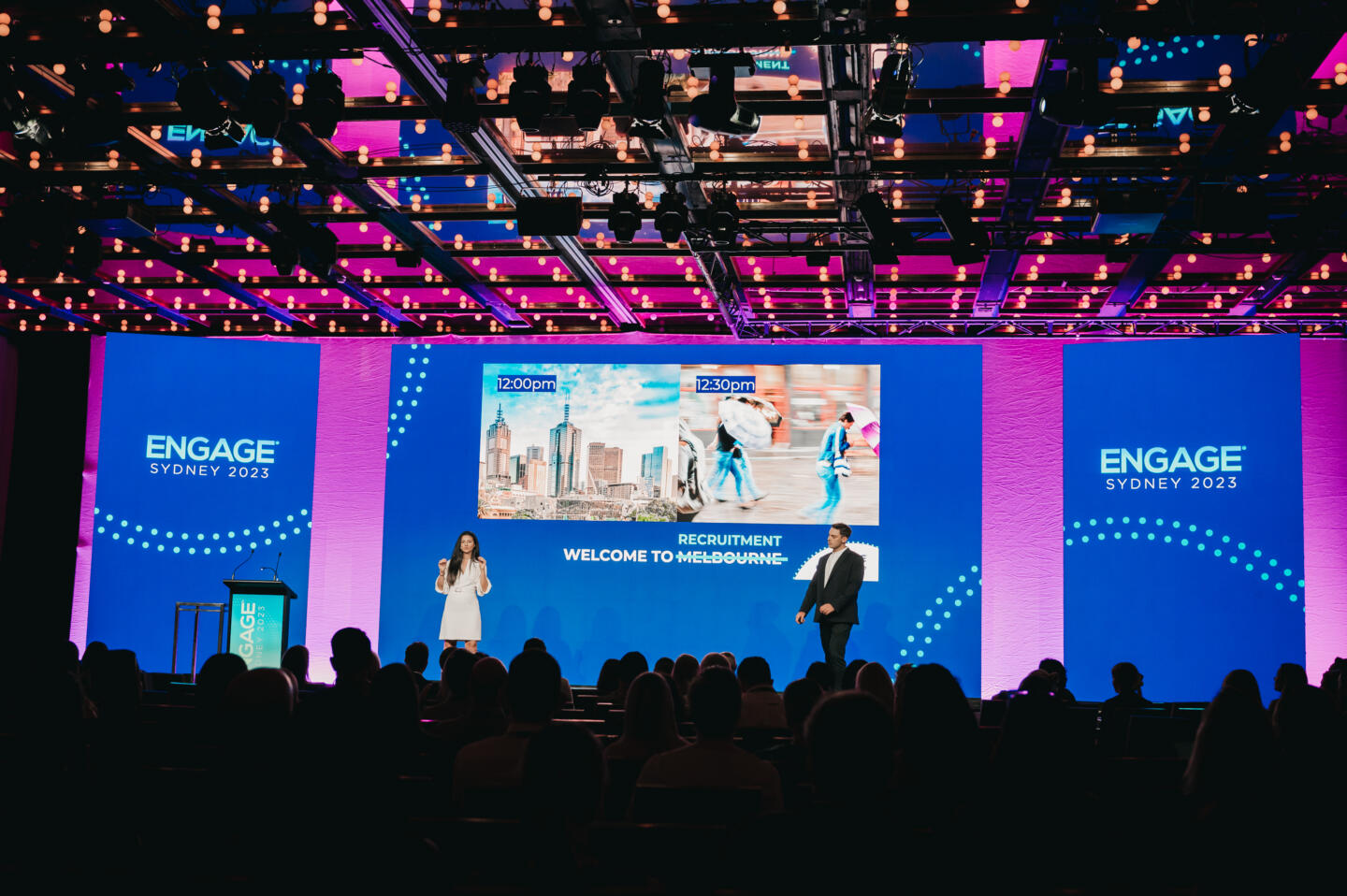 At Engage Sydney 2023, Bullhorn Account Executive Harrison Angwin, and Bullhorn Global Account Director Lauren Thom, spoke about the need for consistent engagement, clever use of technology and how to keep up with your candidates and clients.
Together, Lauren and Harrison revealed some key results from the GRID talent trends report, which surveyed over 2000 global temp and contract workers to gather an in-depth understanding of talent, their requirements' demand, and what drives their decision around the choice of agency.
These insights aim to help you make smart decisions about your talent engagement process, future-proof your team against competitive threats, and build stronger relationships with your candidates and clients.
Adoption of the latest industry technology
Harrison pointed out that six months ago, in 2022, the top three priorities for recruitment agencies were talent acquisition, talent experience, and digital transformation. While these statistics are from six months ago, it is still highly relevant to the industry today.
"For the first time in over a decade, winning clients was actually not in our top three priorities in over a decade," said Harrison. "What was great to see is that agencies are recognising that adopting new tech is what will allow them to overcome these challenges that we're facing of talent adoption and creating a positive talent experience."
He further mentions how recruitment agencies' relationships previously centred around clients but then began to realise that they needed to formulate a slightly different strategy for candidates.
"There's no way you can drive an effective communications strategy based purely on laborious human intervention. You have too many candidates for this. So implementing a digital approach to this is the only way forward," said Harrison.
Regular and personalised communication strategies
Having a personalised or preference-based communication strategy is something every agency should implement. Based on their generation, most candidates expect you to communicate with them differently.
They expect regular communication, especially once they have commenced new employment. Lauren explained that recruiters could do this by wishing the candidate a happy first day or happy birthday or by asking how they're doing at the three or six-month mark and asking what you can do for them.
"Talking about frequency of communication — I don't know if this surprises anyone, but candidates actually want recruiters to reach out at least once a week with new opportunities," Lauren said and stated that the survey confirms this.
"During this period, they expect you to be the expert and give them that information. They are not masters of searching for jobs online, and they expect that you will be."
The use of popular communication channels
Lauren and Harrison shared results about how candidates prefer to be contacted while they're on assignment. Surprisingly, email was the most desired communication method at the top of the list, followed by phone, text, LinkedIn, and app notifications.
"What we also heard was that when recruiters don't reach out via the preferred communication channel, respondents were twice as likely to say that they wouldn't work with that agency again," said Lauren. "What surprised me here, though, is that out of the candidates that preferred to be contacted via text message, only 75% reported that their recruiters actually did."
Build a talent community
Recruiters juggle so many things at once that trying to keep up with everything manually becomes nearly impossible. Lauren mentioned that the key here is to communicate with candidates and sustainably build relationships for both talent and recruiters.
This often means using automation or other technologies to enable regular communication on the proper channels without requiring any manual intervention.
"The goal is to build a talent community. A talent community that continuously provides your clients with qualified candidates who want to work with your agency again and again and again. Build an engagement strategy that works for your candidates — not against them," Lauren stated.
Double down technology adoption initiatives
Harrison mentioned that to ensure a fantastic experience with your clients and candidates. You must focus on digitalisation, automation, and a high-touch communication strategy in 2023.
"The fact of the matter is that the high performers are actually doubling down on their investment. So if we look at this from a timeline perspective, we've come a long way since 2022," said Harrison. He continued, "In 2023, under 25% of recruitment agencies reported a digital transformation strategy. Now we're sitting at over 77% of agencies in the APAC region using a digital transformation strategy. So those of you who don't have an automation strategy in place—today couldn't be a better opportunity to start the conversation and leverage the power of this networking opportunity we've got today."
Put CRM data to use
In the session that followed, Matt Webster, Bullhorn's Regional Vice President APAC & Global Enterprise, joined Anton Roe, CEO of Emmbr, Sinead Hourigan, Global Head of Customer Experience, and Matthew Dickason, CEO of Enterprise Solutions to explore the 2023 Outlook: What's Next for the Recruitment Industry?
Together they discussed the more technical aspects of what's next for the recruitment industry and what candidates expect from recruiters in the future. One significant factor they mentioned was that the number of candidates on your CRM is a crucial metric.
Sinead talked about how many recruiters will upload data onto the CRM and do nothing with it. However, they should actively and intentionally register a candidate that they intend to create a relationship with.
"They're the ones that we have to really be thinking about because if we're not serious about candidate short markets, then you're not going to be able to build a relationship with that many people," said Sinead.
"So that metric around actual registration process of candidates, how many quality candidates we are engaging with, is actually really important. KPIs for these metrics are really important for us to understand what direction our business is going in," she continued.
"This is all about the volume of different places that your quality candidates are being engaged with. The metrics tell us that you have to make sure that you're sending your candidates to enough quality clients."
"This is not about spamming people. This is about quality decision-making about your candidates and where they should belong. The more you do that in a really thoughtful way, your placement ratios go through the roof. And we've been testing this over the last 12 months, and the difference it makes is really significant."
Matthew then added that it's essential to understand the candidates coming into your database and the skills and makeup of the talent in your database.
"One of the things we measure is the engagement rate of that talent," said Matthew. "Not just the talent that you've put into jobs, but people that have the skills for the roles that the market is going to demand but is not demanding it right now."
---
Want more Engage Sydney content? Check out our content hub for recaps, resources, and more.
Subscribe to the Recruitment Blog
Subscribe for trends, tips, and insights delivered straight to your inbox.