International Women's Day 2022: Break the Bias
This year, the International Women's Day (IWD) theme is 'Break the Bias.' As the impact of the global pandemic and the return to the office has shown, everyone faces different challenges regarding bias in their personal and professional lives. However, one universal theme to come out of the massive societal shift over the past two years is the need to be courageous and empathetic.
We hosted a webinar in honour of IWD 2022, featuring a keynote address from Belinda Bianca Parmar OBE, CEO of The Empathy Business, on driving performance with small scale, high impact changes.
Attendees also listened in on a panel discussion with Sunny Ackerman, President Americas at SThree, Louise Campbell, Head of Learning and Development EMEA at Robert Walters, and Barbara Bruno, Global Temporary & Permanent Staffing Senior Director at Gi Group, covering topics ranging from how to be more courageous to tips for being a better ally at work.
Read on for key takeaways from this session, including how you can #BreaktheBias this year and beyond.
Keynote Address with Belinda Bianca Parmar OBE
In this fascinating keynote session, Belinda Parmar addressed the relationship between empathy and performance. She shared how to drive a step-change in performance and courageous behavior with small-scale, high-impact changes.
Belinda kicked off her keynote by sharing more about her company, The Empathy Business, explaining, "My vision is to transform the world of work and make it more empathic. The world can seem very unempathetic, and we need empathy more than ever in the context of work."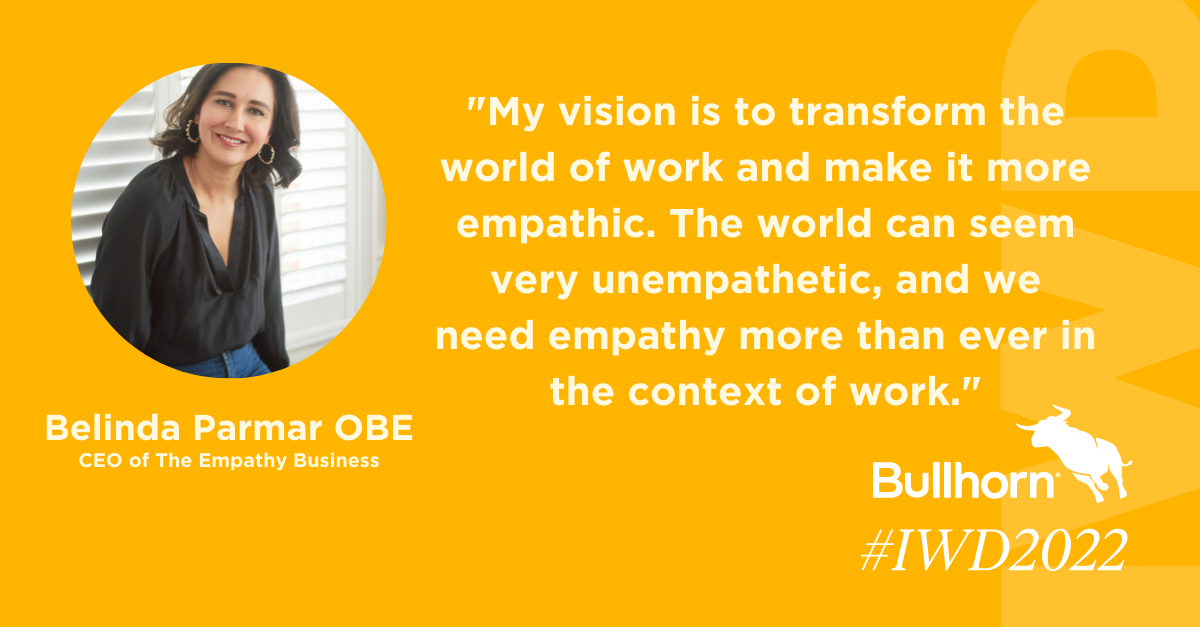 Belinda shared that empathy is about rolling up your sleeves and supporting those around you while holding individuals accountable for their actions. She explained that the word empathy means "feeling in." In contrast, sympathy means "feeling about," and discussed that empathy is a vulnerable choice. To connect with someone, you have to connect with something within yourself that is familiar with that feeling. 
She encouraged attendees looking to be more empathetic to look inward and reflect on the language they use. "Language shapes our behavior and our thinking," Belinda added.
She continued, "people are demanding empathy, that you show emotional intelligence. There are three essential questions to ask someone: Do you feel visible? Do you feel cared for? Do you know what your purpose is?"
Belinda shared this advice for those looking to increase their empathetic behavior: "When thinking about empathy in your world, make it tangible. Think about putting people over process because a process is simply a means to an end." 
She closed out her keynote with these words of wisdom: "You've got to create a space where people feel safe enough to tell you their experience. You won't always get it right. We're human, we're flawed, but you have to create a safe space. Start with language. You can't manage what you don't measure. You have to start measuring empathy and hold up the mirror to yourself – and start small."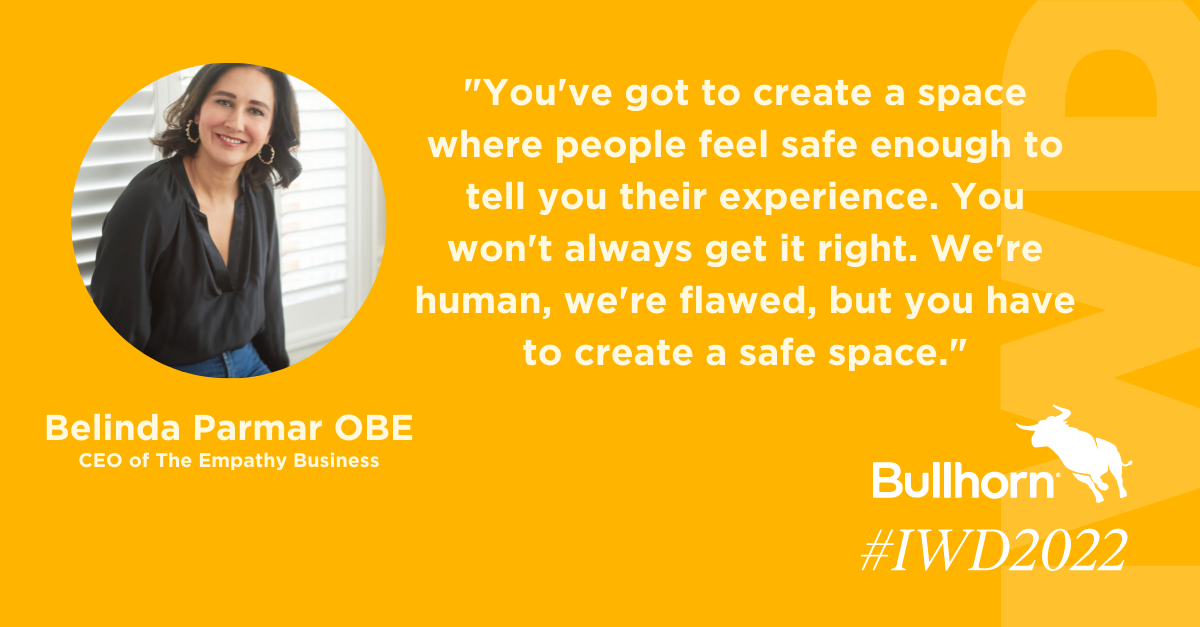 Panel Discussion with Recruitment Industry Leaders
We heard from women leading at the highest levels of the staffing and recruitment industry globally, sharing insights from their own experiences of driving change, moments where they've needed to be courageous, and lessons they've learned. 
Check out insights from Sunny, Louise, and Barbara below.
What does breaking the bias mean to you?
Sunny: "Don't expect less when you decide to re-enter the job market. You are still who you are. There's still plenty of work to do when it comes to empowering working parents and caregivers, like providing benefits, but this is a topic we need to be speaking more about. Know your worth when you come back in, and connect with your network."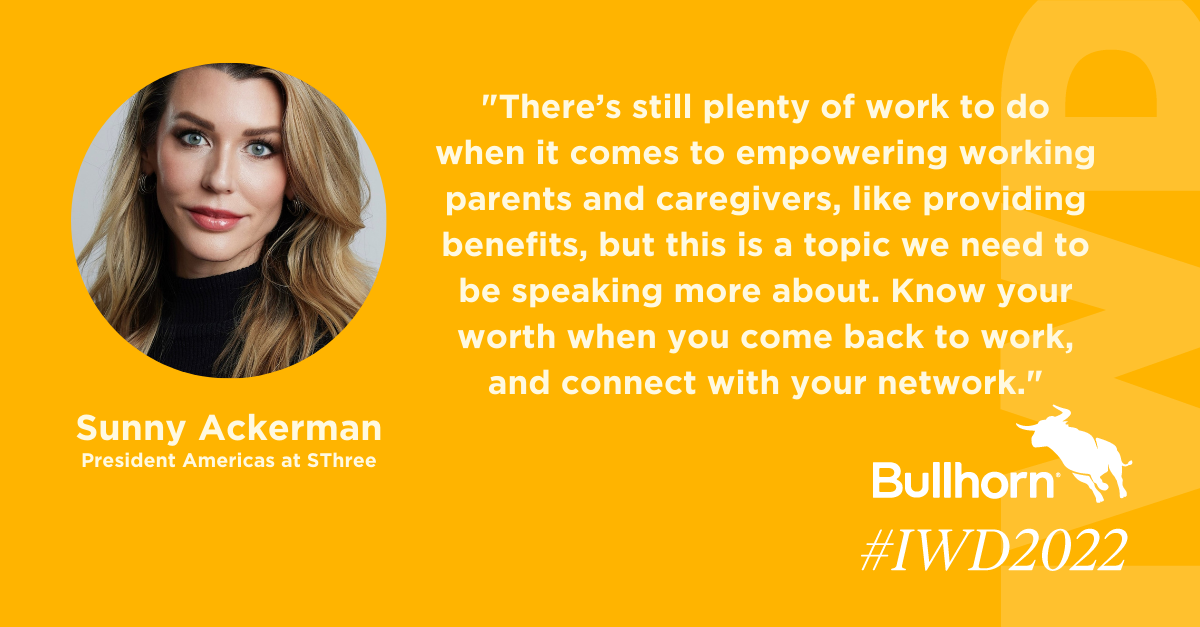 How can individuals be more courageous?
Louise: "I regularly evaluate the value I bring to the workplace. It's the biggest driver of my motivation. Coming out of the pandemic, I felt the need to do something different. It's an exciting prospect to challenge yourself continuously."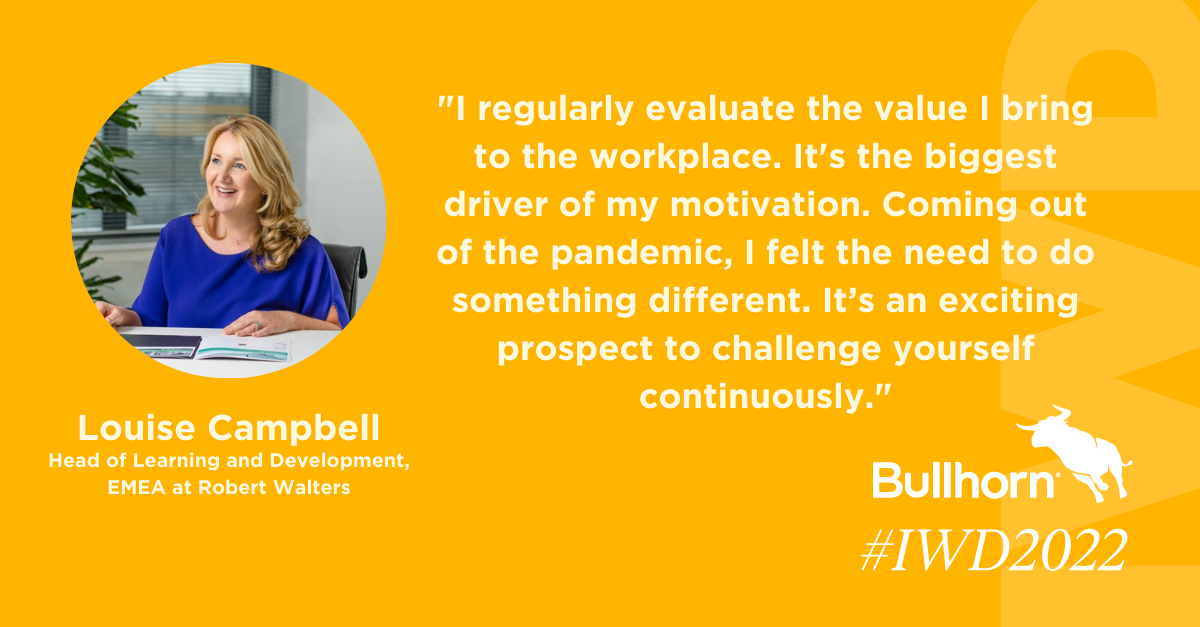 How can male colleagues be better allies?
Sunny: "We need men to understand and be responsible for co-creating opportunity and driving accountability and trust. Women are brilliant, we can stand on our own two feet."
Louise: "Women don't need to be looked after – but I think it's crucial for male leaders to understand the difference between equality in the workplace and equity in the workplace."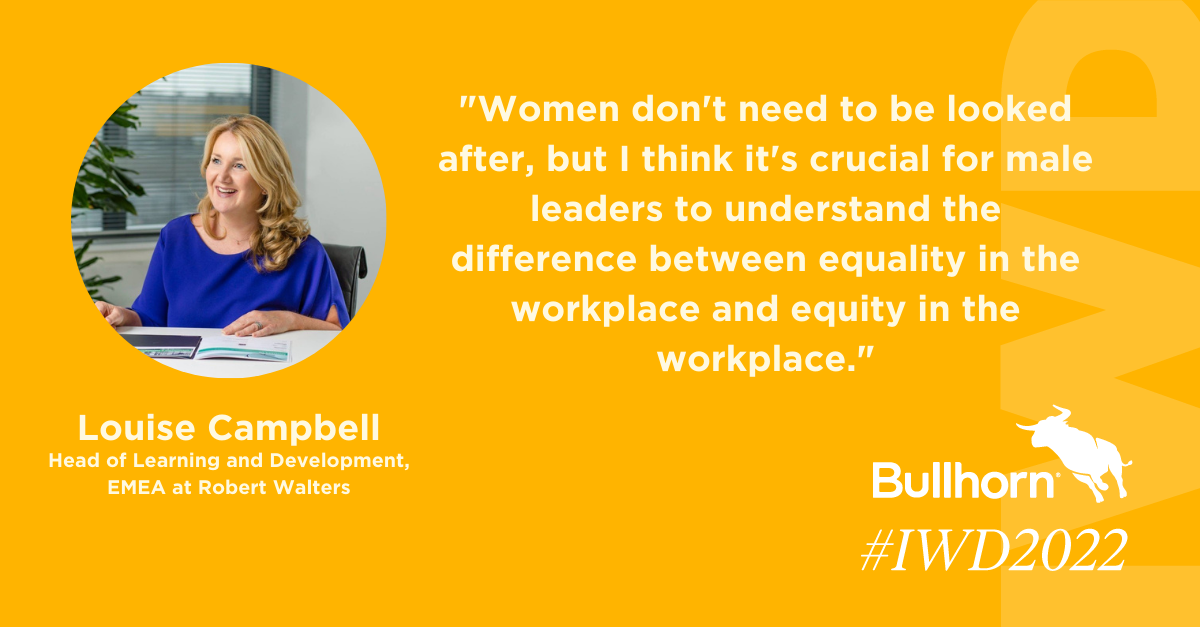 Barbara: When I had my first child and was considering my return to work, I thought I had to change roles because my role was challenging and involved traveling across and outside Europe. I thought I had to change roles because I wouldn't be able to compete (in terms of availability) with my male colleagues. It was my bias against myself. And then I told myself that I still had the skills to perform my job and I still had the will to do my job, even more than before. So what I needed to do was find the right space for me to perform, but with different conditions. I needed to find a compromise. I tried to be as authentic as possible and told my boss that even though my conditions had changed, my will and my skills had not."
Although we face challenges, what actions can we take to break the bias?
Louise: "There's never been a better time to raise your hand and go after the job you want. It's important not to assume that your leaders know your aspirations or what the best path is. Be proactive, it's a great time to be adventurous."
Can you share an example of a cultural shift you've seen?
Barbara: "From a company perspective, I think very much in the last year, it's been about finding our purpose. What does it mean to cooperate? What does it mean to be responsible? What does it mean to be empathetic? What does it mean for an organisation to have these values and translate them into action?" 
Sunny: "Leaders are best positioned to model empathy for their team members by speaking openly. As a leader, it's about pausing and asking your team how they're doing and feeling. We need to pause at the beginning of a call and ask, how are you doing? And holding some space to talk. I need to ask everyone how they're doing because I'm struggling myself. We've got to hold that space for people. it's critically important right now for organisations that leaders bring that to light." 
Louise: "We've got a role to play in being proactive and solutions-focused. A one size fits all approach just doesn't work. It's so much better to talk to people, ask for their feedback, and see what they need. It's essential to take time and reflect on lessons learned in the last few years. When have we been at our best, and what do we need to do to support people to stay at that level? The big things won't change overnight. It will take time."
How have you pivoted to implement an inclusive working model to fit a vast range of needs and priorities?
Barbara: "Saying, 'Let's meet in the office to have some time together," That's brilliant from a company perspective because the office becomes a community presence."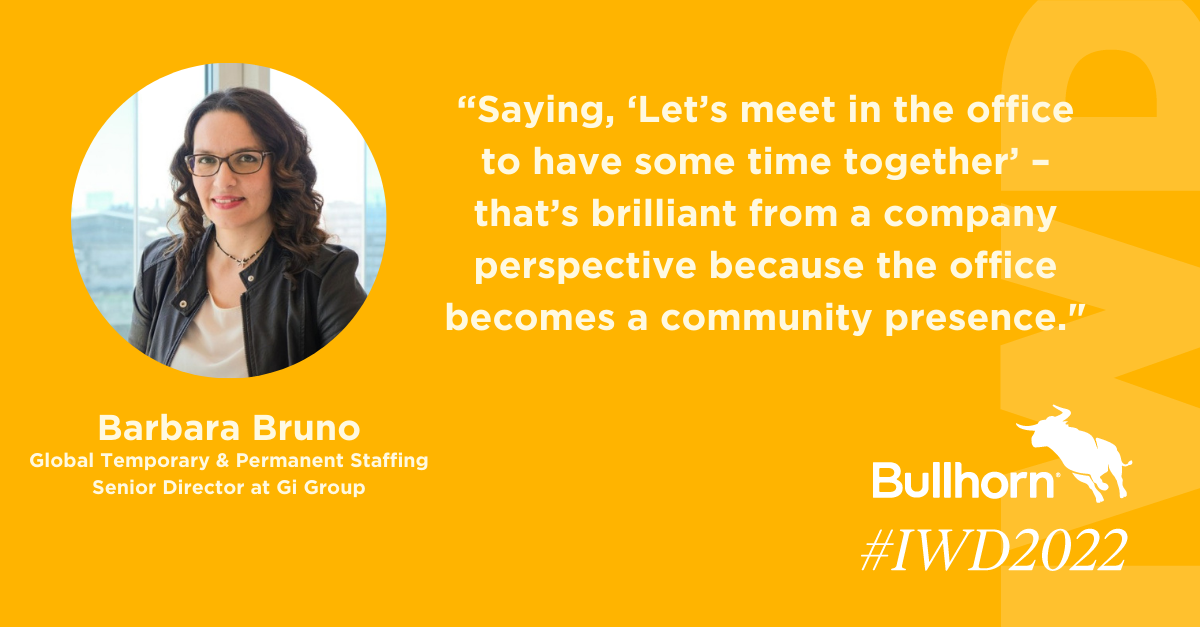 Louise: "To offer that inclusivity goes back to listening to our people to understand what they need. Our culture is built upon teamwork, which is challenging when you have a fully remote workforce. It's important to understand what's important to people and use that information to empower their managers."
Sunny: "We've learned a lot about ourselves and how we work best over the last year. We've thought about hybrid working in terms of giving people more autonomy. There's an important aspect to our culture about bringing people together and thinking about the office from a culture and connectivity perspective."
How can leaders address the anxiety of their workers and the associated levels of burnout?
Sunny: "More and more, we see mental health issues arising in the news, so I think organisations knowing that's happening in the work environment and offering benefits and rewards to help employees with that is important. As leaders, we need to get serious about mental health. Ignoring it is not an option."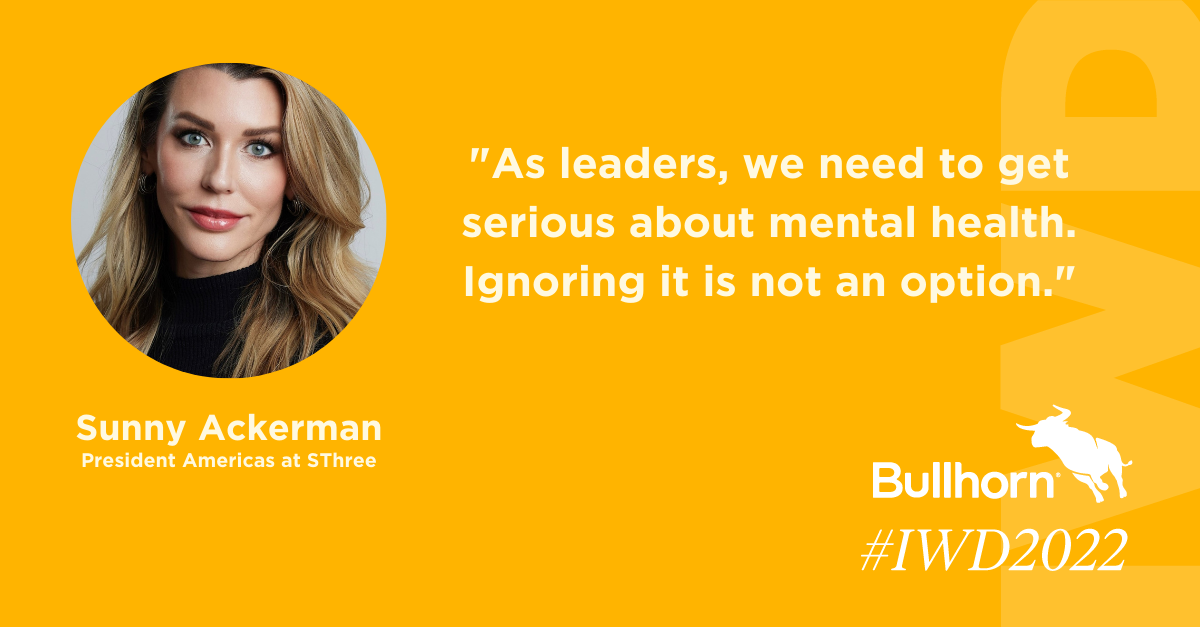 Louise: "You need to take a pulse check on your organisation and see what people want. Stop giving people more of what they don't want. We have to be able to offer diversity through our offerings."
How can women remain visible in what may remain a hybrid workplace?
Barbara: "I would suggest being authentic. Bring your needs to the table and speak openly. I'm convinced that women in leadership positions can support each other. The level of engagement in a community is rising. Make yourself visible to women in leadership you know, and ask for advice and support."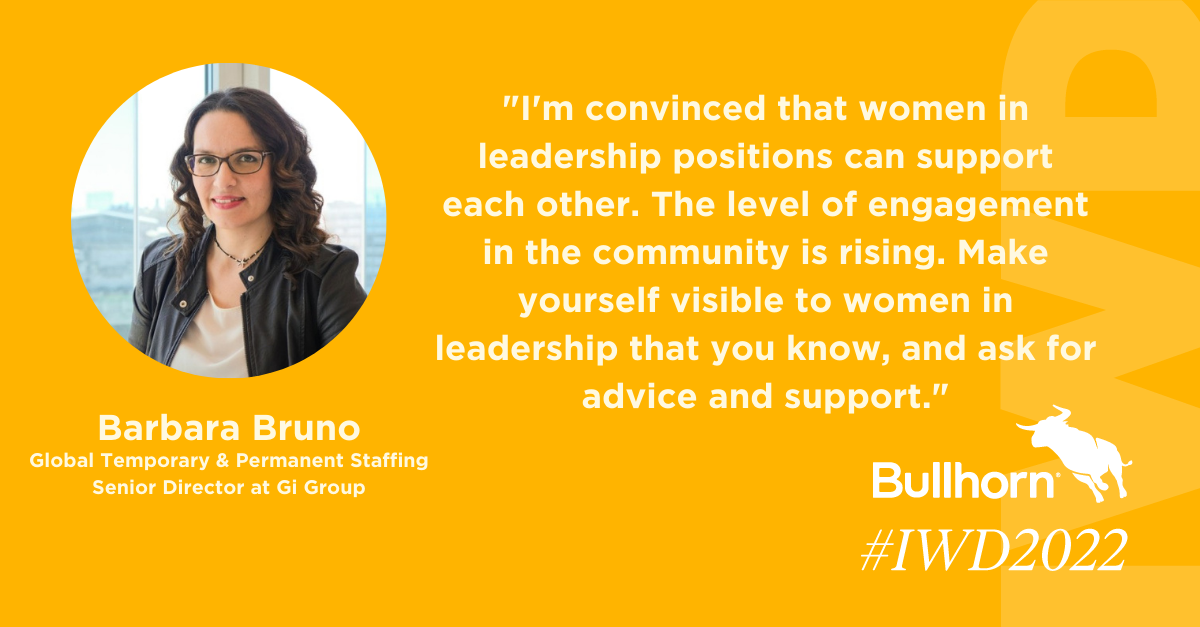 Louise: "Understand what's important to women. Everyone's needs are different, and it's about being inclusive with that approach. Let's be aware of what biases we have and what assumptions we make. Keep a regular conversation going, and keep checking in with people."
For more leadership insights sent straight to your inbox, subscribe to Bullhorn content today.
Subscribe to the Recruitment Blog
Subscribe for trends, tips, and insights delivered straight to your inbox.