Making it happen in 2023 and beyond: Highlights from the Engage Sydney opening keynote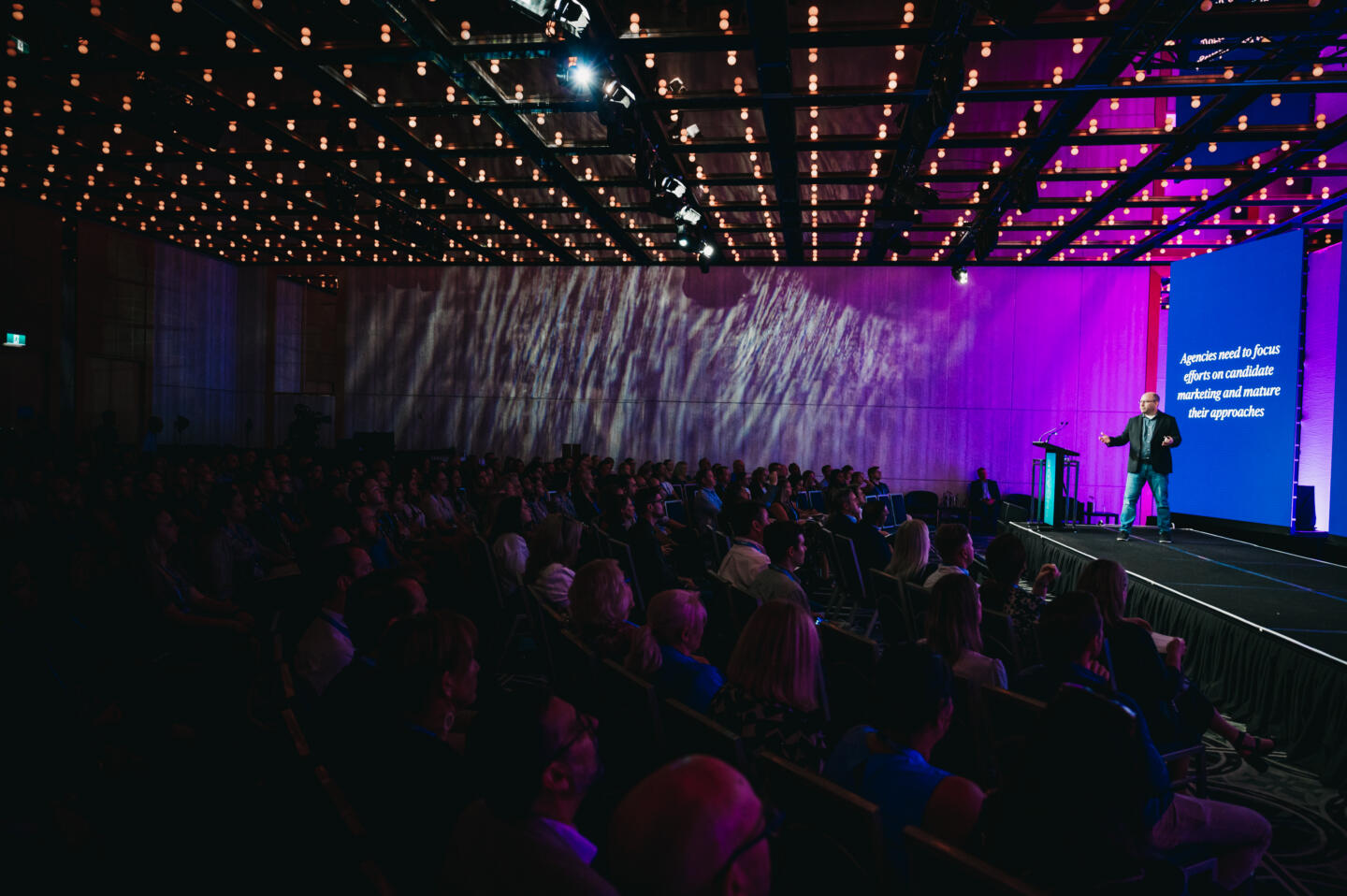 At Engage Sydney 2023, we gathered together with our customers, recruitment peers, and partners to share best practices, learnings, and ideas for leveraging technology throughout the recruitment process.
Over 350 recruitment professionals engaged in exciting keynote speeches, had insightful conversations with Marketplace partners, and heard from the brightest minds in the recruitment industry about the top opportunities and challenges facing the market today.
The jam-packed day began with a keynote from Jeff Neumann, VP Product Marketing, Enterprise, Salesforce, and International at Bullhorn. Read on for key takeaways from Jeff's forward-looking speech:
What's happening in the market today?
Jeff kicked off his keynote with a pulse check of where the recruitment industry stands today. "The last couple of years have been strong for the recruitment space," Jeff noted. In our GRID 2023 Industry Trends survey, 63% of respondents reported that their agency grew in 2022, up slightly from 2021 (61%). This marks the strongest growth year for recruitment agencies this decade. It's clear that the industry is embracing change and that technology is helping agencies navigate uncertainty.
However, Jeff noted that there is a bit of cautious optimism when looking ahead. The majority of agencies expect growth in 2023, and expectations are slightly down on the heels of a strong 2022 and a tougher industry climate.
Top priorities and challenges for agencies in 2023
For the first time in six years, winning new business is a top priority for recruitment agencies. Last year, it was all about talent and dealing with the talent shortage. Talent acquisition and candidate experience still rank highly as priorities, but surprisingly, database utilisation and redeployment – two key drivers of finding candidates in a talent-short market – are low on the list of priorities.
Why is this surprising? The top challenges facing agencies this year are tight talent pools and economic uncertainty. Agencies are still facing a very tight market from a talent perspective, and it's continuously getting harder to find talent to fill open roles. Agencies need to find the right balance between leveraging existing talent and clients and using technology to build new relationships to overcome these challenges.
How can agencies take advantage of opportunities and overcome challenges in 2023?
Through Jeff's role as VP Product Marketing, Enterprise, Salesforce, and International, he has had the chance to work with clients of all sizes across the globe and has pinpointed three opportunities that recruitment agencies should take advantage of in 2023 and beyond.
Create consistent talent experiences
We know talent experience is critical to getting candidates through the funnel and deployed in their new roles. In his keynote, Jeff referenced a data point from our latest GRID report that shows the talent shortage is becoming more prevalent. Further, talent motivations are changing, and agencies need to focus their efforts on creating consistent experiences for their candidates.
Our data shows that talent want to work with recruitment agencies because of their reputation and access to job opportunities, but they still have high expectations for their recruiters. Candidates who reported an issue with responsiveness and communication were 2x as likely to be NPS detractors for their recruitment agency. Detractors were 6x as likely to cite multiple challenges throughout the talent lifecycle compared to advocates.
What does this mean? Jeff emphasised that talent is becoming less tolerant of difficult experiences, and it's becoming increasingly important for talent to have seamless experiences throughout the recruitment process. Agencies need to focus on the entire candidate journey and optimise for experience at every touchpoint.
Jeff's advice is to start with journey mapping, which means documenting the entire process that candidates go through, from application to interview to onboarding. Focus on every communication that is shared with candidates, and look for ways to improve and optimise with a focus on candidate experience.
Double down on sales and marketing
As mentioned, developing new clients is the number one priority for recruitment agencies. Jeff noted that we're seeing some softening in the market in terms of net new job orders coming in, as well as changes in buyer behaviour and spending expectations. In addition, recruitment professionals cite talent-related obstacles for existing clients and market-related challenges for new business.
Clients are getting more specific about the candidates they want to interview, and there's been an increase in requests for soft skills assessments and in clients looking for candidates that are a solid culture fit. Overall, clients are becoming pickier with candidate submissions, and that can often make a recruiter's job more difficult.
Jeff noted that the industry is facing a "perfect storm," meaning candidates have higher expectations and want more money, clients want to spend less on candidate acquisition, and inflation is adding additional financial pressure. All of these challenges will lead to additional margin pressure.
Jeff continued, "This is where Sales is going to be really important. It's not about adding salespeople; it's about a shift in mentality to focus on clients that you work well with, what are the highest margin clients, jobs, or specialties, and how you can leverage those to your advantage to build more momentum, more sales, and open up more opportunities."
How does marketing play a key role here? Jeff introduced the marketing flywheel, encompassing the test-and-learn process that starts by creating a baseline to help you understand the status quo. From there, try something new and measure the result. Did it have an impact on your baseline? What was the result?
Jeff closed out this section of his keynote by encouraging Engage attendees to use this flywheel in their own businesses: "Continuously using this marketing flywheel to understand the impact of your marketing efforts and approaches can have an incredible impact on your marketing outcomes."
Enlist a digital differentiation strategy
"When we talk to customers about digital transformation, it's not surprising that a majority of clients say they're in very early stages. It's really hard," says Jeff. His suggestion? Start now and ask for help if you need it since digital transformation is only going to get more important.
Top-performing agencies, ones that grew substantially more than anyone else in our latest GRID Industry Trends Survey, are outspending 2:1 compared to agencies that saw flat growth in 2022. These winning agencies are looking at how they can continuously invest and include technology in everything they're doing, and it's setting them apart from their competitors.
Those that are investing in technology at a high rate are seeing significant impacts, including increased performance, cost reduction, and increased revenue: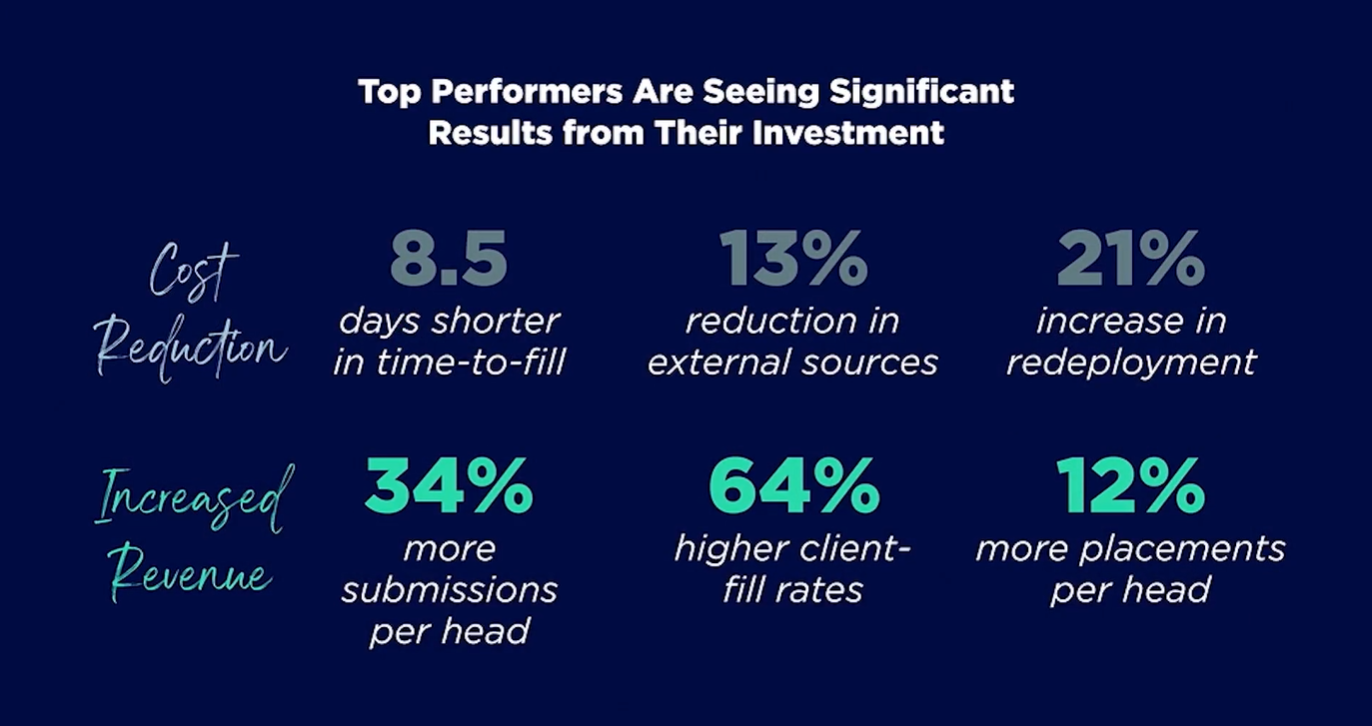 To close out his keynote, Jeff introduced Engage Sydney attendees to Shanye Simpson, Managing Director of Ascent Group. Shane has focused heavily on journey mapping, internal process optimisation, and the marketing flywheel to evolve and adapt every part of his business.
Through this consistent and constant investment in trying to adapt and get better, Shayne's team has seen incredible results:
87% of placements are made from their database
89% higher placement rate for candidates engaged via automation
10-day reduction in time-to-fill permanent roles.
How has Shayne's team leveraged technology? Shayne's team automated over one million actions last year. "That's one million clicks, steps, or activities in Bullhorn that someone would have to do manually if they were not using Bullhorn Automation," Jeff added.
Thank you to all of the attendees, speakers, and sponsors who made Engage Sydney an incredible and unforgettable experience. We can't wait to join you next year for Engage 2024!
---
Looking for more takeaways from Engage Sydney 2023? Check out our content hub!
Subscribe to the Recruitment Blog
Subscribe for trends, tips, and insights delivered straight to your inbox.