The New World of Work – What Does it Mean for APAC Recruiters?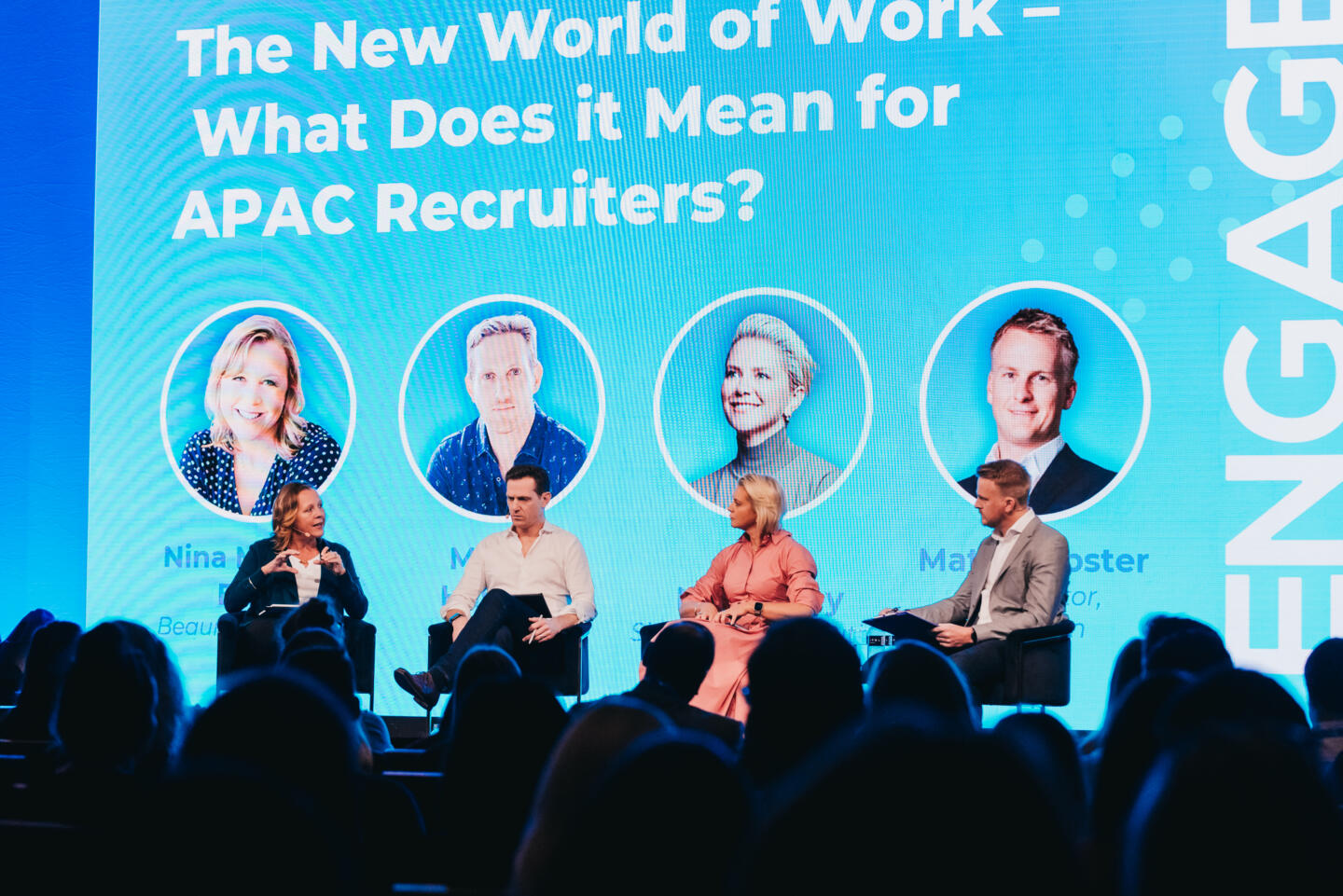 For those of you who missed it, there were many memorable moments from Engage Sydney 2022 and there's still so much more to share! In this blog, we'll focus on the highlights from the opening panel of the day, The New World of Work – What Does it Mean for APAC Recruiters?
The panel, moderated by Matt Webster, Regional Vice President, APAC & Global Enterprise at Bullhorn featured industry leaders—Nina Mapson Bone, Managing Director at Beaumont People, Martin Hayden, Chief Operating Officer at Hudson and Suzie McInerney, Chief Executive Officer at Six Degrees Executive—as they covered topics ranging from candidate expectations in today's market to client strategy and digital transformation plans. Read on to see the key insights from Nina, Martin and Suzie.
What is your focus for candidate acquisition and candidate engagement?
Suzie: "[Candidates are] going to return the call from people or brand that they trust and with whom they've had a really positive experience. That for us is a major competitive advantage and we really need to lean into that."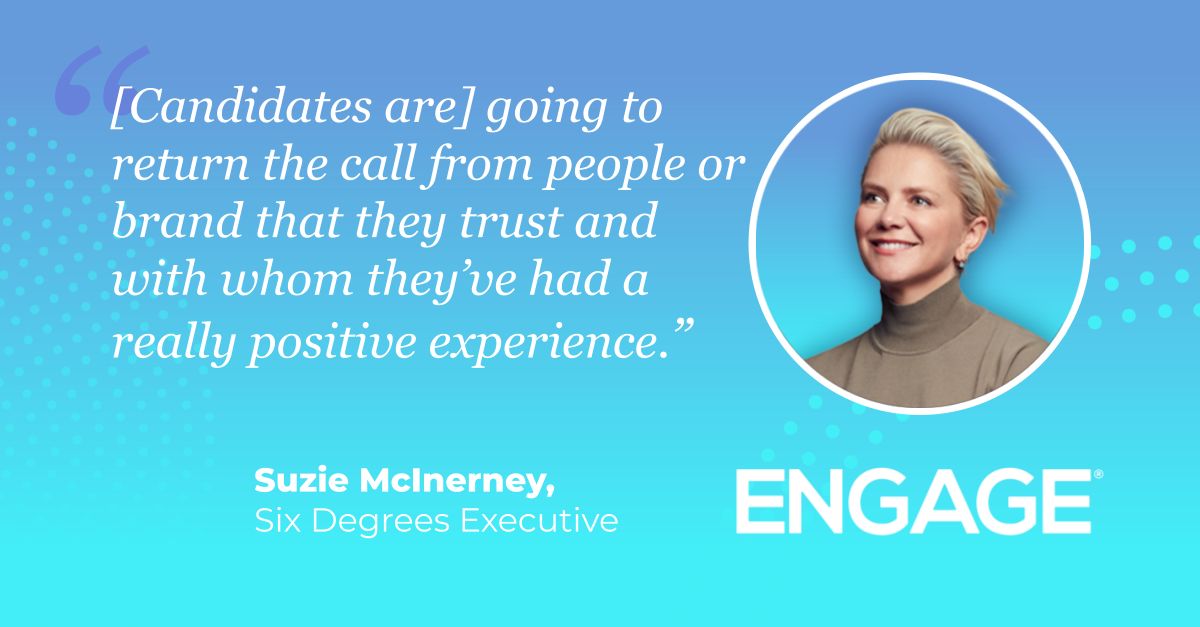 Martin: "We've had to get better at our sourcing strategy. In some sense it's been a good thing having such a candidate short market because it's made us get more disciplined. We're measuring ROI much more carefully. Thinking about that both in the way we engage our candidates already on our Bullhorn database but also those we engage through acquisition channels."
Nina: "All of our focus is around attracting and retaining enduring relationships with candidates." So Beaumont People can "use the tech to drive relationships and free up the time to build the relationship."
Have candidate expectations changed?
Suzie: "The balance of power in this market does shift towards candidates. In this market, candidates can play a driving role in deciding when and how they interact with you."
Nina: "One of the things we've found that's significantly improved as a result of handling [screening] online is our ability to deepen our breadth around diversity and inclusion. The allowance that gives us access to the people that perhaps find it hard to access us for various reasons. The challenge we have is, how do we do both and not have one group disadvantaged?"
Martin: "Candidates want to speak to specialists, they want to speak to people who understand their role and understand the skills they're working with. Depending on the type of role, you can use digital tools really effectively when you need to place someone really quickly into a role…so for us, it is about segmentation and having a more targeted strategy based on the role type."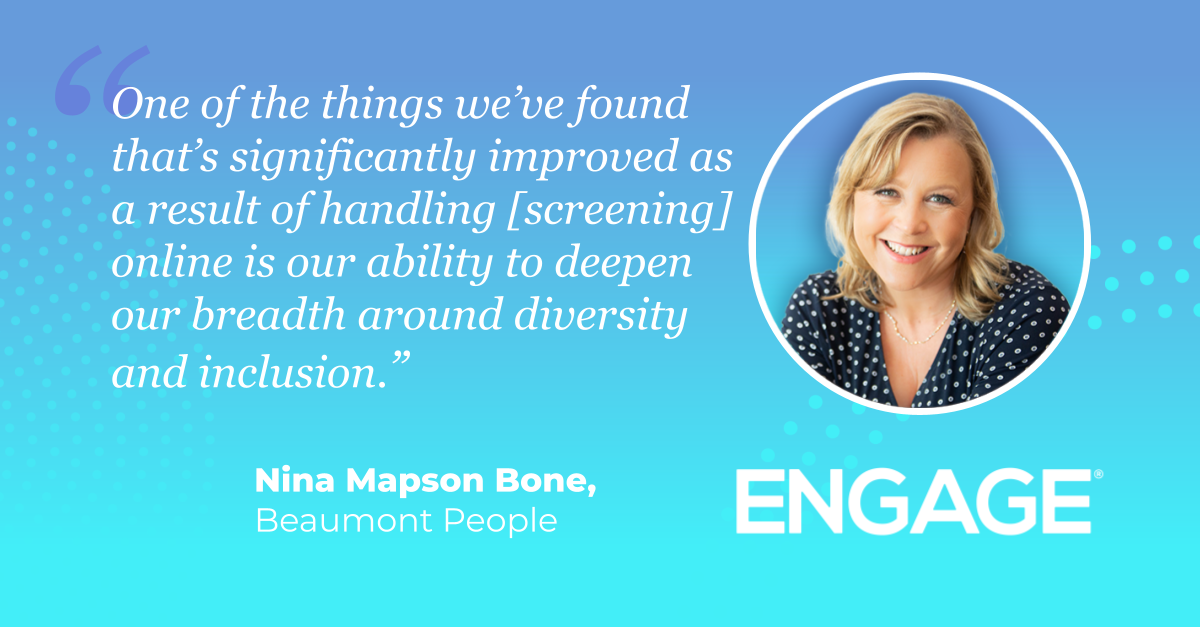 How has the current climate changed your client strategy and how you work with clients?
Nina: "As the market has gotten tighter, it's taking longer to find people. It's making sure we're consulting with clients to explain to them why. We're using facts and data that's out there, to show them that it's the market, and what we're doing over and above that, and what we can do that they can't potentially do themselves. That's a very nuanced conversation."
Martin: "So in a really hot market there's an opportunity to think through which clients are the most attractive clients for us. Are we going to be able to form a relationship that's valued on both sides through the cycle? When the market's not hot, are they going to come back to you or are they going to go back to the other three other agencies they used to use? Really invest in the clients [with whom] you think you can form that long term relationship."
Have you taken the foot off the gas in terms of business development given the current market?
Martin: "No, we're going as hard as we can. Even though it's a candidate-tight market, there's still opportunities to penetrate in customer segments we haven't traditionally played in. And so we think it's really important to continue to establish relationships, even if that doesn't mean work right now. Some of the best BD is when you're not selling things."
Suzie: "We would love to prioritise BD more. We understand capacity means that it is challenging and in some cases they have more work than they can cope with, and that BD is converting on the roles they have. But in preparation for a shift in the market, when that happens, it's about just rebuilding that muscle again through L&D, making sure that everyone is ahead of the curve and wrapping their arms around the clients that we know we will need to lean on."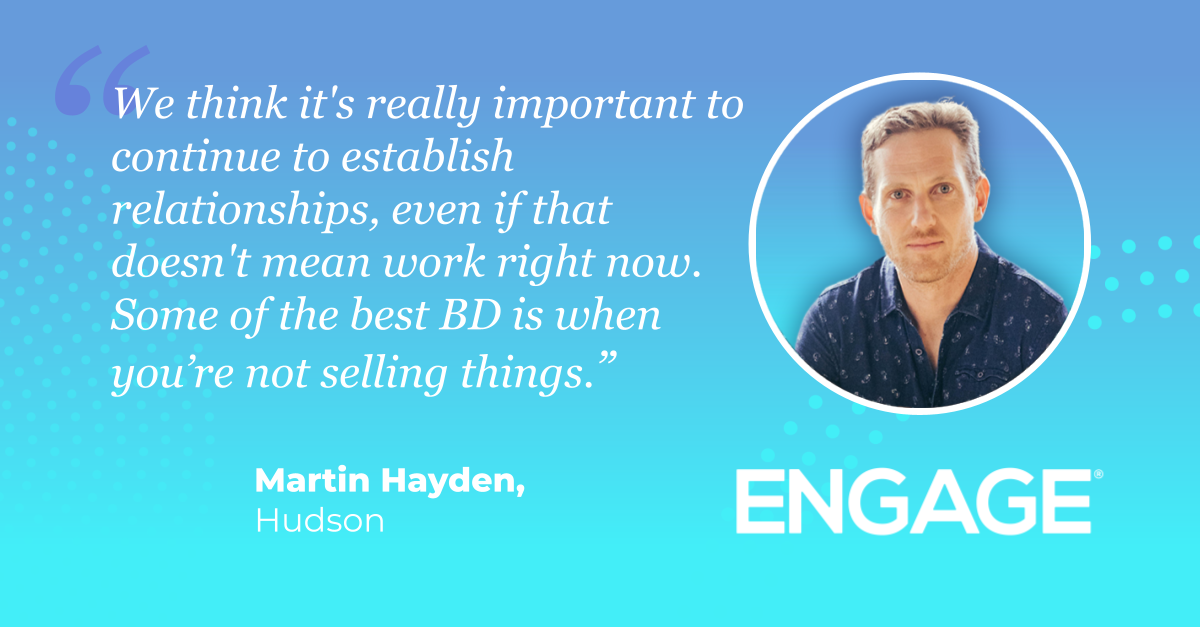 How are you managing client expectations around flexible work options for candidates?
Suzie: "What we do have is a responsibility for is to provide insight and evidence, that we're in a very privileged position to collect to help inform clients -, if they have made that choice 'these are some of the challenges you are going to face'. Quite often actually providing them with information through the process…I don't think clients want us telling them how to run their business. So you have to be careful that we're leading with real information, not opinion."
Martin: "It's pretty obvious what the conversation needs to be, but it's how do we arm our new people, who might not be as confident, who might be a bit younger to convey that information. So I think investing in data and good reports so you're not preaching is a good thing."
What are some positives that you've taken out of the past 2 years, not just for your agency but the industry as a whole?
Nina: "The focus on mental health and wellbeing have been very well received for an industry that is prone to burnout, prone to potentially partying too hard at times. It's been good to have a moment to reflect and look at where we sit on that, and our boundaries and our work life balance."
Martin: "For me, as an executive but also for the industry, it's just resilience, knowing that things will be ok."
What does your digital transformation strategy look like moving forward?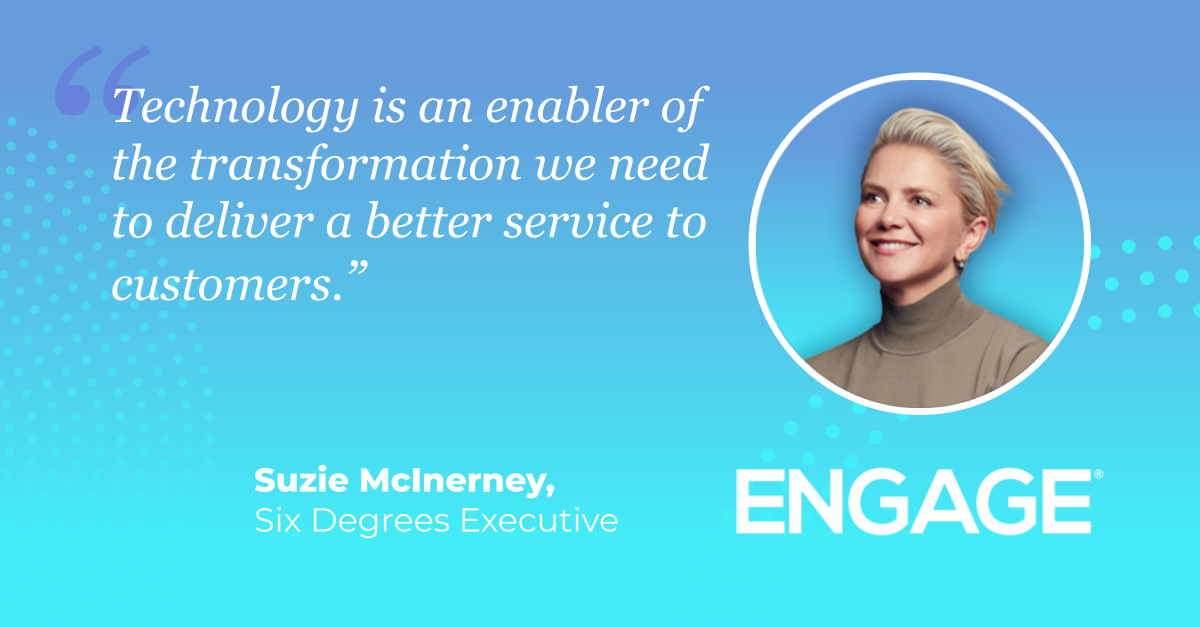 Suzie: "Technology is an enabler of the transformation we need to deliver a better service to customers. We're really trying to build the capability in the human sense, so change, agility and adaptability…We need to make sure it's a culture led transformation, not a technology led transformation."
Martin: "Absolutely start with the customer and the needs of the customer that you're solving then work out what technology you need to solve those. I think the low hanging fruit in general is in administration."
Nina: "We talk about using technology to free up [time] and shift behaviours, so that technology is there to allow the behaviour we want…Processes in the systems and the way they are used needs to be consistent because with all the best tools in the world, if they aren't being used effectively, they're pointless. So we're trying to bring that consistency of process back in so that human behaviour is the piece that can appeal and build the relationship."
For more leadership insights sent straight to your inbox, subscribe to Bullhorn content today or if you're interested in tickets for Engage 2023, please register your interest here.
Subscribe to the Recruitment Blog
Subscribe for trends, tips, and insights delivered straight to your inbox.