How Your Tech Stack Can Help Attract More Candidates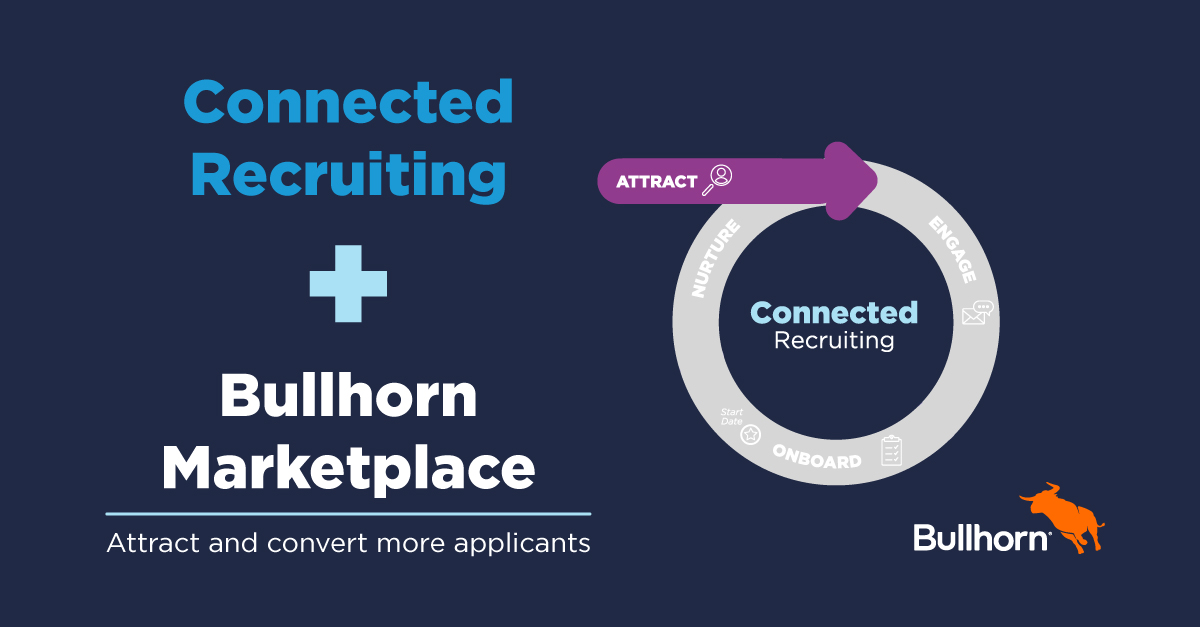 In a candidate-short market, everyone is on the search for talent. According to research from this year's Global Recruitment Insights & Data (GRID) Trends Report, candidate acquisition is the top priority for staffing firms, and candidate sourcing is the top recruiting obstacle. How can firms gain a competitive edge and attract the best candidates?
This year at Engage Boston, Bullhorn introduced Connected Recruiting, a strategy that empowers staffing firms to better engage with talent at every stage of the lifecycle – from sourcing all the way to redeployment. The cycle begins with attracting candidates: streamlining your application process and tailoring your brand to offer a memorable experience — from their first interaction with your website to your application follow-up.
Each staffing firm is different; what works to attract candidates for one organization won't work for another. That's why Bullhorn has our Marketplace, featuring vetted partner technologies for customers to build out recruitment tech stacks that cater to their specific needs.
We sat down with April Arteaga, Director of Sales, RPO & Staffing at PandoLogic, Nicole Clarke, Co-Founder of Shazamme, and Jack Copeland, CEO and Co-Founder of Staffing Future, to hear their thoughts on how staffing firms can combine technology with best practices to attract more candidates.
These conversations have been edited for length and clarity.
Can you tell us a little bit about your organization?
Arteaga (PandoLogic): We are a top-of-the-funnel AI platform. We use algorithms to help staffing firms make decisions on where to send candidates, and for our partners, it allows them to have one vendor that they're working with on budget and leverage economies of scale. We can help share those cost savings and find candidates where they may not have been able to find them before, and then streamline them back.
Clarke (Shazamme): We have over 12 years of experience in recruitment website technology. We knew that staffing websites are traditionally hard to use, so we created a platform that makes them easy to build, with no coding required, it is all drag and drop. You can build as many job boards as you want, slice and dice them by location, category, subcategory, and keyword, and drop as many of those onto landing pages and campaign pages within minutes. Then we SEO optimize your jobs and make sure they're Google compliant. We then push the application back in either via a multi-poster or Bullhorn directly and report on all conversions with advanced tracking. We also have a client portal, which is a great way to provide employers with a perfect experience, where they log into a portal that's branded as them. It's not within Bullhorn; it's on the website environment so you can add documents, data, video and pull any field in Bullhorn to present to the client.
Copeland (Staffing Future): We focus on attracting and converting talent. When it comes to attracting, it's about having the right technology platform to help people do that, to make sure that it does integrate seamlessly with their email, with their text, with their social distribution, has the right technical infrastructure for SEO, and also has the right tracking codes, tracking pixels, and distribution for paid traffic. The bit that I think is kind of unique to us, the bit that we really focus on, is converting that talent. We're trying to bring a lot of consumer-based software and reporting into the staffing world. Examples could be as basic as a quick apply with Google Drive or Dropbox or using your LinkedIn to apply. It could be as sophisticated as things like our matching engine, which is essentially monitoring the user's session cookies, picking up on the behavior of that IP address, and tying together a story of their interests. We do a lot in terms of designing and running websites, but we also do a lot of technology that is designed around you converting that talent through the rest of the funnel.
How does what you do help firms attract talent? What is the wider role of technology when it comes to attracting candidates?
Arteaga: Think about what a recruiter and a staffing firm do. They'll get a job, and historically, staffing companies that have had situations where they make decisions based on bias. Now, the data may not substantiate that decision, but it's a comfort level. We take the bias out of the process by allowing the technology to make the decision for you – and we can make 7000 decisions a minute. That's something that humans just can't do. By making 7000 decisions a minute, we're looking at, you know, has the CPA changed? What's the CPC? Are we seeing the market shift? What job boards are working? There are a lot of decisions that happen, and technology is allowing us to make them on a massive scale. It takes some of the mundane work out of recruiters' hands so that they can focus on what they need to do, like creating that human experience. 
Copeland: The industry is elite in terms of the conversion of funnel metrics in sales and recruiting inside the ATS. So anyone in sales or recruiting will explain that more phone calls, more connections to candidates, and more conversations lead to more qualified resumes, more submissions, and more placements, right? But they don't see the same funnel, the same metrics, and the same optimization when it comes to their candidate generation. They just go, "How many applications did we get into the ATS?" And they don't necessarily realize that, actually, it's exactly the same concept. All of your communications with the candidate are in Bullhorn, but before it gets into Bullhorn, there is another platform, and that is their digital storefront, it's their website, it's their job board. And that's where those metrics live. And that data needs to live there until we have enough registration to put that user into the applicant tracking system.
Clarke: There actually is a real strategy to creating a recruitment website that is highly SEO optimized but also set up to convert. We were able to achieve this site architecture after many years of working with thousands of clients. Often, a traditional marketing agency will build a firm's website, but they don't understand recruitment. And that means that the client is going to end up missing out on all these opportunities. Each of the recruiters or employers should have their own landing pages with all of their jobs, their blogs, and their videos if they're doing any. People should be tracking everything. You can track someone from a click on Facebook that comes to the website, looks around at other things, doesn't apply for that job, but applies for the fifth one they look at. Tracking is really important. And rather than always asking the candidate to apply for a job, ask them to register their interest. That's very well done through a landing page.
Arteaga: Obviously, just talking about the efficiencies that get added, right, being able to do more with less. If you have a budget of this much money, by using technology and letting us add that automation, you're going to be able to do more, but it won't be as hands-on. But if your recruiters could spend more time on the phone, wouldn't that make more sense? We can have your people doing what your people do best.
How can firms distinguish themselves from the competition when it comes to attracting talent?
Clarke: Recruitment agencies, in trying to look different, often sacrifice usability. And I do try to bring people back to the fundamentals that people need to be able to look for a job easily. And that the easiest way to do that is a search bar. Don't put it in a tab up the top; no one's going to see it. It needs to be right in your face where you can search for a job. Our job is quite simple. We want the right people to find you online. That's the job seeker, the employer potentially new recruits. And when they find you, they need to have a perfect experience and can quickly find exactly what they need. You just want them to find the job board and apply for the right jobs, and that's it.
Arteaga:  Staffing companies that are early adopters look at the process, and they know that there are going to be challenges in making changes, but they're willing to work, test, and really optimize. It's a whole psychology of shifting from what you've done for however many years. The first week won't always be perfect. There are going to be ebbs and flows. Companies that are willing to not be perfect right away and understand that we're partners, and we're going to work with them, and we're going to go through the process – those are the ones that can make changes. They have to be willing to go through the process. 
Copeland: Content that is personalized to your market is always king and taking the time to implement the systems properly is crucial. People want a magic bullet, and it doesn't really exist. It's always more complex than that. I think that's the trick that a lot of the industry misses. They buy the things, they want to use the marketing automation, they want emails, they want the text, they want everything, but then they expect the candidate or the client to get the message, click the link, see it online, and then convert, and that's just not how we shop in any other walk of life. You need to have the right content and the right systems to nurture and engage talent.
What's one thing that every firm should be doing to attract talent but isn't?
Clarke: To attract talent, if you haven't got your website set up so that it's foundationally SEO optimized jobs. With landing pages, people need to start thinking differently than what they've done things before. Recruitment is now marketing, and you need to be evolving your brand day in and day out. A lot of people try to make this too complex, and they buy technology, thinking it's going to solve all their issues. And it actually just dilutes it and makes it a worse experience for the candidate and for the users. I think people need to just, you know, start with a solid foundation, your ATS, your website, and then once you've got that in place, then start trialing things to see how it goes.
Arteaga: Right now, everyone is going all out with negotiated contracts with all different types of brands; they're trying to do it all using tech. But there are so many staffing companies that don't have a strong career site that's acceptable, which in this day and age, that's a basic thing. You have to have a place where you're displaying your marketing, your jobs, and your documents, talking about what you do. And if you don't have a strong application process on an easy-to-access site, it limits what you're able to achieve.
Copeland: It depends, but I would probably just say, full reporting. If you've got the right reporting in place, then you're going to know what's accurate for you. And I think that's sometimes a gap for a surprisingly large amount of the industry. They spend a lot of money, they spend a lot of time, but they don't actually know what's going on. I can't say, "oh, they should be doing more SEO versus PPC." Or "they should have more landing pages versus jobs, or they should have a chatbot." Because, you know, there are at least 35,000 staffing companies in the US, and it will vary market by market. But if you don't have the full lifecycle of reporting to understand what's effective and what you're doing, you will never be able to answer that question. You're never going to be able to try new things.
---
Want more Marketplace partner content, including success stories, webinars and events, and special offers for Bullhorn customers? Check out our Partner Engagement Hub.
Subscribe to the Recruitment Blog
Subscribe for trends, tips, and insights delivered straight to your inbox.