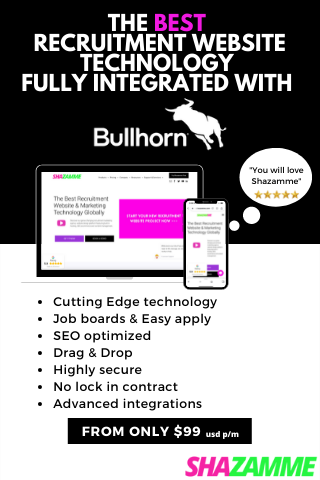 Website Technology
We have invested in creating the best modern website technology and the most advanced recruitment and staffing integrations with Bullhorn. Right out of the box, we can handle the most complex of requirements in weeks.
Fully integrated and customisable Bullhorn integrated job boards
Highly customisable data integration points & reporting
The latest cutting edge ,no-code, drag and drop website builder & editor
SEO / Google optimised job ads
Integrated campaign & landing pages are easily created
Seamlessly integrated apply process
Bullhorn ATS integrated candidate portal
Client portal (currently in BETA) with Bullhorn integration
Candidate portal
Job alerts
Automation integrations including semantic job matching
and much much more is possible with Shazamme and Bullhorns technology and custom API integrations …
Advanced Applications
Integrating with multiple Bullhorn instances
Multi language capabilities
Integrations with diverse/multiple different ATS platforms
Custom fields
Customisable job application workflow
Screening questions
Extensive Data capture
Forms
RPO offerings
Advanced Bullhorn API integrations you wished for, are now easily possible thanks to our cutting edge staffing website technology and Bullhorn partnership. By utilising Shazamme and Bullhorn together, your automation, integrations, marketing strategy, job boards, applications, candidate and client experience and your overall success online will be greatly enhanced.
Maximise your Bullhorn ATS ROI now with Shazamme's cutting edge recruitment website technology!
Client Portals
Create an amazing client/employer experience and speed up placements by allowing a log in via your website so your clients can easily see their job orders, move candidates through the approval process, comment, view candidate information (that you want them to see). All seamlessly integrated into Bullhorn.
Now you can control the information you share on shortlisted candidates without exposing your entire database.
With our client portal, you have the ability to share information securely between you, the client and Bullhorn. It allows clients to add notes and change statuses that are then reflected directly in the your Bullhorn ATS.
The client portal can be branded uniquely as your client and users can have their own unique login and view.
The client portal can be built out easily using our drag and drop editing to include client unique videos, documents and so much more.
This platform is also perfect for an RPO solutions!
Great Pricing with NO lock in contracts
Our great value and clear pricing includes everything you need to create an amazing recruitment website that is fully integrated into Bullhorn.
No lock in contracts as we believe amazing technology and great customer service should make you never want to leave.
AU Pricing – Here
EU Pricing – Here
UK Pricing – Here
US Pricing – Here