Announcing an Unparalleled Lineup of Speakers for Bullhorn Live London 2017!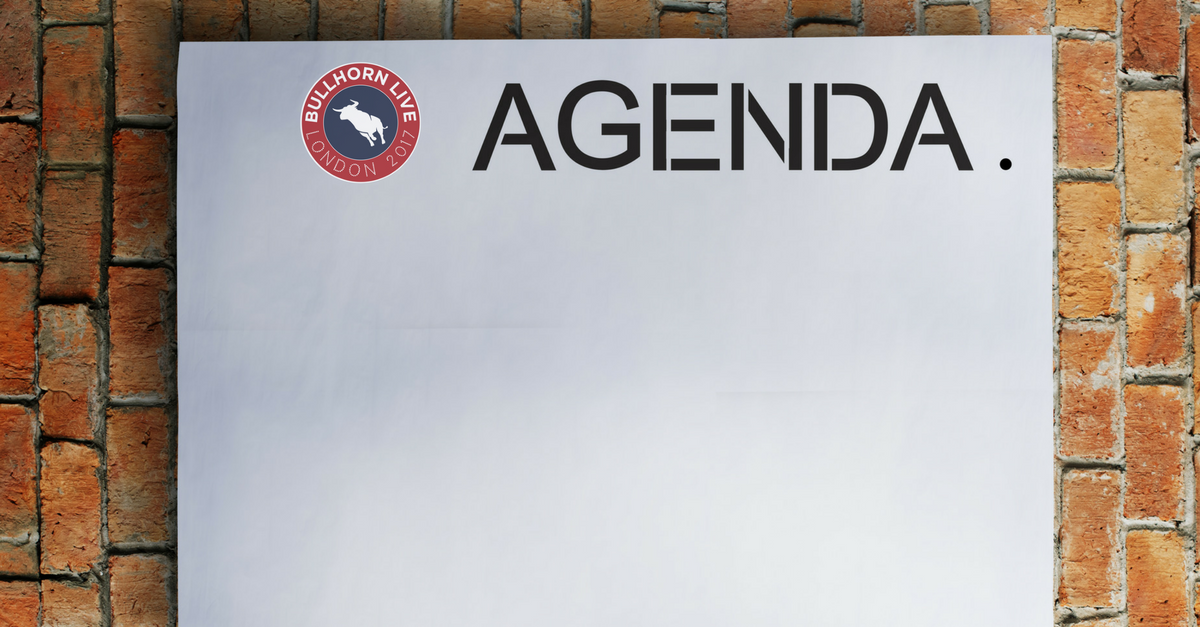 We're incredibly excited about this year's Bullhorn Live, taking place 11th-12th October at Bishopsgate in London, because for the first time ever, Bullhorn Live London is a two-day conference. If you hadn't attended in the past because you felt that the event was just for Bullhorn customers, rest assured that Live will combine the best of both worlds – industry best practices and Bullhorn product deep dives.
The theme of Bullhorn Live 2017 is "growing your business in the New Relationship Economy." When we talk about the New Relationship Economy, we are referring to the myriad of social, technological, political, and economic changes impacting global recruitment and how agencies operate and stay competitive. The UK, and Europe holistically, has never been in such a state of challenge and simultaneous opportunity when it comes to recruiters' growth and evolution – GDPR compliance, the human and economic impact of Brexit, the ubiquity of automation in recruitment and talent management, and profound changes in how we engage and communicate with talent have made "business as usual" utterly impossible.
Day One: The Industry View
For agency owners and leaders, Day One of Bullhorn Live 2017 will provide you with a comprehensive view of how to succeed in this New Relationship Economy with strategies for dealing with all of the tectonic shifts mentioned above, all while assessing what these forces will do to your bottom line.
Bullhorn's international managing director, Peter Linas, will kick off the event alongside Bullhorn CEO Art Papas discussing the state of recruitment in Europe today. Pete will then convene a panel of recruitment leaders – including Darren Weeks of AAP3 and Dennis van Weeren of Vibe – to share their strategies for ensuring growth in the New Relationship Economy.
After Pete's customer panel, we'll get to the heart of an issue driving fear at many agencies – GDPR. Garreth Cameron of the Information Commissioner's Office (ICO), will present an informative session on myths surrounding GDPR, tips for compliance, and why you should be prepared for (but shouldn't be terrified of) the legislation.
The conference will then proceed with a fireside chat featuring Art Papas and a legendary recruitment leader (more to come on that), leading into Matt Fischer – Bullhorn's president and CTO – discussing our Vision for Innovation, the recruitment industry roadmap and how Bullhorn empowers growth for recruitment agencies around the world.
Following a networking break, Day One will continue with a Marketplace partner "speed pitch," showcasing the breadth and depth of solutions in our thriving partner ecosystem. This will be followed by one of our most exciting sessions of the day – a panel on the absolute necessity of diversity as a business strategy. The panel, titled "The Power of Me: Why Diversity Is Essential in Recruitment," will feature Joanna Abeyie, managing director of Hyden; Sukhvinder Pabial of Challenging Frontiers; and Charlotte Clark of APSCo.
The final Day One session, before our fabulous and storied Bullhorn Live London Official Party, will feature Alex Edelman, a Millennial expert, discussing why it's best not to fear younger workers, or play into stereotypes. We won't divulge too much here, but rest assured it's a can't-miss session!
Day Two: Embracing the Future of Recruitment with Bullhorn
Technology can seem threatening at times, but the right technology partner empowers you to grow and be uniquely human in achieving your goals. Develop the relationships you need to scale your business.
On Day Two, leaders, super-users, and operational experts alike will benefit from hands-on advice and expert content on how to strategically use Bullhorn and solutions from our key partners to increase productivity, service levels, and revenue. Get an unprecedented look at Bullhorn's product roadmap, including discussions of hot-button issues like automation, artificial intelligence, and candidate engagement, and learn how you can leverage Bullhorn to supercharge your growth.
We'll close the conference with the highest-rated session of Bullhorn Live each year – Innovation Throwdown. This energetic session is a competition between finalists from Bullhorn's Innovation Week when programmers dedicate themselves to bringing their most creative and inventive product enhancements to life without oversight or influence from our Product Management team. Come see the cutting edge features first-hand and get the chance to vote to turn your favorite into a reality.
There will be something for everyone on Day 2 – a track for executives and recruitment leaders, a track for recruitment and operational frontline managers looking for product deep dives and training, and a Marketplace partner track showcasing the best ways to grow and extend your Bullhorn platform.
It's an amazing feat to put this much content in just two calendar days, so if you haven't yet registered for Bullhorn Live London – don't miss out! This conference will sell out without question.
We'll see you there!

Subscribe to the Recruitment Blog
Subscribe for trends, tips, and insights delivered straight to your inbox.