Bullhorn and Fulham FC Foundation Join Forces to Help More Young People Achieve Their Goals
We recently welcomed a group of young people into the Bullhorn office here in London for a mentoring session on employability skills as part of our partnership with Fulham Football Club Foundation.
We're working together on a project called 'My Future Goal' – it's a really exciting venture that will provide young people in our local area with hugely important career advice. Bullhorn staff have taken up the role of mentors, providing help and support in establishing personal development plans and setting and achieving key career goals. The aim is to help local young people transition smoothly into the workplace once they've left school.
I'm enormously proud of the work the Bullhorn team does with the Fulham Football Club Foundation; our staff have embraced the opportunity to mentor young people. Our partnership with the Foundation gives us the chance to really give back to our local community and share our expertise in a way that tangibly benefits others.
The feedback we received from the inclusion manager, Paul Motion, after the event, only served to motivate our employees further!
"I would also like to thank all your staff that have helped this programme be such a success, I have worked in this sector for over a decade and rarely do you get corporate partners that have such a vested interest in the young people that they are helping rather than just a statistical output to reference for their CSR."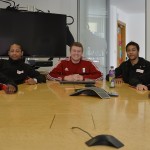 As well as our work with the Fulham Football Club Foundation, our 'Bullhorn Cares' initiative supports the work of Family Action, who work with children in caregiver roles, the Diane Modahl Sports Foundation, providing children with the funds they need to fulfil sporting potential, and The Medasi Foundation, who we took part in Tough Mudder for earlier this year.
Our charitable commitments mean an awful lot to us. While we provide funds to the charities we support, we also give our employees time each quarter to volunteer at local organisations. This time means that they can dedicate resources to mentoring young people effectively, as they did this week.  And long may it continue!
To find out more about the Fulham Football Club Foundation's work, click here.
Subscribe to the Recruitment Blog
Subscribe for trends, tips, and insights delivered straight to your inbox.