Comedy Star Alex Edelman Is Coming to Bullhorn Live London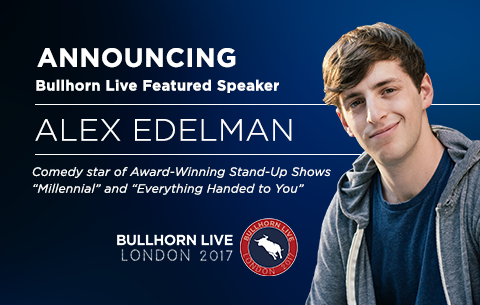 Are Millennials the bane of your existence – avocado toast-eating gadflies who have little to teach serious professionals?
Unfortunately, not only is that a gross mischaracterization, but Millennials are now the fastest-growing demographic of managers and leaders in the world. They will run your business, if they aren't already, and it's best to stop fighting it. That's why we are thrilled to announce that renowned entertainer and Millennial expert Alex Edelman is coming to Bullhorn Live in London to discuss the rise of Millennials in the workforce and how all companies (including yours!) can benefit.
Alex Edelman is the comedy star of award-winning stand-up shows "Millennial" and "Everything Handed to You" and one of the industry's fastest rising young stars. Hailing from Boston, he was quickly recognised as one of New York City's "Best Comedians Under 25".
"Boasting technical flair and a precocious authority, Edelman's comedy manages to capture the voice of Generation Y" – Guardian
He soon crossed the pond with invitations to perform in major comedy festivals including Machynlleth, Latitude, Bestival, The Edinburgh Fringe, and End of the Road where he was praised as "fresh, original, and endearing."
Alex has shared the stage with comedy legends like Louis CK, Chris Rock, Jerry Seinfeld, John Bishop, Al Murray, and Terry Alderton. His solo show "Millennial" sold out nearly every night and won the prestigious Foster's Comedy Award for Best Newcomer, only the second American to have done so. He went on to record "Millennial" for BBC Radio 4's stand-up special, "Everything Handed to You" as a BBC Worldwide/SeeSo special, and his Radio 4 follow-up to "Millennial," "Peer Group," was released this year to critical acclaim.
"I fondly imagined this was what it might have been like to watch Jerry Seinfeld when he was in his early 20s. There is no greater praise than that. Deserves the huge success that, you'd have to feel, is kind of inevitable." ★★★★★
As a writer, Alex's work was featured on indie comedy sites and established media outlets alike including The Atlantic and The Guardian. He currently serves as co-host of the popular podcast 'The Pod Squad' and as a writer for the Millennial-focused sitcom, "The Great Indoors", which ran for 22 episodes on CBS in the United States and ITV2 here in the UK.
We couldn't be more thrilled to have Alex at Bullhorn Live 2017 coming 11th October at 155 Bishopsgate, London. 
Want to save £50 on your Bullhorn Live ticket? Take a brief survey on recruitment industry trends to get your discount code, plus a copy of the full report when it's available! 
Subscribe to the Recruitment Blog
Subscribe for trends, tips, and insights delivered straight to your inbox.