Engage London 2019: Highlights From Day One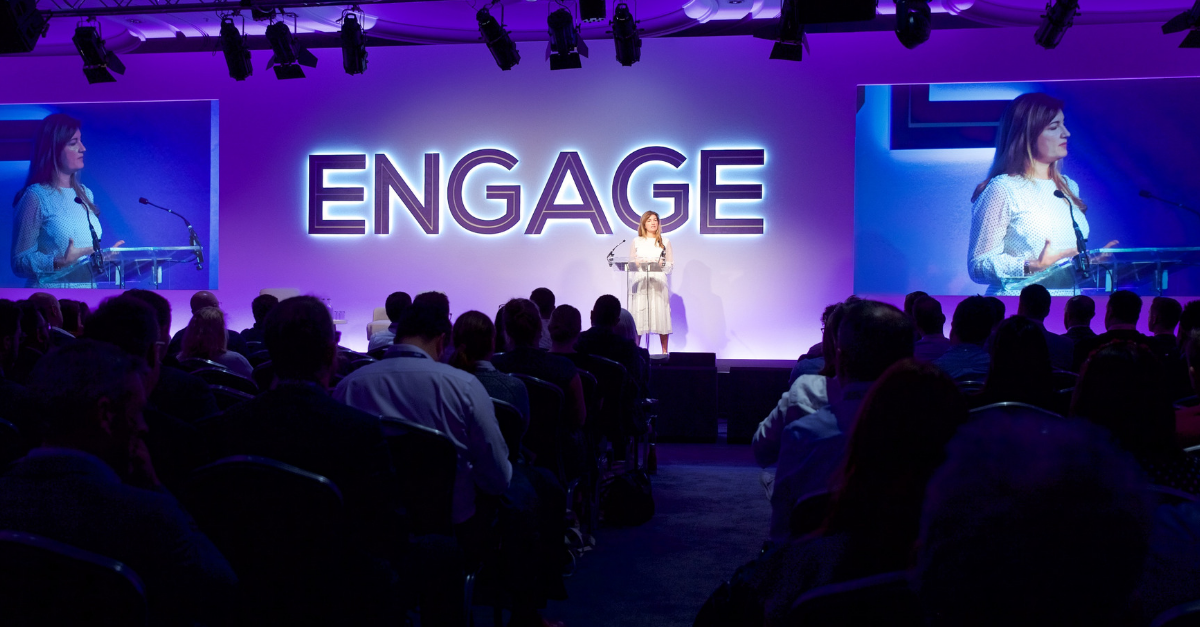 On the first day of Engage London 2019, recruiting and staffing pros came together in London to network, learn, and think about the power of people—how we connect people with opportunities, and how we can all harness our strengths to build better organisations. Read on for a recap of the major themes and conversations from Day 1 of Engage.
The Power of People
With over £33 billion in revenue in the UK alone, and one million workers placed each day, it is safe to say that recruitment is transforming lives. Recruitment professionals help people put food on the table, make dreams a reality, and create opportunities where none previously existed. The recruitment industry is about so much more than filling open jobs. It is about helping people build fulfilling lives.
Engage London 2019 is all about helping recruitment professionals grow their businesses through a powerful combination of relationships and technology. Whether we're talking about reskilling workers to create new talent pools, overhauling your company culture to make a real impact on the community, or tapping into innovative technology to tackle the talent shortage, the sessions at Engage are unified by one theme: unlocking the full potential of the power of people.
Baroness Karren Brady CBE's Opening Keynote 
The incomparable Baroness Karren Brady CBE kicked off Engage London 2019 with her inspiring and motivational keynote. Baroness Brady talked us through her career, her experiences as a woman in business, how to get the most out of your team, and what you should prioritise when building a successful career and business. 
What began back in 1993 when she spotted a little advertisement in the Financial Times – 'Football club for sale' – became a storied career in politics, industry, sport, and television, that leaves Baroness Brady well-informed as to what must go into developing a successful career and business.
6 Key Ingredients For Success 
From her time spent taking a run down business – literally parts of the building were in such dire need of repair they were shut down – Baroness Brady developed a key understanding of how to take something as it is and turn it into what it could be. 
She identifies 6 key ingredients to building and growing both a successful business and career:
Leadership:

lead people, don't just manage them. A real leader faces the music, even if they do not like the tune, and endeavours to persuade, communicate, and convince people to a vision that often only you can see.

Ambition:

there's a misconception that ambitious people are ruthless, but that's not true. They just don't settle. Ambitious people push, step outside their comfort zones, and are not prepared to fail.

Determination:

an ingredient key to the Baroness' own success. You need to be ready to pick yourself up, find your backbone, and use it.





l

Attitude:

something the Baroness often tells her own teams is 'if you don't like something, change it. If you can't change it change your attitude'. The best way to approach this is to consider a decision and ask yourself what the worst outcome could be.

Direction:

the whole world steps aside for the person who knows where they're going. Understanding direction and communicating that is vital. Every single person in the organisation needs to know where we're going, what we stand for, and who we work for.

Positivity:

true success is largely a part of hanging on even when everyone else has let go. Seek to retain a positive outlook yourself, and encourage it in your team and business culture.




Just like a recruitment agency, a football club doesn't produce a tangible product, all assets of the business are people. You need to be able to create a good culture, motivate internal staff, hire for success, and remain persistent and driven. After all, 'nothing in this world can take the place of persistence, not talent. Nothing is more common than unsuccessful people with talent.'. 
Marketplace Speed Pitch  
Bullhorn is built around an open ecosystem, which means that you can customise your recruiting solution to meet the specific needs of your agency. But what needs should you focus on? And which of Bullhorn's Marketplace Partners are a good fit for your agency's needs?  Every year, in one of our most attended and anticipated sessions, a handful of our partners provide a rapid-fire pitch explaining the value they provide to their customers. Here are some highlights, straight from our partners' mouths: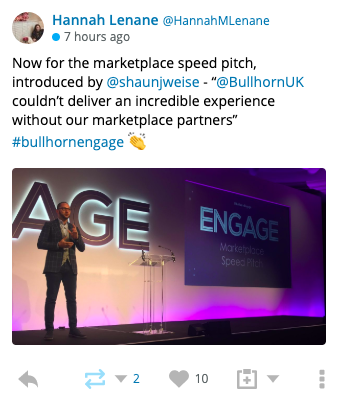 Cloudcall

is a unified communications platform that drives voice, text, and instant messaging through Bullhorn, enabling your recruiters to have quality conversations faster and your decision makers to better understand everything happening within your company.

Cube19

identifies actionable insights so that you can learn what your firm has done, what it hasn't done, and what it needs to do to be successful.

LinkedIn

now has 50,000 skills that you can search for on their platform

8×8

helps you communicate better and smarter with one system of engagement for voice, video, collaboration, and contact centre 

Daxtra i

s a specialist in high accuracy, multilingual CV and job parsing, semantic search, matching, and aggregation technology

JXT

provides an omnichannel digital recruitment marketing platform 

Kyloe Partners

help you implement smarter decisions faster via their apps and plugins, or bespoke dev/adoption projects 

Mya

helps you automate your staffing business and scale your talent ecosystem through the power of AI.

SourceBreaker

helps recruiters spend more time engaging with clients and less time finding them. 

TextKernel

helps your recruiters find the right candidate with the click of a button, by allowing you to match open job roles with candidates in your database.
Fixing the Industry's Internal and External Reputation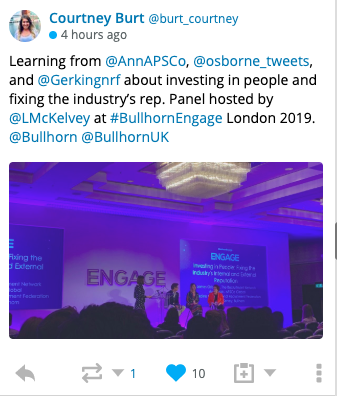 James Osborne (Chairman, TRN), Ann Swain (CEO, APSCo), and Geraldine King (CEO, NRF) joined Bullhorn's Leah McKelvey for a moderated panel about the reputation of the recruitment industry.
It's no surprise the recruitment market has a poor reputation, sometimes deserved and sometimes a little harsh – something our panellists all agreed upon. But, it is worth noting that in recent years we've seen a change, and made great strides to overcome it – something else our panellists were in unison about.
But we're not at the finish line just yet. How can we continue to champion change within the industry and push forward? James stated that "as recruitment organisations, it's about how we position ourselves" and change must start from within. "If you only see recruitment as putting bums on seats, then you're going to be left behind," Ann explained further. It's important for recruitment businesses to understand their clients' needs, and provide flexibility, diversity, and compliance. 
The takeaway? That we should remain positive about the potential when it comes to fixing the recruitment industry's reputation. New doors and opportunities are presenting themselves to us, as Geraldine stated, "We've never spoken about recruitment the way we speak about it now. Now is the time to change the mindsets of the value we drive".
---
Stay tuned for even more Engage London recaps and event coverage. And make sure you're part of the action next year by registering for Engage London 2020 today. You'll be guaranteed the lowest rate possible!
Subscribe to the Recruitment Blog
Subscribe for trends, tips, and insights delivered straight to your inbox.