How Leontine From Eiffel Transformed the Company Into a Data-Driven Recruitment Team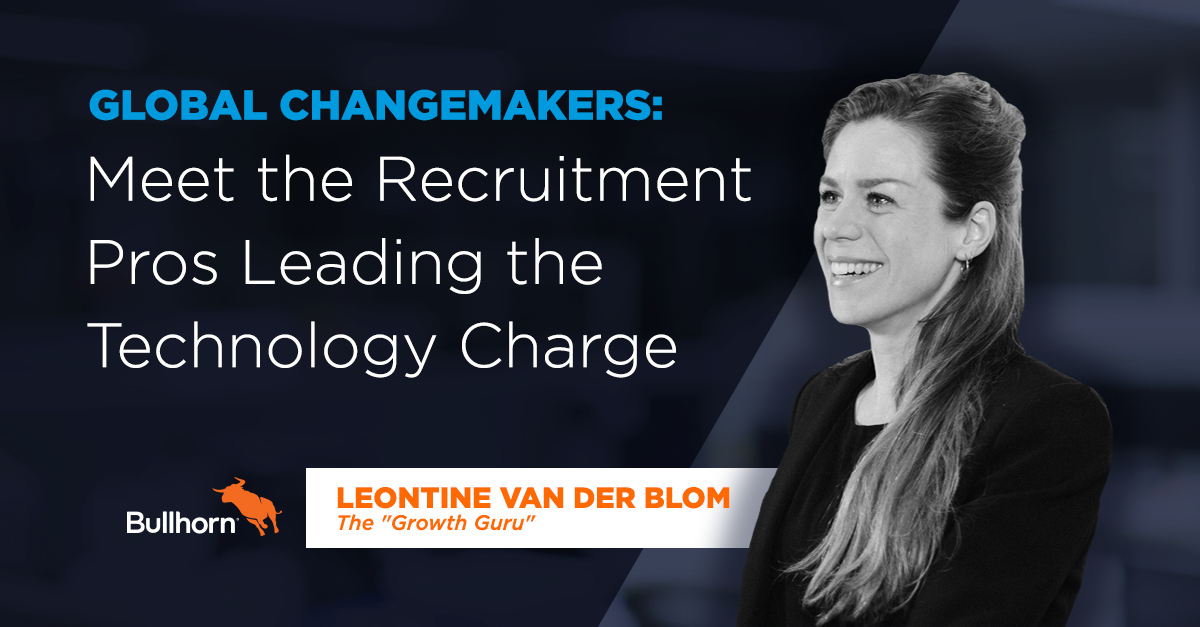 Below is a spotlight from our Global Changemakers series, highlighting those who have successfully navigated a technology change within their business. To read more stories, visit our Global Changemakers series.
Leontine started at Eiffel as Manager Recruitment in April 2019. Before that, she had worked in recruitment for several years within both agencies and international organisations. When Leontine started at Eiffel, the work to improve the team's current recruitment processes began as well. The organisation didn't use a centralised system and they didn't have brand awareness within the industry. It was time to take Eiffel to the next level and further grow the company.
Time to Make a Change
For Leontine, it became clear quickly: Eiffel needed an Applicant Tracking System (ATS) to improve the candidate experience and get more insight into what was happening with their candidates. With a clear wishlist, Leontine made the choice to partner with Bullhorn in 2019 and take the next step towards digital transformation by better utilising Eiffel's ATS/CRM data.
I was hired at Eiffel to make a change within the organisation. We wanted to realise a certain growth as a company and transform it into a data-driven recruitment team. You really need a powerful ATS/CRM for that. It's the backbone of recruitment.
Leontine van der Blom
Eiffel
Roadblocks to Progress
In order to grow, Eiffel had to innovate. Leontine noticed that the system they worked with previously didn't provide insights into the recruitment process; you could only see the most recent status of a candidate and it was never clear from which channel the candidate had come. 
We used to have a system which didn't give us any insights into processes, it was not clear where candidates were coming from, and we couldn't measure time-to-hire. We needed to make a 180-degree change. Otherwise, we would not be able to achieve our growth goals.
Leontine van der Blom
Eiffel
Now, Leontine and her team are in the process of rolling out Bullhorn to the organisation. Leontine recognises that getting to know and adopting a completely new software brings some resistance. Recruiters need to learn how to use Bullhorn ATS and figure out the most efficient ways to make the system work for them. Eiffel invested time and resources into training their recruiters to make sure the solution fits the company as well as possible, including creating a complete manual to make the adoption process smooth. 
Reaping the Benefits
Even though they have only recently implemented Bullhorn, Eiffel already sees the positive effects within the entire organisation. They now have insights into which channels are more successful than others, the integration with Bullhorn Marketplace Partner OnRecruit helps provide a clearer understanding of the candidate journey, and their dashboards are taking shape. With these changes, Eiffel can make better management decisions to grow the business. 
We went live at the beginning of January, so it's still early. However, we already see a huge improvement in the data we can access and we can use data to make better business decisions in the future.
Leontine van der Blom
Eiffel
Eiffel is already thinking about the next steps to further optimise and digitise their processes. By keeping a close eye on technology trends, they want to make use of innovation to create the most efficient recruitment process possible. The efficiency of the team has already improved, which means recruiters are able to focus even more on what really matters: the candidate experience.
---
To read more stories from Global Changemakers who have successfully navigated change within their business, visit our Global Changemakers series.


Subscribe to the Recruitment Blog
Subscribe for trends, tips, and insights delivered straight to your inbox.