Highlights from EngageX Europe 2021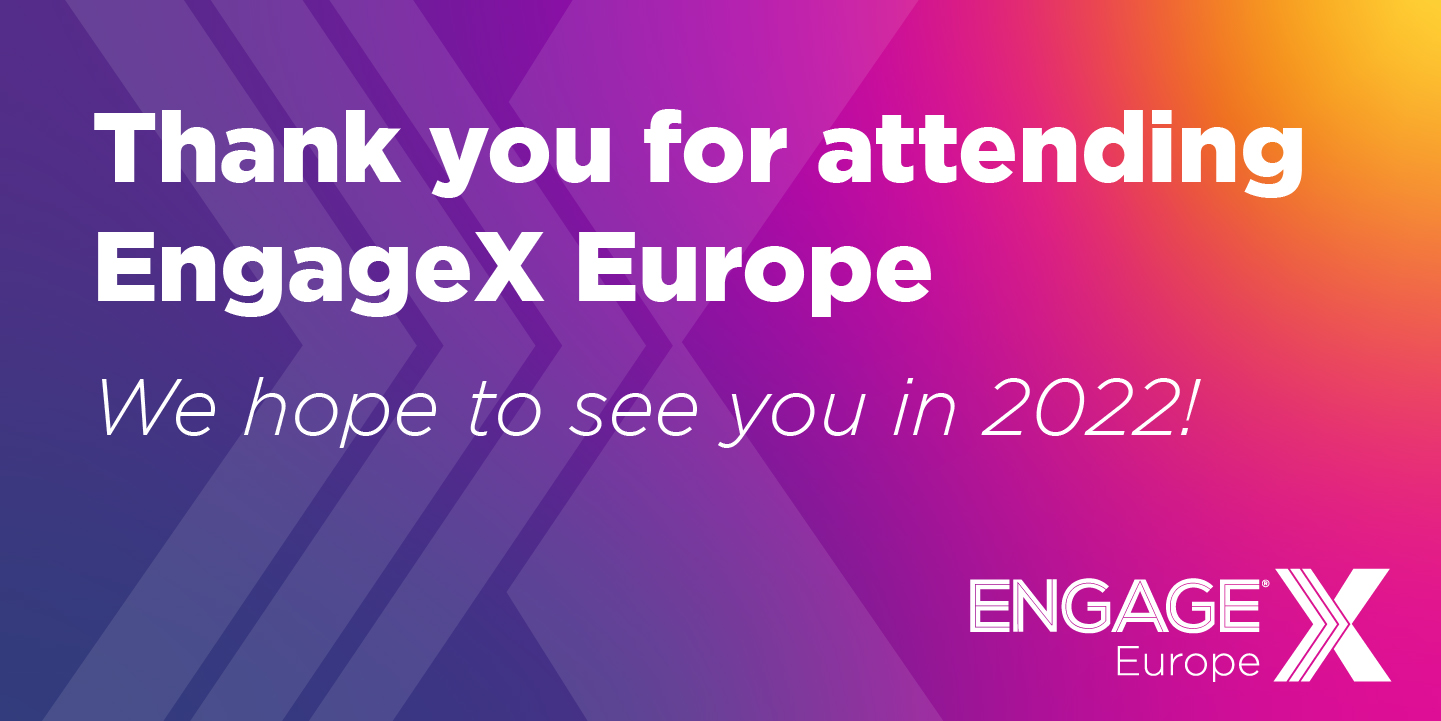 At Bullhorn EngageX Europe 2021, a thousand recruiting professionals came together in one (virtual) space to network, learn, and discuss challenges, opportunities, and everything in between. 
If you want to relive your favourite moments or catch up on any content you missed, you can watch the breakout sessions and keynotes on-demand right now. 
Read on for a recap of the major themes and conversations from EngageX Europe 2021.
The Digital Revolution
2020 brought unprecedented challenges to the recruiting industry. A key theme of EngageX Europe 2021 is how recruiting firms can accelerate their businesses this year by leveraging technology to improve the candidate, client, and employee experience. This message permeated the keynote addresses delivered by Bullhorn Founder and CEO Art Papas and the Vision for Innovation presentation given by Matt Fischer, President and COO. 
To kick things off, Art Papas cut right to the chase: "The industry is marching forward, and the recruitment market is way up." He highlighted recent APSCo/cube19 data that shows contract placements have increased 121% YoY and permanent placements are up 36% YoY.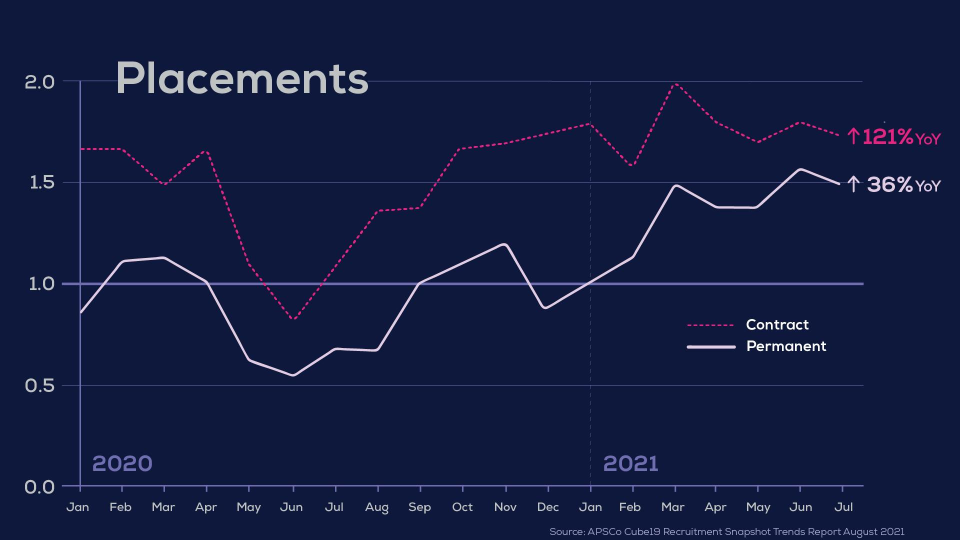 While the data shows that the industry as a whole is rising, the war for talent also rages on. As Art explained, "the war for talent is going to be with us for a long time, especially in skilled trades, technology, security, and healthcare. These industries have a huge demand for talent."
The result? Digital recruiting platforms, such as Iziwork and Florence, are increasing their presence in the industry and creating a dynamic where traditional recruiting firms are exploring the digital recruiting space, increasing automation and the self-service aspect of engaging talent. 
"This transformation is already happening. Recruiting businesses are already embracing a digital transformation," Art shared. According to our 2021 Global Recruitment Insights and Data (GRID) report, there was a 72% increase from 2020 to 2021 in recruiting agencies putting a digital transformation strategy in place. And the first phase of this transformation is automation.
Art shared that recruiting firms are already incorporating automation into their workflows. If you're not automating at least some of your manual tasks or interactions, you should be because your competitors likely are. "The number of clients using automation has increased 10x over a year ago. We're seeing a big uptick, and the results are real. Looking at the businesses using automation vs. those who are not, there is a big difference in their productivity and ultimately their revenue and profit. This is a real transformation that's happening."
Matt Fischer and Jason Heilman echoed this theme throughout their Vision for Innovation presentation, where they highlighted data comparing firms who are using automation and those who aren't. They also shared several examples of how our customers use automation to help them with everything from candidate outreach to data hygiene.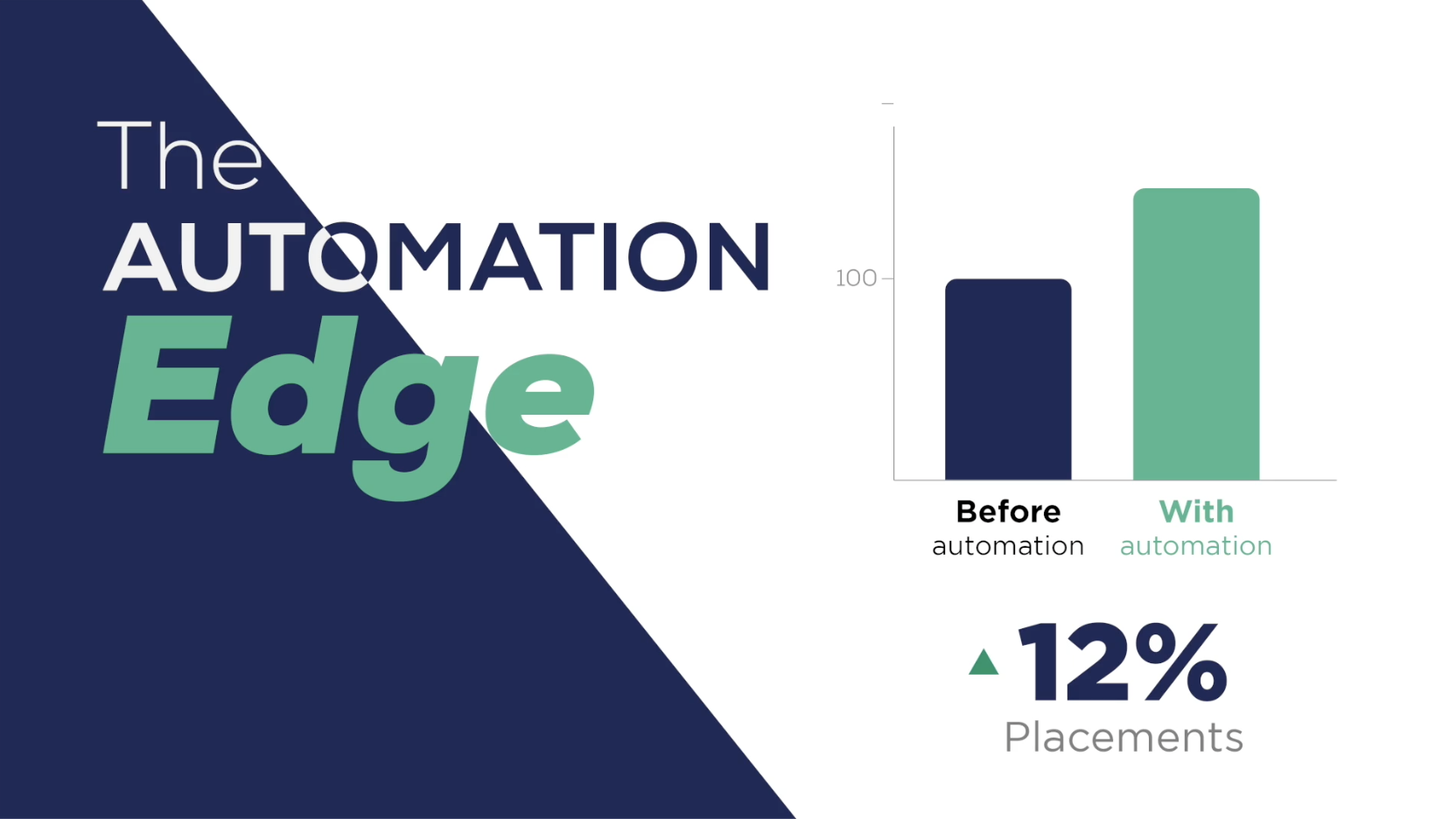 Matt then shared exciting data showing the rise in automation usage among our customers: "One year ago, we ran 42 million automations in Q3. We're up to 170 million in Q3 2021 and on the path to roughly 500 million automations running through the platform this year. By next year, we're projecting that customers will complete over one billion automations since this year's Engage."
Even better: implementing automation doesn't need to be tedious or time-consuming. With Bullhorn Automation, as Matt and Jason explained, customers can choose from out-of-the-box automation blueprints and create a process and workflow that works with their team, not against them. Jason Heilman put it simply: "Automation is a performance game-changer."
We will be publishing key takeaways from Lutalo Muhammad, British Taekwondo Olympic Medallist, soon, so make sure you subscribe to Bullhorn Content to see those insights as soon as they are released!
Unlocking the Benefits of Technology in 2021 and Beyond
Given the lasting impact of the pandemic, and now the reopening of many parts of the world, on the recruiting industry, it was predictably a common topic amongst speakers and attendees at Bullhorn EngageX Europe. Speakers addressed a wide range of topics, including:
How can firms grow their business in a post-pandemic world?

How can recruiters keep strong relationships with candidates and clients?

How to handle the mental and emotional stress of a pandemic and the world's reopening?

How can recruiting firms differentiate themselves in the war for talent?
Reminder: attendees can watch all of the EngageX Europe breakout sessions for a limited time. 
Here are some highlights:
Tara Ricks, COO of Elite Leaders, suggests ways your firm can adapt to the 'New World of Work': "Understand what's happening in your business, measure adoption and usage of your tech, have robust training, and identify tech ambassadors."
Neville James, UK Sales Director at CloudCall, explains why speed is the most important aspect when trying to stay top-of-mind with candidates: "It's about the speed with which you contact your candidates. If you speed things up, you get more time. If you get more time, you can talk to more candidates. If you talk to more candidates, you get more placements."
Tony Hayes, Head of Operations and Business Intelligence at Arrows Group, shares advice on how you can get started with recruitment automation: "Some of our most complex automations started off simple. I suggest breaking it down to get those early wins and looking at the business case for why you're using automation."
Sarah Gibson, Project Manager at Cherry Professional Ltd, advises that the best automations stem from internal input: "Before we created any automations, we surveyed our consultants to learn where we can improve our processes. This informed our initial decisions on where to build automations. It's predicted that we've saved 5,000 hours in the last six months as a result of using automation."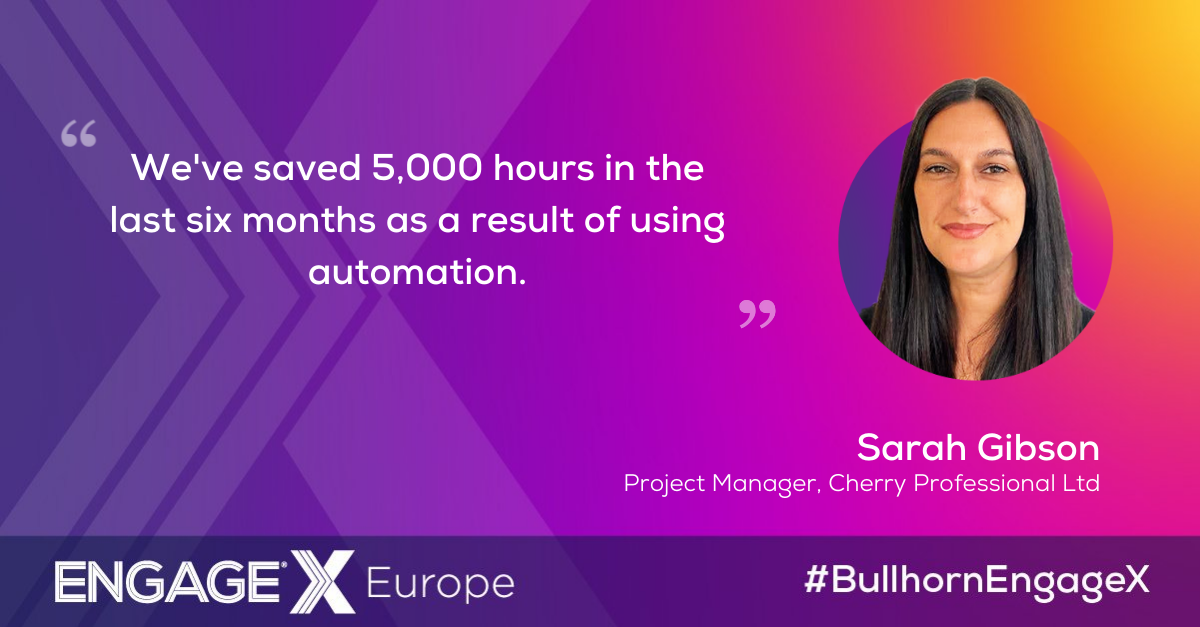 The Power of Discussion and Asking Questions
One of the tenets of Engage is that recruiting professionals are at their best when they come together and learn from one another. Accordingly, it was critical that we capture the spirit of meaningful conversation in a virtual setting. During EngageX Europe, attendees participated in engaging discussions with industry leaders, Bullhorn experts, and their peers.
The sessions throughout the day were interactive, with speakers answering questions during and after their presentations. Here are some top questions and answers that took place in the breakout sessions:
The 'New World of Work' – What Does it Mean for UK Recruiters?
Q: How can my firm overcome challenges when changing our service proposition?
A: "Creating awareness is the best way to kick off. Once you create awareness, you can measure, monitor, and improve it. Work out, in your key client base, who are the clients that, through their current buying habits, show the traits of someone seeking to buy solutions and wanting to have a talent management conversation rather than a one-off transaction." – Tara Ricks, COO, Elite Leaders
Investing in Technology Today to Ensure a Profitable Tomorrow
Q: Where should we start with automation?
A: "It takes a while to get confident with the system and your mind races once you get the simple ones up and running. Being able to walk before you can run would be a huge piece of advice. Start small, build them, and build up your confidence." – Sarah Gibson, Project Manager, Cherry Professional
Things You Didn't Know You Could Do With Automation

Q: What are some change management best practices we should consider when implementing automation?
A: "You want to be able to roll this out with your team to get them excited about it. Long-term success is going to come from your recruiters and consultants embracing the change. I recommend breaking it down into bite-size pieces. Think: what are 3-5 automations that I can launch right now?" – Billy Davis, Director of Onboarding and Customer Success, Bullhorn
Myth-Busting AI: Key Learnings For Staffing and Recruitment Agencies
Q: AI for recruitment, what is it not?
A: "We try to reduce time-to-hire and assist recruiters with tasks that are traditionally quite time-consuming. We're not trying to replace people." – Neil Manito, Senior Customer Engagement Manager, Textkernel
Why You Should Be Recruiting for EQ Not IQ in Today's Talent Pool
Q: Why is EQ important as we think about building our teams within the recruitment industry?
A: "Recruitment is a people business. You need to be able to build rapport with both your clients and your candidates. To really understand what the client needs and why a candidate would be a good fit is incredibly important and can't be done without a human touch. It's an important skill for all recruiters to have." – Matt Gayleard, Chief Sales & Marketing Officer, CloudCall
Best Business Practices for Maximising ROI: What Partners See from Innovative Agencies
Q: Can you share advice for getting the most value out of our technology stack?
A: "Remember that there is one most important tool in a recruitment agency: the recruiter. Make sure they are the center of everything you do. If they are trained correctly and have the right solutions, that will make you effective as a business." – Adam Dale, Chief Revenue Officer, SourceBreaker
What's in Your Tech Stack?
Q: How can we ensure a successful go-live?
A: "What's key to delivering these projects is to have someone who knows the requirements involved in all meetings. Having someone who really understands the core business involved in those conversations is crucial. Otherwise, you're constantly changing scope and you never reach the end goal." – Matthew Weller, Business Systems Manager, G2V Recruitment Group
Thank you to all of the attendees, speakers, and sponsors who made Bullhorn EngageX Europe an incredible and unforgettable experience. We can't wait to join you next year for Engage 2022!
Want to read more about the topics that matter most to recruiting professionals? Subscribe to the Bullhorn Blog for news, tips, interviews, trends, and more.

Subscribe to the Recruitment Blog
Subscribe for trends, tips, and insights delivered straight to your inbox.